18 Oct

Share week 23: First Frost

It is truly in the fall that I appreciate the opportunity to eat local more then any other time. Why? Because that same frosty white coating on the fields in the morning that has me pulling out my favorite scarves and sweaters, also signals exciting changes that are happening within many of our crops. The resemblance to a dusting of sugar gives a clue to what will be reflected at the dinner table. (You know when your family is fighting over the last scrap of kale in the skillet that something's going on).

The first frost came October 12th. Every autumn we know it's coming- last year it was the 28th (followed by that crazy October snowstorm), the year before, the 13th. The cold brought an end to the last of the beautiful field flowers- the dahlias that were still blooming profusely- and the bumper sweet pepper crop of 2012. Even though the frost signals the end of many things, both good and bad (adios, galansoga weeds- see you next season!), it also means sweeter tasting veggies.

The leafy greens taste substantially different. The kale is divine; all trace of bitterness is gone. Cabbage family crops- kales, brussel sprouts, collards, actually increase the amount of sugars in their cells- which acts like an antifreeze. In the same act of self-defense, our root crops are converting stored starches to sugars. The sharp edge to the turnips and radishes has mellowed, but the difference is most pronounced in the carrots – they are pure vegetable candy.

To buy produce trucked in from California this time of year would be a shame. Now more then in any other season, you can directly taste the weather's effects on your food, in a positive way!

The harvest festival was a great success! Thanks to everyone who volunteered, contributed, or attended. It was a gorgeous day and a rocking community event. In the next few days we will be posting in the blog the recipes for the top three winning pies from the third annual pie bake-off contest. Over 90 people tasted and voted!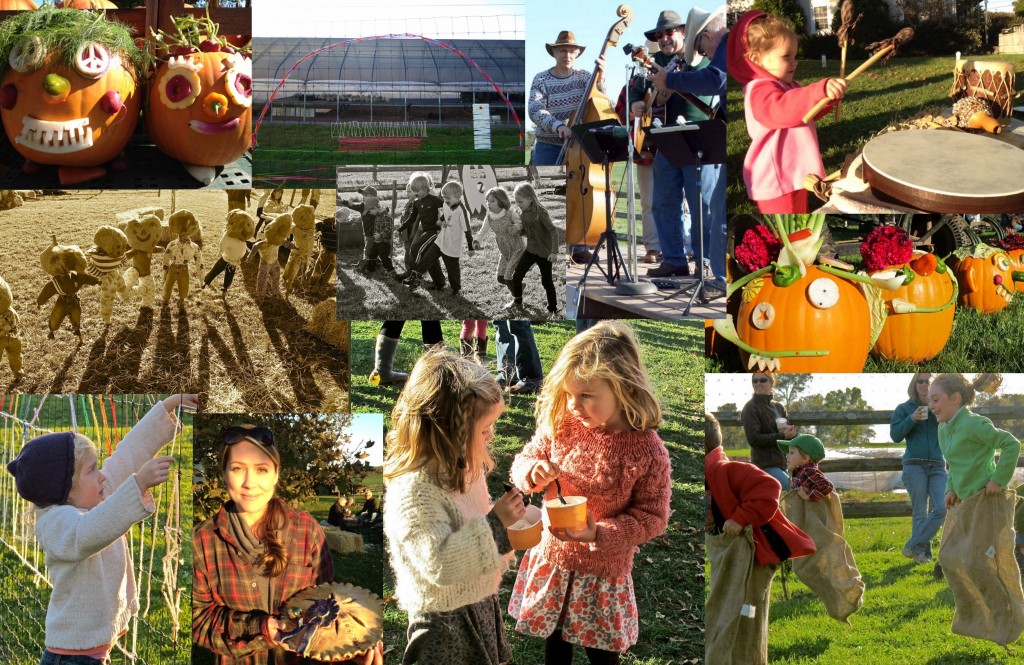 Just a reminder that next week is the last week of the CSA distribution! Registration information for 2013 will be posted online sometime in mid to late November. We will send out a few reminder emails when that happens. Thanks for a great season!
Photos and text by Tricia Borneman, Blooming Glen farmer and co-owner. Additional photos at the harvest festival by Elizabeth Lombardi (thank you, Liz!).