16 Aug

Pick a peck of peppers

Despite the cold nights the sun is shining at the farm, "Purple Sun" that is- a striking deep purple skinned potato with a gold flesh. Purple potatoes can be traced back thousands of years to their native Peru, where these violet colored gems were reserved for the Incan kings. They must have been on to something, because we now know these potatoes have exceptional health benefits, and they are even being cross bred to amplify their nutritional value. The purple spud's pigment is courtesy of the antioxidant anthocyanin, which is responsible for the purple and blue color of fruits and veggies and for immune boosting, memory loss protection, anti-cancer and heart protection benefits. The Purple Sun potato has high levels of vitamin C- 40% of RDA per serving. And it's super tasty- excellent for roasting and baking! I knew we ate like kings and queens – this just confirms it!

The sweet peppers are finally starting to roll in- the orange and yellow sweet italian frying peppers we grow came from a breeding program in Holland specifically for organic agriculture. After years of frustration with bell peppers, we chanced upon these two varieties and have been hugely impressed with their flavor, yields and disease resistance. We liken the orange pepper to the sungold of sweet peppers- its just that sweet!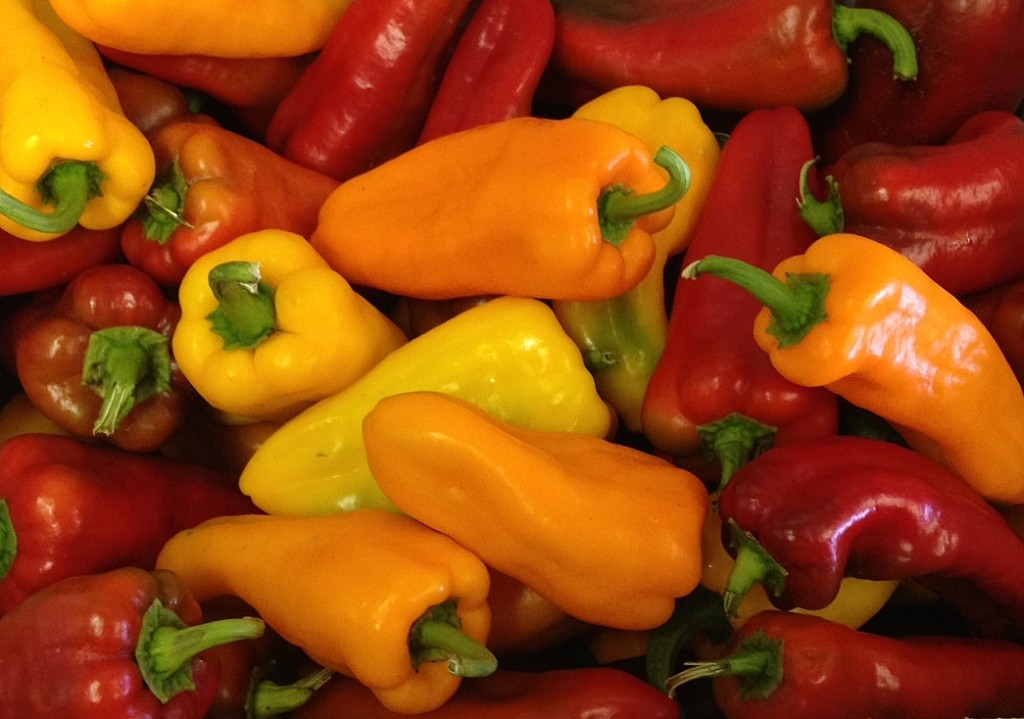 The rain has been wreaking a bit of havoc on our field tomatoes- the shoulders are cracking from the excessive moisture. Fruit set in temperatues over a hundred degrees can also result in mealy texture which you may be seeing in some of the tomatoes. And thanks to the cold nights (the low at the farm this week was 49 degrees!), all the heat loving crops like cherry tomatoes and summer squash have slowed to a screeching hault when it comes to ripening time. We will be able to offer our plum tomatoes again this season in bulk quantities for preserving- we grow them specifically for that reason. Keep an eye out for an email with more details.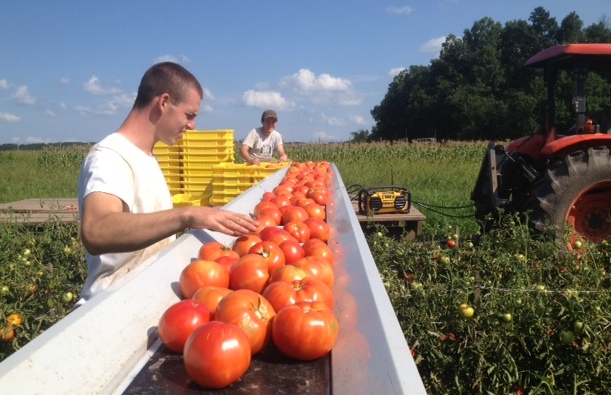 The past few days we've been working to harvest the sweet potatoes before they suck up any more rain and become bigger than footballs. We are anticipating a harvest of over 8,000 pounds- or 4 tons! I can already taste those autumn soups.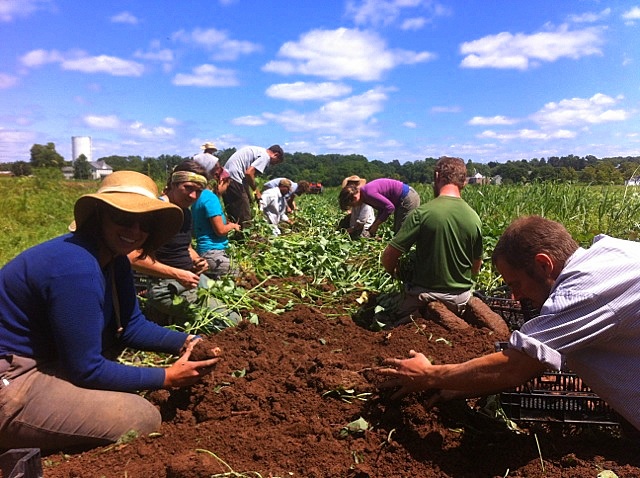 Text and Photos by Tricia Borneman, Blooming Glen farmer and co-owner. Additional photos by Tom Murtha and Sam Malriat.