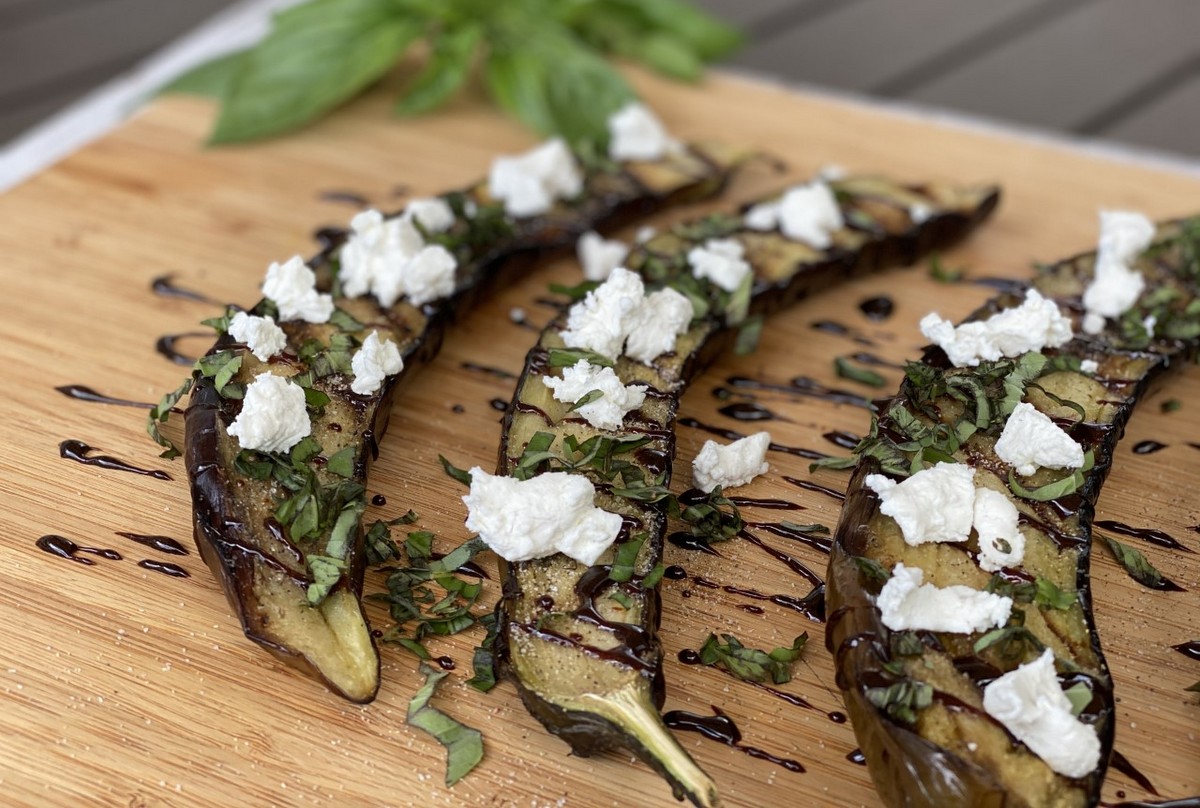 15 Jul

Grilled Eggplant with Balsamic Glaze

This week we have the addition of some gorgeous Asian eggplant in our shares.  This long, thin-skinned variety is less bitter than others eggplant types and becomes creamy-tender with minimal cooking.  This recipe showcases the eggplant, along with the fresh basil.

Grilled Eggplant
Ingredients:
2 Asian eggplants, cut lengthwise in half
3 Tbsp olive oil or avocado oil
1/8 tsp garlic powder
1/8 tsp black pepper
¼ tsp sea salt
2 Tbsp fresh basil, chopped
2 oz goat cheese, crumbled (or use Valley Milkhouse Creamery's "Clover" cheese from your cheese share)
Balsamic glaze, recipe below
Preheat grill to about 375°F.
Cut eggplant in half lengthwise.
Brush all sides of eggplant with oil.
Once grill is heated, place eggplant skin side up on the grill. Grill for 4 minutes.
Flip and grill other side for an additional 4 minutes.
Remove and place skin side down on serving dish.
Mix garlic powder, black pepper, and sea salt in small bowl. Sprinkle on eggplant.
Drizzle the balsamic glaze over the eggplant and then sprinkle on the chopped basil and goat cheese.
Enjoy!

Balsamic Glaze
Ingredients:
¾ cup balsamic vinegar
1 Tbsp honey
Pour vinegar and honey in saucepan. Heat to a boil, stirring often, and reduce to a simmer.
Simmer for about 10 minutes or until the mixture reduces and thickens a little. It is done reducing when it coats the back of the spoon.
Remove from heat and store in a glass jar in refrigerator. The glaze will thicken as it cools.
**If it gets too thick, you can heat and thin it out with a little water.
Recipe and photos by Stephanie Borzio.  Stephanie is a mom of three active boys and is an autoimmune warrior.  After battling her own health for several years, Stephanie found healing through food and lifestyle changes, including joining Blooming Glen Farm CSA of which she is a long time member.  She is a Board Certified Integrative Nutrition Health Coach who is passionate about sharing healthy living tips and real food recipes. 
Instagram and Facebook: Tru You Essentials
Website: www.truyouessentials.com