27 Jun

Featured Chef Recipe: Herby Yellowfin Tuna Loin

This is the first in a series of recipes contributed by local chefs, inspired by the fresh seasonal vegetables of Blooming Glen Farm. Chef Kristin Moyer of Perkasie is excited to be part of a planning team focused on bringing a Community Supported Kitchen and Supper Club to the area.

Herby Yellowfin Tuna Loin. Grilled Sweet Spring Onions.
Perfect Blooming Glen Greens with a Carrot Ginger Beet Vinaigrette.

The dressing recipe calls for Beet Kvass which is a tangy fermented tonic. I chose to add carrots to the kvass as well, just for fun, although it is not necessary. Plan ahead a few days so you have this on hand for the recipe.
Take a 1 Quart mason jar and add enough unpeeled yet cleaned beets and carrots, chopped fairly small, to fill the jar 3/4 of the way. Add to the veggies 1 Tablespoon of sea salt for a quart sized jar. Fill with filtered water to top and lid it. Shake slightly to help dissolve the salt. Set it and forget it, in a warm spot for no less than 3 days. Strain out the liquid and you will have a beautiful nourishing tonic. Refrigerate and enjoy. Use some in dressing recipe below.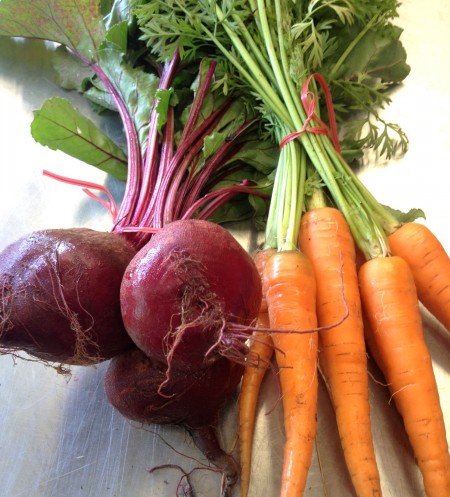 For the Dressing
Combine the following ingredients in a blender or food processor (Vitamix is KING):
4 fresh carrots
1/2 cup carrot/beet, or just beet, kvass
3 Tablespoons honey
1/4 cup sherry vinegar or any vinegar/citrus combo you like
1/4 cup extra virgin olive oil or any oil you prefer (walnut would be good)
1 inch knob of ginger
Juice of an orange
1/4 teaspoon sea salt
For the Tuna
Ask your fish guy for TUNA LOIN. 1 to 1 1/2 pounds is suitable for a family of four. It is super simple to handle. It will most likely come with the skin on one side and a dark red chunk down a portion of it. Do not be alarmed. Place it on your cutting board with the skin down. Slide the knife under the skin and roll away from the knife as you slice through between the flesh and the skin. It should be rather easy. The tuna is pretty resilient so don't worry about damaging it. Now that the skin is removed, find the blood line (deep red portion) and cut that out! Take the clean and pretty tuna and place your hand on top to secure. Slice horizontally right through the center of the loin. Separate the top and bottom pieces and place them next to each other. Slice the bottom piece again long ways to create logs. You now have three long log-like tuna loins. Wasn't that Easy?!
Now, heat 2 Tablespoons of peanut or safflower oil in a pan on medium high. You are going to sear each loin on every side so you want it pretty hot. Don't try to move it too soon, it will stick. When it's ready to release, it will.
*DO NOT COOK ALL THE WAY THROUGH. The aim is medium rare, so high heat to brown, then remove to a cutting board. Cool completely.
As for the herbs, I gathered a good handful of most herbs, plus the edible flowers, in the Discovery Garden at Blooming Glen Farm. De-stem and wipe with a damp towel, chop fine and set aside.
When the tuna is completely cooled, sprinkle each loin with oil, salt, pepper and the herbs to coat. Give them a nice massage.
Wrap individually in saran wrap and place in fridge for at least 6 hours.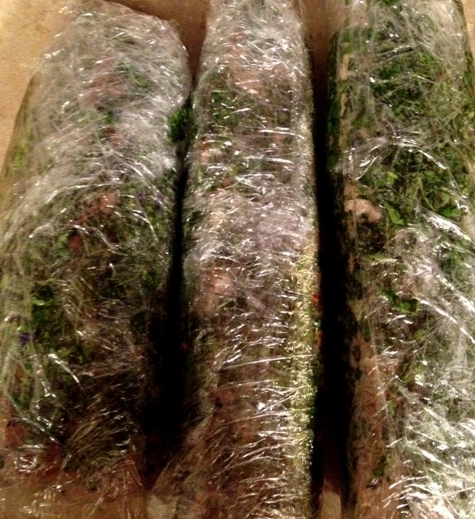 To Compose the Dish
Toss your sweet spring onions in oil, salt and pepper, give them 5 minutes on a hot grill to char.
Any mix of lettuce, spinach, radicchio, chard, kale, arugula, etc…will do.
Super thin slices of carrot and cukes to taste.
A generous drizzling of the Carrot Ginger Beet Vinaigrette.
Top with sliced tuna and sprinkle with toasted sesame seeds. ENJOY!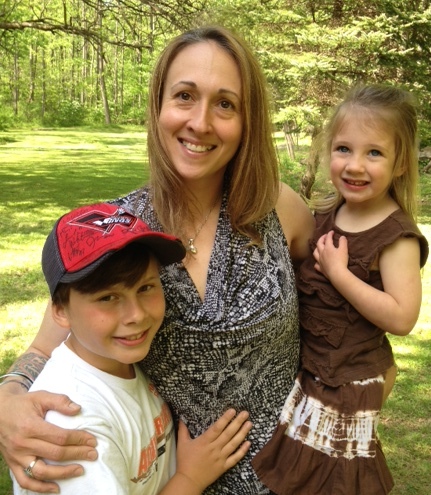 My name is Kristin and I harbor a healthy obsession with food. It is with much gratitude that I joyfully create in the kitchen. Through creative expression I find health and vibrancy, sprung forth by a deep nurtured connection with my Source. The food we eat will also embody this life force, if the well from which it springs is one of Purity and Love. Every living thing longs for this connection and every vein of life holds within it the knowledge of its place in the energetic chain. I believe that the core principle of sustainability is simply nurturing each things innate ability to exist and perform to its purpose and potential. When I slice into a chiogga beet and lay my eyes on the rings of brilliance and color, I KNOW humility, my place in the grand scheme of thing, a pawn to that beet, a servant with a grateful heart flying high on a purpose driven life. Contact me at 215-804-6684 or holyleo1@verizon.net  for catering, or if you are interested in being part of the upcoming Community Supported Kitchen adventures! Happy Feeding!  
Recipe and last two photos from Kristin Moyer. Blog post edited and compiled by Tricia Borneman, Blooming Glen farmer and co-owner.