Last year we experimented with growing a few plants of lemongrass in the discovery garden. The aroma of the fresh lemongrass, like the warm scent of tropical flowers, won us over to this delightful herb immediately. The grass hung in my kitchen all winter for delicious herbal tea. This season we attempted to grow enough of the giant 5 foot tall masses to be able to include some in the share.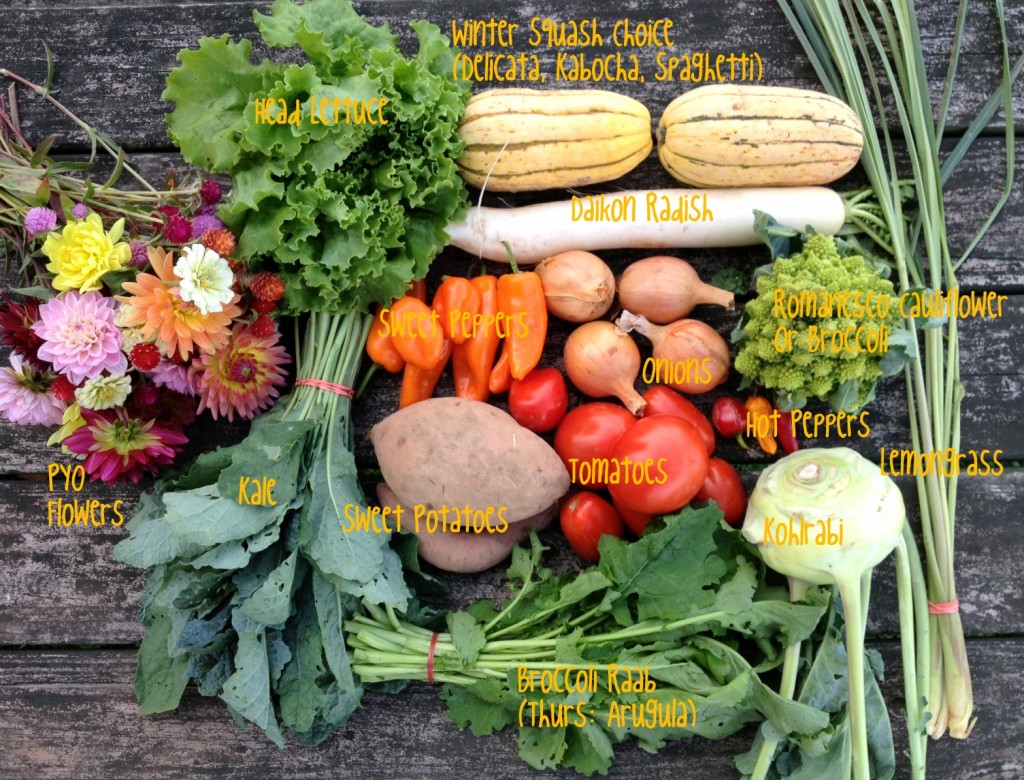 Lemongrass grows in individual stalks, in a giant clump much like ornamental grass. Layers of tough green leaves surround a tender central bulb, similar to the way spring scallions grow. Since it is a tropical plant we grew ours in bags of soil in our greenhouse, moving them outside once it was warm enough.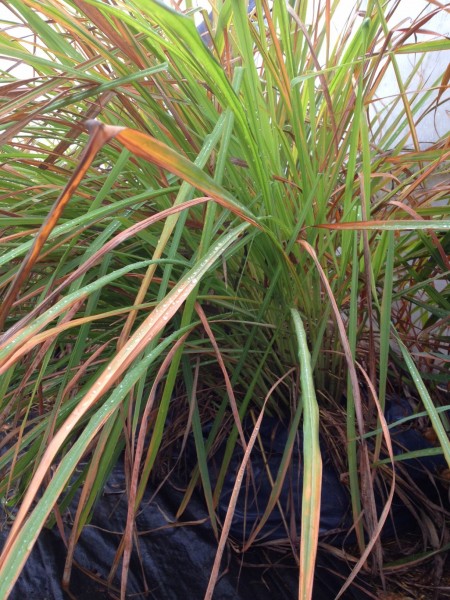 A popular ingredient in Thai cooking, lemongrass imparts a delicate floral lemon flavor due to its high content of citral oil. It can either be finely chopped and integrated into stir-fries, marinades, salads, spice rubs and curry paste, or chopped into sticks and bruised and used to flavor dishes like broths, soups, braising liquids and stews while they cook, then removed before serving. The longer it's left in, the stronger the lemon flavor- for a light flavor add it in toward the end of the cooking time. Only the bottom six inches or so of the bulb and stalk are typically used in cooking, with the more tender center being used for dishes where the lemongrass will be left in. The less flavorful grassy leaves can be made into a wonderful tea — just cut with scissors into pieces, add hot water, steep for 5-15 min , strain and serve.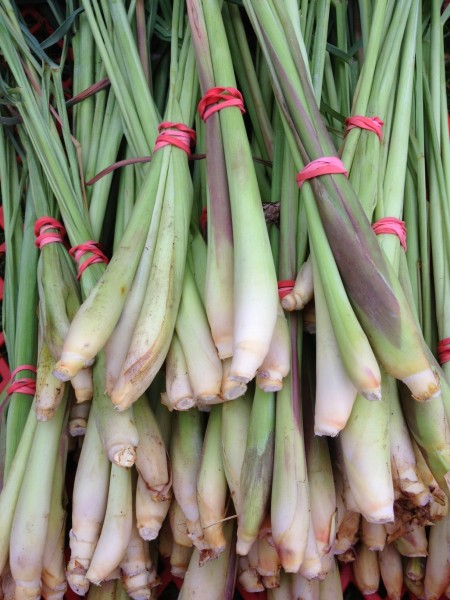 In eastern cultures, lemongrass has long been used to treat fever, flu, headaches and to aid digestion. There is some research that has even shown potential cancer fighting and preventative properties in lemongrass. Many patients take to drinking lemongrass tea during chemotherapy treatments. To store, the stalks can be refrigerated for a few weeks, or frozen for up to 6 months, and the grass can be hung to dry.
Also in the share this week, you'll see what happens when Farmer Tom spends too much time indoors with the seed catalogs in the dead of winter. He was boondoggled by a photo of a Dutchman in a seed catalog holding an 8 pound kohlrabi. That's right, an 8 pound kohlrabi. You can look forward to (or blame Tom for) those alien monsters this week. They are amazingly sweet and delicious- the size does not negatively impact the flavor at all- so enjoy!
We hope to see you at the Blooming Glen Farm Harvest Festival this Saturday October 12th from 2pm until dark. Join us from 2-5 pm for all sorts of wonderful crafts and activities, our fourth annual pie contest, wagon rides, relay races, a puppet show, live bluegrass music, earth loom weaving and more! Come for the potluck dinner at 5:15 pm- bring a dish to share, your own beverage and place settings. Celebrate the bounty of the season!
Post and photos by Tricia Borneman, Blooming Glen farmer and co-owner.