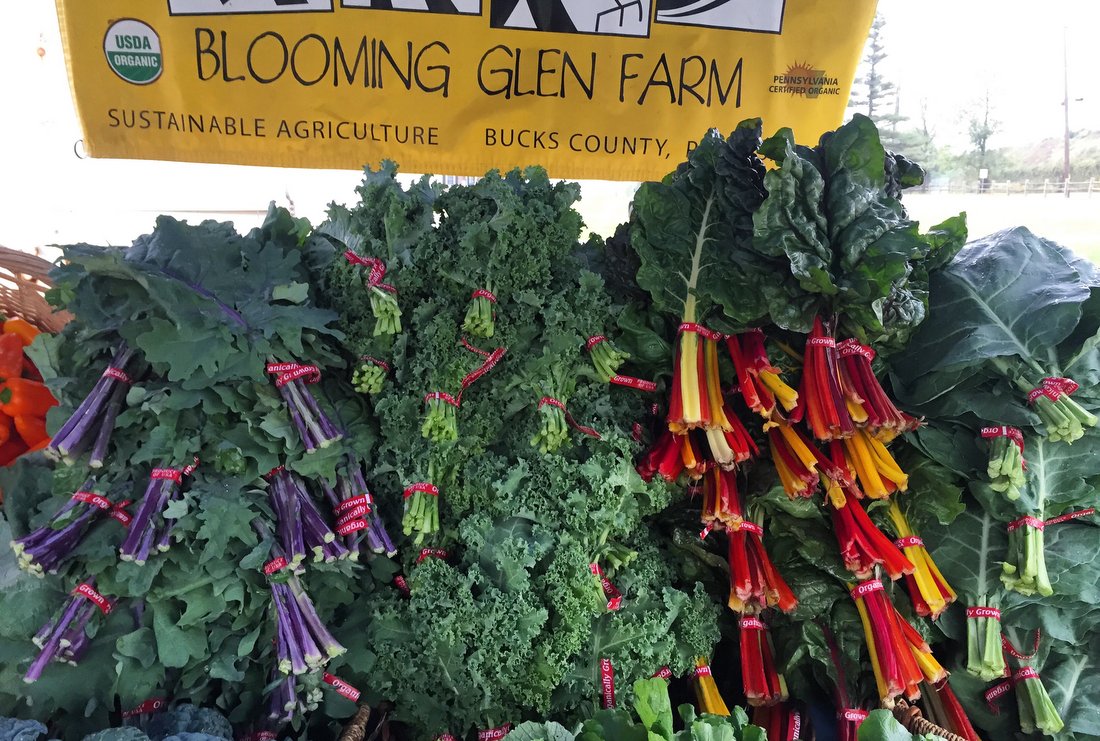 05 Oct

Superfoods of fall

The signs of autumn are here. The warm color of the light at dawn, as the sun breaks through the mist. The view from our hilltop of the golden hued trees shedding their leaves. We shift to a later start, an extra hour to sleep, or plan, or sip coffee, as we move toward darker and colder mornings. Sweatshirts and muck boots and warm layers abound.  Fields that sat empty during the drought are able to get tilled and seeded with cover crop seed, as a stretch of rainy days has finally moistened the earth. Out into the fields we spin seed- crimson clover, rye, vetch- a mix depending on our plans for next year, or the needs of the soil in that particular field. Out on the farm we are cleaning up the fields of summer crops, cutting down the cherry tomato and eggplant trellis twine, removing stakes and lifting mulch.
Our annual organic inspection was last week, another marker of the passage of time. Though this was the third year, we still get excited and a little nervous. We do enjoy the challenge of the audit where we trace a crop from seed to sale- on a 40 acre farm growing dozens of different crops it is no small task tracking everything that happens over the course of a season. We look at it as a fantastic opportunity to test our record keeping systems, to see where we need change and improvement. And we enjoy chatting with the inspector, hearing about the greater organic community which we can often lose sight of during the mayhem of our farm's personal challenges.
Looking ahead to the remaining weeks of our season, we have garlic to plant, fall greens and roots to continue to harvest. Our sweet potatoes are out and curing in the warm greenhouse. The last of our potatoes will be dug as soon as the ground dries. Winter radishes and fennel will soon follow.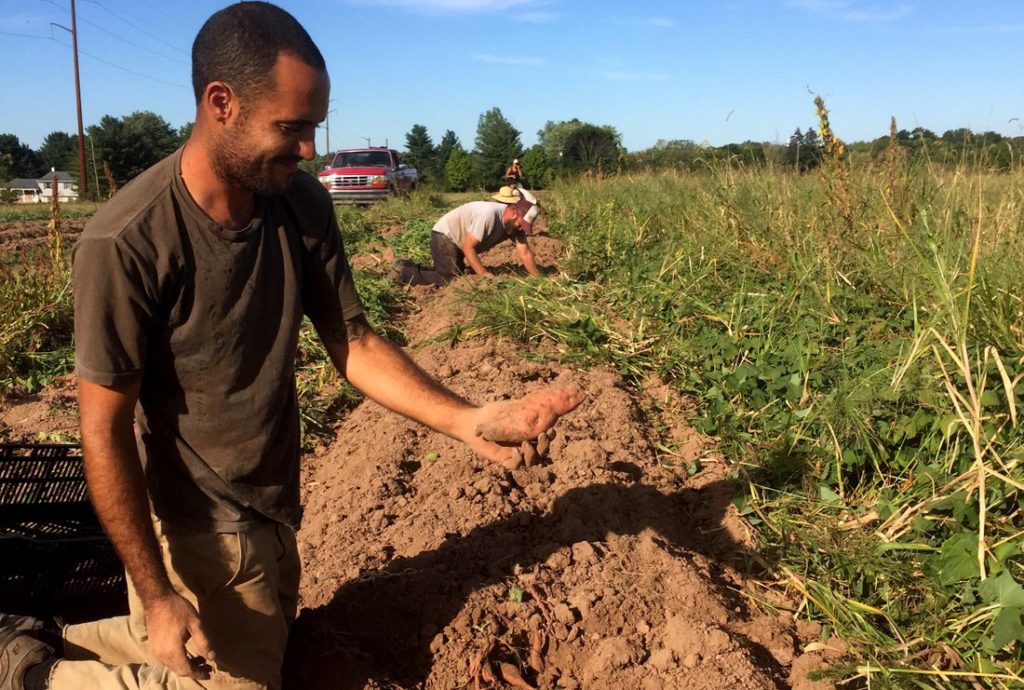 The vegetables are a reflection of what our body needs to eat as the weather turns. Nutrient packed greens fortify us, winter squash contains the summer rays in its golden flesh. Celeriac, turnips, beets, carrots, radishes- all roots, ground us. Root vegetables are a true comfort food, delicious and satisfying, they fulfill carb cravings and often a sweet tooth- think beets, carrots and sweet potatoes- without bombarding our body with sugar. They are a powerhouse of nutrition, packed with vitamins, minerals, and disease-fighting phytonutrients, from the lowly turnip to the earthy beet.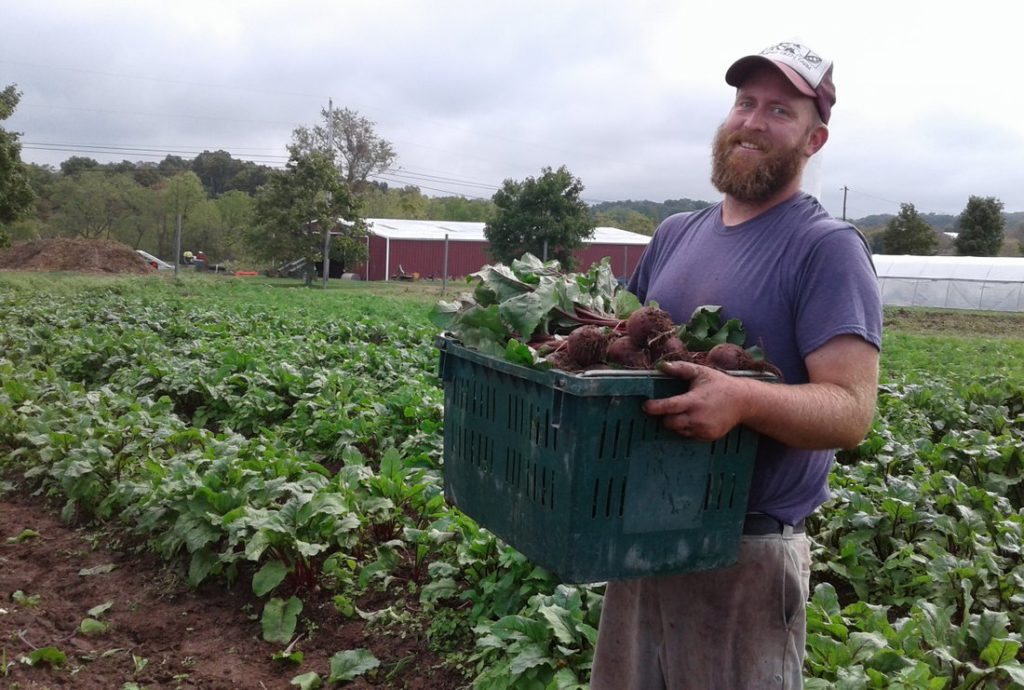 In our CSA share and on our farm stand this week you'll find kabocha squash- this is my favorite squash to eat, and that's coming from someone that really loves winter squash. Acorn, delicata, butternut, they all have their place, and their recipes are in a steady rotation in our house, but oh so sweet kabocha, with your beautiful blue gray skin, you're the one we hoard and store for the winter, the one my daughter requests the most. You are definitely the least well known and perhaps most under appreciated of all the winter squash we grow. So I am here to sing your praises. Enjoy kabocha while we have it! This Japanese pumpkin is an excellent source of beta-carotene- just look at that bright orange flesh! I halve or quarter it, roast, scoop out of its flesh and mash and eat as a side with our greens. No need to add a thing! So incredibly moist and delicious all on its own.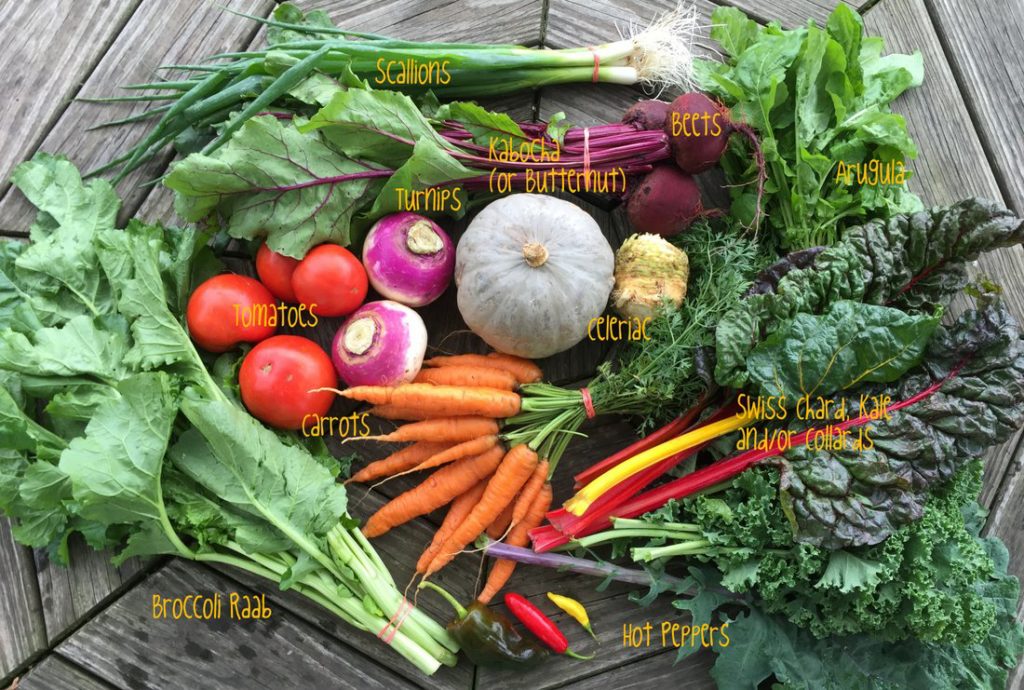 The fall greens are abundant and beautiful- kale, collards and swiss chard, broccoli raab, arugula, and those magnificent beet greens. If you do one thing for yourself and your health, eating your greens should be it. Sauté, add to a soup or blend them raw in a smoothie. Find ways to incorporate them into your daily diet and you will see and feel a difference in your well being.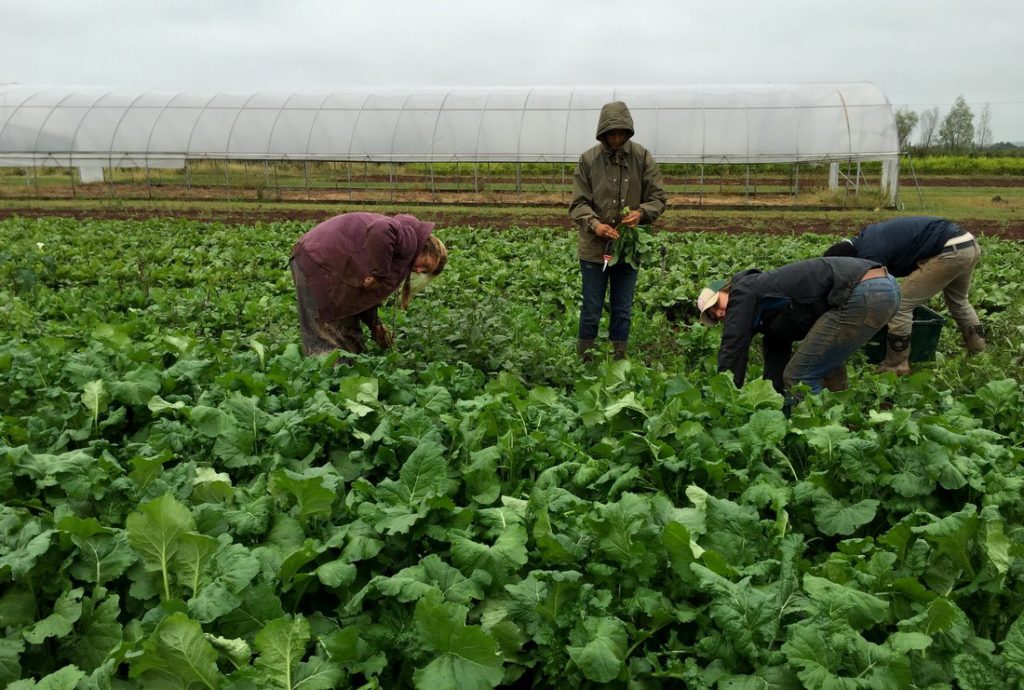 Our spaghetti sauce and ketchup is ready for sale…made almost entirely from ingredients grown on our farm. It was prepared and bottled locally by The Bauman Family in Sassmansville, Pa. This historic apple butter factory has been in their family since the late 1800s. A massive wood fired cast iron boiler from 1926 sends steam through the copper coils that heat up the vats of tomatoes (or apples).  It is quite an amazing operation! We hope you'll purchase a sauce or ketchup to enjoy this winter- they taste fantastic and make great gifts.  The labels were designed by Michael Alan, an artist from Philadelphia. He has just completed the illustrations for a beautiful cookbook/history book, Colonial Spirits. Truly a collaboration, and an extension of the season, that we are so excited to share with you!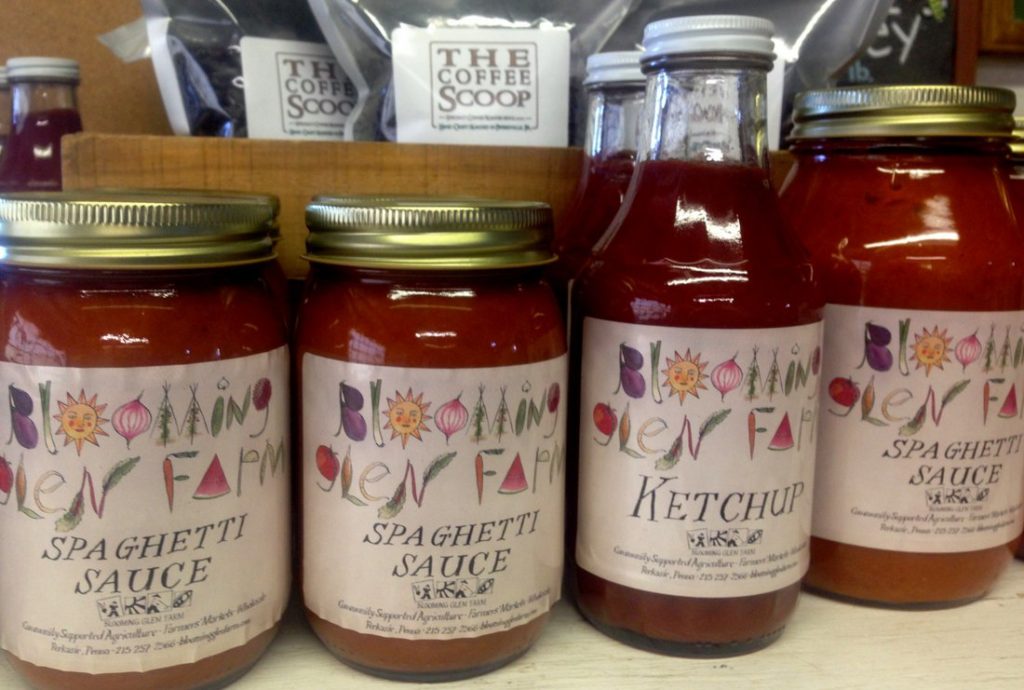 Important CSA dates: Tuesday Nov. 8 and Thursday Nov. 10 is the final week of CSA pick-ups for full shares, and week B half shares. Tuesday Nov. 1 and Thursday Nov. 3 is the last week for week A half shares. The last boxed delivery shares will go out Wed. Nov 9.
Please note: *We will be taking this season off from holding our annual harvest festival in order to get inspired and energized for the 2017 season.
Post and photos by Tricia Borneman, Blooming Glen farmer and co-owner.  Tricia and her husband Tom have been farming together since 2000. Blooming Glen Farm is celebrating its 11th season bringing high quality certified organic vegetables, herbs, fruits and cut flowers to our local community.