05 Sep

Share week 17: Hurricane Season

Like clockwork Labor Day weekend rolls around and with it hurricane season and intermittent downpours. In anticipation of the heavy rains (and motivated by the memory of last fall when the rains came and never left), we scrambled to move through our "to do" list last week. Our crew put in some late days planting, cultivating and bulk harvesting, all while continuing the "weekly chores" of CSA and market harvests.

First on the priority list- butternut squash. Always a fun crop to harvest, the farm crew gets to hone its squash tossing skills, filling palette bin after palette bin with this wonderful fall vegetable- a favorite here at Blooming Glen Farm. Soup season, here we come!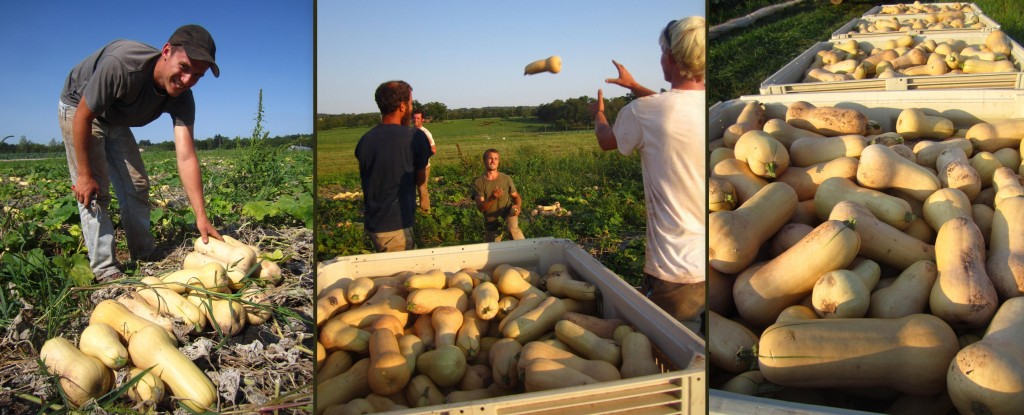 The fall roots tucked under row covers continue to grow- red radishes will most likely be harvested next week. This is a wonderful time of year when the overlap of summer and fall crops occur. Yet as many of the summer crops come to an end, we are tilling in fields and getting them ready to be seeded with cover crops- legumes and grasses that will help prevent erosion over the winter and replenish nutrients in the soil.
The discovery garden is a wonderful place to spend a few peaceful moments when you come to the farm. You may hear the laughter of children following the hidden tunnels through the teepees and corn plants, catch sight of a hummingbird, or smell the aroma of fresh picked pineapple mint. There are many herbs to discover and choose from like mints, lemon verbena, thyme, sage, garlic and onion chives, marjoram, and edible flowers. Herbalist Susan Hess will be holding a class here at the farm on Wednesday evening at 6pm, Sept. 12th, called "Preserving the Herbal Harvest". Topics will include: proper harvesting techniques, proper drying and storage methods and basics of making vinegars, syrups, pestos, and more. Click here for more information and to pre-pay and pre-register.
Save the date! Blooming Glen Farm Fall Fest is coming up- Saturday, October 13th, 2pm until dark. The annual pie bake-off, live music and children's crafts, a drum circle, and potluck dinner at 5pm. Be sure to join us to celebrate the season! Sign up sheets to enter the pie contest as well as to volunteer will be in the distribution room. The talent of our farm community is always welcome- contact us if you have an idea, musical talent, or anything else you'd like to contibute!!
Photos and text by Tricia Borneman, Blooming Glen farmer and co-owner.