27 Jul

Provencal Summer Gratin

Now that the worst of that torrential heat wave from last week is waning, I find myself finally able to make my way back into the kitchen and near a stove for the first time in weeks. I've been eating mostly cold salads and ice cream lately, so the idea of a baked-cheesy-crispy-veggie-something sounded perfect. This is a variation of a classic French dish that simply involves layering vegetables and topping them with cheesy, herby breadcrumbs. Before you get started, I recommend making your own breadcrumbs. You can buy them at the store pre-made, but I find a very noticeable difference in them from the ones you make from scratch. One of my favorite bloggers, Smitten Kitchen, gives these valuable tips on the ease of making your own:

May I implore you, nay, beg you to forgo store-bought breadcrumbs and make your own? It is too simple not to. Take any bread at all — I mean your favorite kind, rolls the pizza place sent you with your salad, the crusts off your kid's sandwich — leave it out overnight and pulse it in the food processor the next morning: instant breadcrumbs that will put that sawdust in a can to shame! In a rush? Fresh bread grinds up well, too, whether or not you toast it first. Planning ahead? Make a lot and keep it in the freezer. Breadcrumbs, at the ready!

Once you have the breadcrumbs ready, this impressive summer gratin layered with new potatoes, tomatoes and summer squash will be ready for quick assembly.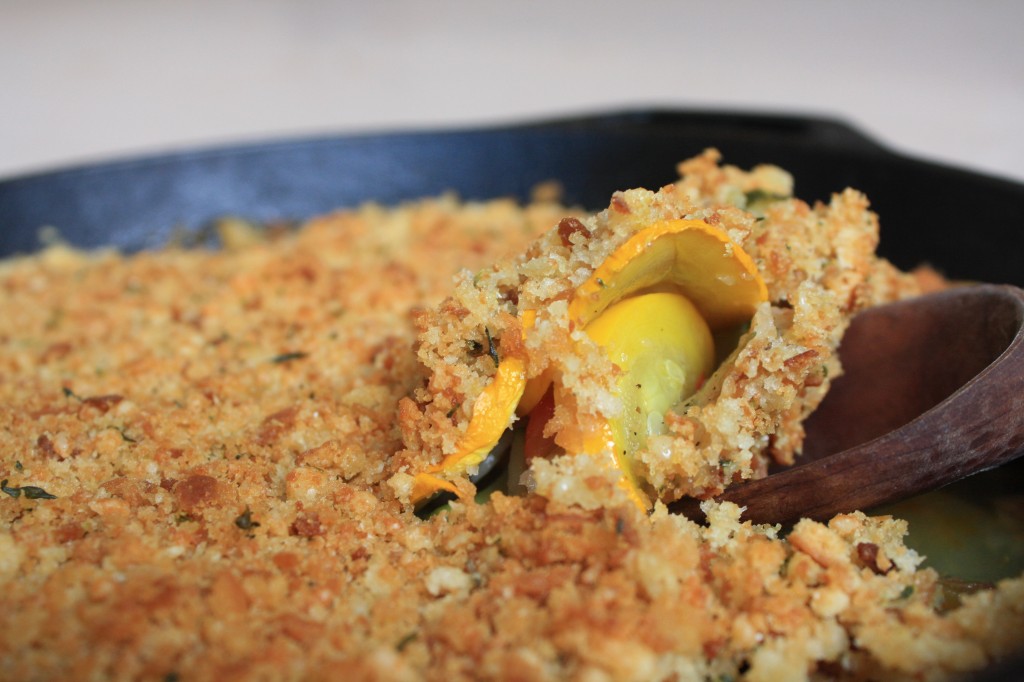 Provencal Summer Gratin
-Preheat oven to 400 degrees and oil a large cast iron or baking dish with equivalent volume.
-Thinly slice about 1 pound of new potatoes and assemble them at the bottom of the pan, slightly overlapping the layers. Salt and pepper generously.
-Slice about 1 1/2 to 2 pounds of red tomatoes (slice up an heirloom to throw in for variation if you have it). Arrange layer of tomatoes on top of potatoes. Salt and pepper.
-Thinly slice 2 gloves of garlic and arrange atop the tomatoes. Sprinkle some dried oregano and thyme.
-Cut 2 summer squash into 1/4 inch slices and layer on top of tomatoes and garlic. Salt and pepper.

-Pour 1/4 cup of chicken broth and 2 tablespoons of olive oil over layers (for cooking moisture)
-Take 1 cup of homemade breadcrumbs and mix in a small bowl with 1/2 cup of parmigiano reggiano or pecorino cheese and a dash of dried oregano and thyme. Sprinkle over veggie layers.
-Bake gratin for 40-45 minutes. Cool slightly. ENJOY!!
Recipe and photos by Jana Smart- Blooming Glen Farm employee and frequent creator of creative recipes using farm fresh seasonal ingredients. Check out more of her recipes on her food blog http://www.agrarianeats.blogspot.com/