19 Oct

Maple and Cardamom Glazed Root Veggies

I am a pretty indiscriminate veggie lover; however, every once and awhile a root or shoot passes my path that I just can't wrap my head around liking. Turnips have always been that way for me. I never hated them, but they generally fall under the "why bother" category in my book. That is, until I realized I've never actually given turnips a fair go of it.

Determined to change my relationship with the lowly purple-top turnip, I devised this recipe. It would be perfectly delicious with any combination of root vegetables, but it is particularly suited to the turnip. Maple syrup contrasts the bitterness that is associated with turnips (although, upon closer inspection, ours are quite sweet right now). Cardamom enhances the spicy and earthy taste of the oft-maligned root. Roasting brings out the sweetness in everything.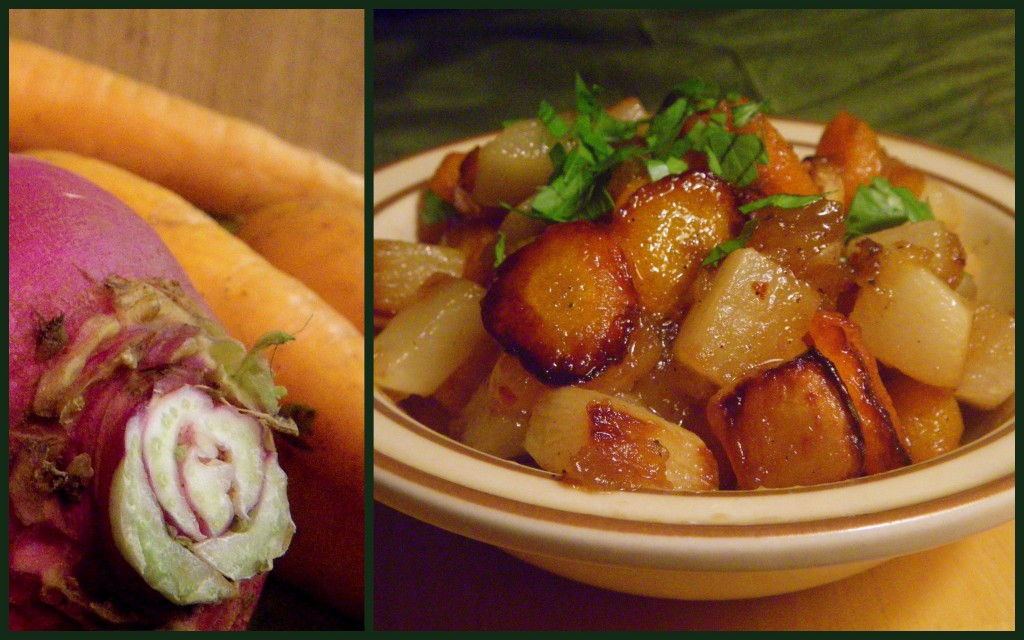 Maple and Cardamom Glazed Root Veggies
Serves 2-3 as a side dish.
Preheat oven to 475 degrees.
Start with 2 pounds of root vegetables–I used half purple-top turnips and half carrots. Peel veggies if need-be (definitely recommended for turnips, not so much with carrots). Dice all veggies into similar sizes, about 1/2 inch cubes. In a mixing bowl, toss veggies with 2 tablespoons vegetable oil of choice (I chose coconut). Spread the veggies in a single layer on a rimmed baking sheet and place in the preheated oven.
While the vegetables are roasting, make the maple glaze. In a small sauce pan on medium heat, whisk together 2 tablespoons maple syrup, 1/4 teaspoon ground cardamom, 1 pinch red pepper flakes, 1/4 teaspoon vanilla extract, and 1 more tablespoon of oil. Heat for just 30 seconds to 1 minute, and remove from heat.
After about 20 minutes in the oven, flip the veggies with a big spatula so that the bottom sides won't burn. Reduce heat to 400 degrees and continue roasting for another 10 minutes, until all the vegetables are tender and beginning to brown.
Toss roasted vegetables with the maple glaze, the juice of half a lemon or lime, and salt and pepper to taste. Garnish with chopped parsley, and voilà, you've just made turnips delicious!
Note: After I served up the veggies, I had a ton of leftover glaze, which I couldn't bear to pour down the drain. Instead, I combined it with more lime juice and used it for yummy dressing on a simple kale salad.
Text and photography by Kate Darlington – Blooming Glen Farm second year intern, fresh food enthusiast, and budding food blogger. She also writes for the Digging Deep Campaign as well as for her personal blog, Growing Things.