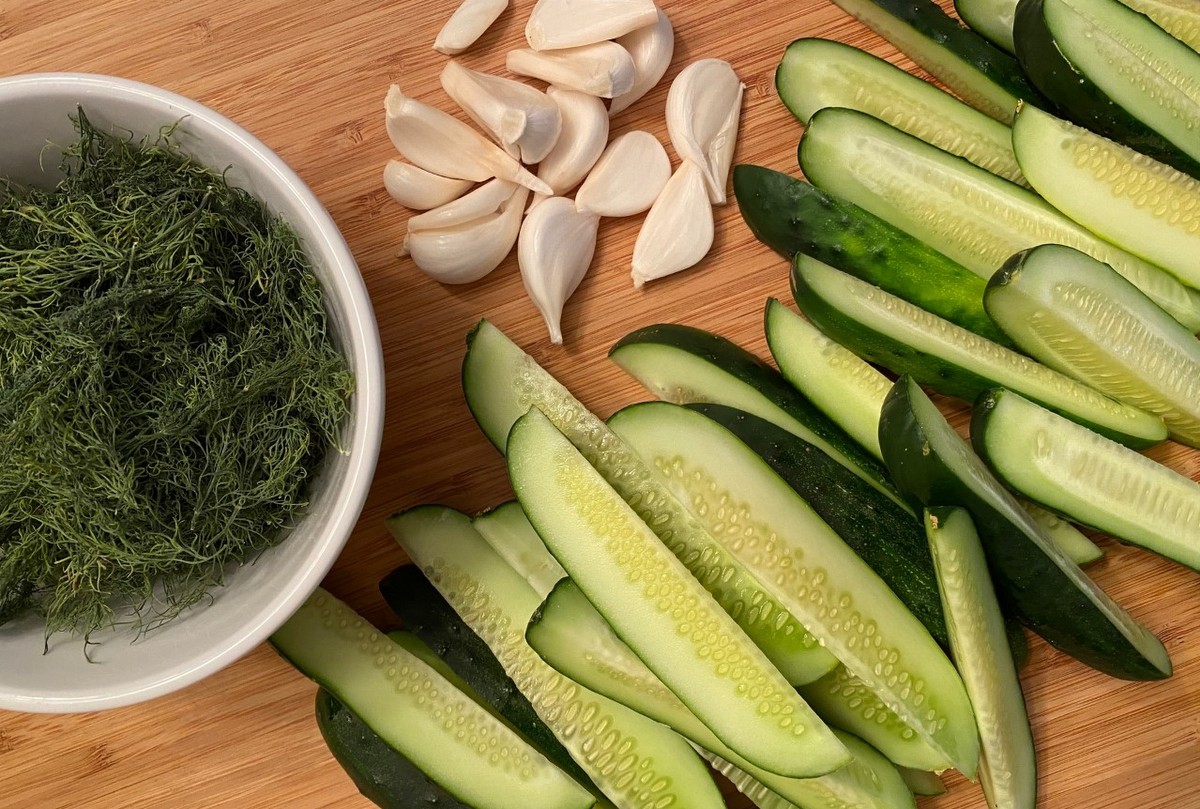 08 Jul

Cucumber Salad & Refrigerator Pickles

Cucumbers are a refreshing and welcome addition to our CSA shares!  There are so many amazing things you can make with cucumbers.  Simply slice them up and enjoy or use them in various recipes.  This week I have two wonderful recipes to share with you.  The first one is a family recipe for our cucumber salad.  It is a salad that has been passed on for generations, but I'm not sure a recipe was ever written down.  The second is an easy refrigerator pickle that can be ready in as little as 24 hours!

Cucumber Salad
Ingredients
5 Kirby cucumbers or 3 regular cucumbers
2 medium sweet onions or regular onions
6 Tbsp white vinegar
¼ cup olive oil
1 tsp sea salt
1 tsp honey
¼ tsp black pepper
¾ tsp garlic powder
Peel cucumbers. Thinly slice to about 1/16" or 1/8" on mandolin.  Place in large bowl.
Use the bulbs of the onions only. Cut bulb in half and then slice on mandolin (same thickness as cucumbers).  Place in bowl with cucumbers.
In small bowl, combine vinegar, oil, salt, honey, pepper, and garlic powder. Whisk well.
Pour dressing over cucumbers and onions. Mix well to coat.
Refrigerate until ready to serve.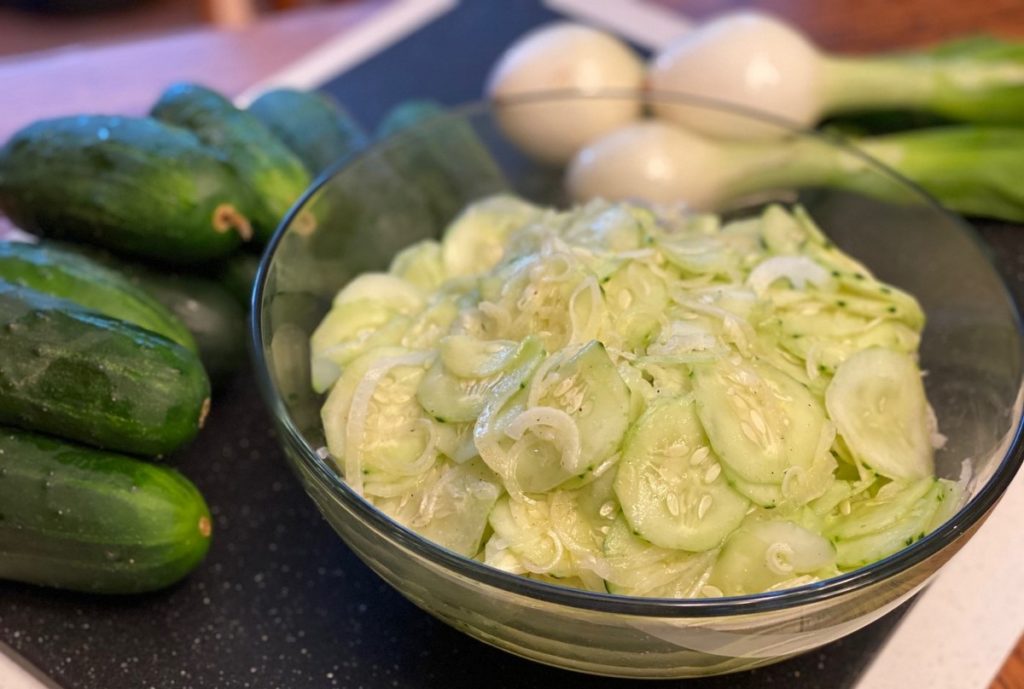 Refrigerator Pickles
Fresh cucumbers + dill + garlic = the perfect blend for crisp, delicious pickles.  This recipe is easy and does not require canning.  Feel free to cut in half if you only want to make one quart jar. 
Ingredients
6-8 Kirby cucumbers (you can use other cucumbers, these are just my favorites for this recipe)
3 cups water
1 cup white vinegar
3 Tbsp honey
3 ½ Tbsp sea salt
5 tsp dried dill or 4-6 sprigs of fresh dill (I prefer fresh dill but sometimes only have dried on hand)
4 cloves fresh garlic
Clean two quart jars and lids.
Cut cucumbers into spears or rounds. Pack into jars.  The number of cucumbers needed varies depending on their size.  Cucumbers should be tightly packed.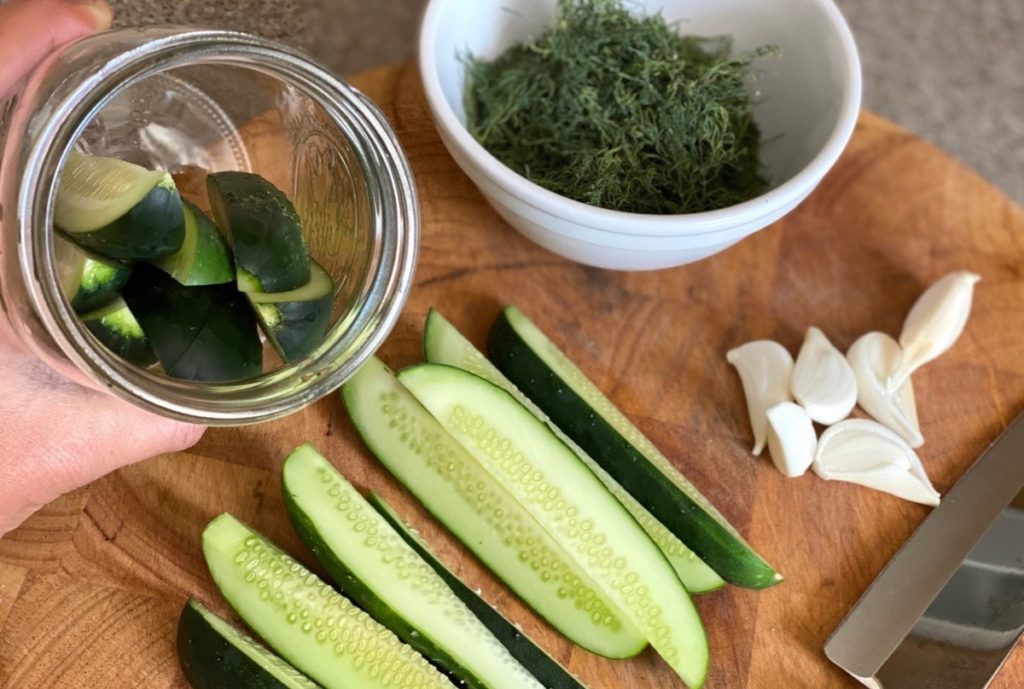 Slice garlic and add 2 cloves per jar.
Add 2 ½ tsp dried dill to each jar or 2-3 sprigs of fresh dill to each jar.
In a medium saucepan, combine water, vinegar, honey, and sea salt. Bring to a boil and mix well.  Allow to simmer until honey and salt are dissolved.  Remove from heat and allow to cool to room temperature.
Pour liquid into each jar. Fill to the top.  Place lid on and gently flip upside down to mix.
Refrigerate for at least 24 hours.
Keep refrigerated. Best if eaten within 1 month.
**Optional: Add ½ tsp red pepper flakes to each jar or add fresh sliced jalapenos to give your pickles some spice.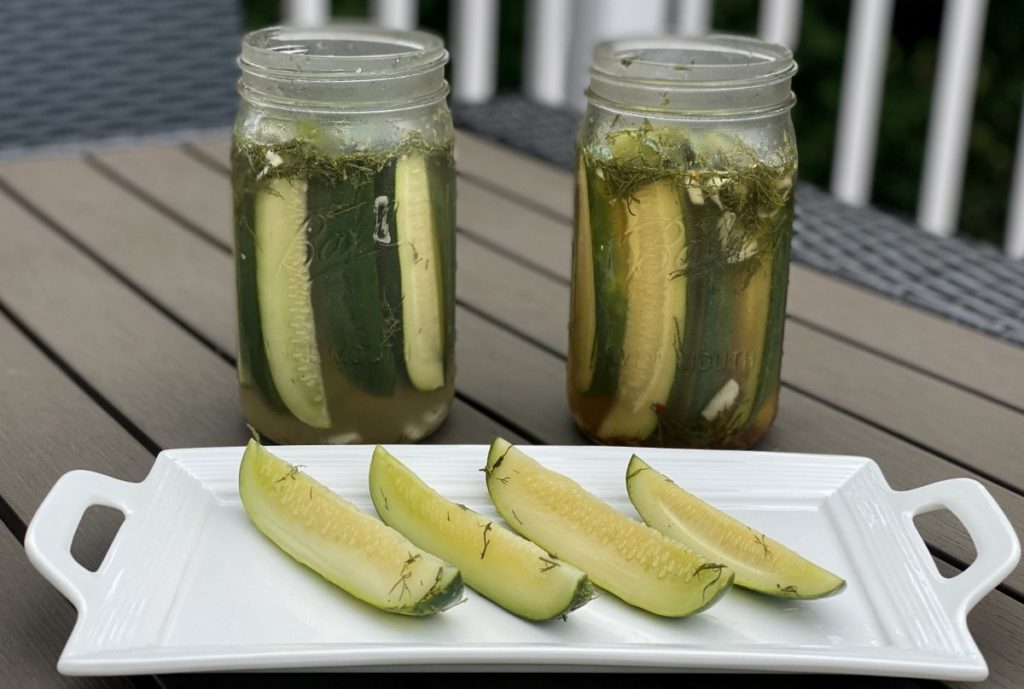 Recipe and photos by Stephanie Borzio.  Stephanie is a mom of three active boys and is an autoimmune warrior.  After battling her own health for several years, Stephanie found healing through food and lifestyle changes, including joining Blooming Glen Farm CSA of which she is a long time member.  She is a Board Certified Integrative Nutrition Health Coach who is passionate about sharing healthy living tips and real food recipes.  Instagram and Facebook: Tru You Essentials; Website: www.truyouessentials.com