21 Sep

Chicken Pot Pie

I don't think chicken pot pie needs much of an introduction, but I will say this savory pie is one of my favorite comfort foods….even if it is a bit of a project. (All that gravy and pie crust makes it totally worth it, right?). It is also a great medium to use up things from your fridge. So experiment with variations!

**Warning: This recipe is not for dieters. Though I'm sure you could play with the recipe to omit some butter and the heavy cream.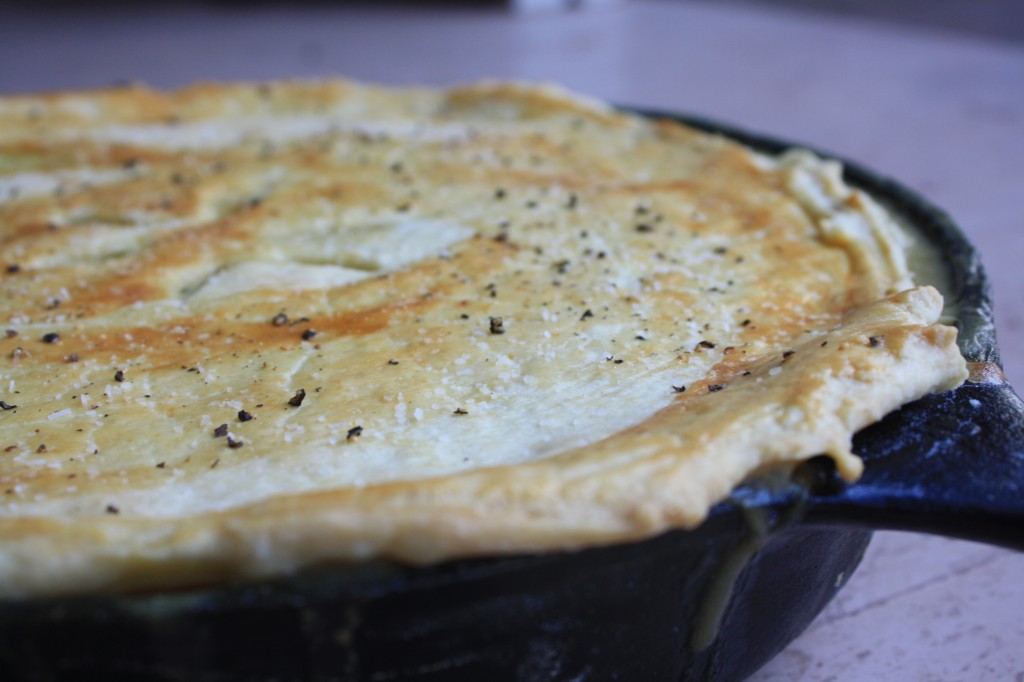 Chicken Pot Pie
First off, you need to decide how you are going to prepare your chicken. I chose to roast 1 whole chicken and used all the meat (light and dark) from that. An equivalent if you are using chicken breasts would be about 6 breasts. You can prepare these simply by roasting until cooked through. Cut cooked chicken into cubes or shred.
To make crust:
For the pastry, mix 3 cups flour, 1 1/2 teaspoon salt, and 1 teaspoon baking powder in the bowl of a food processor fitted with a metal blade. Add 2 sticks of butter and mix quickly with your fingers until each piece is coated with flour. Pulse 10 times, or until the fat is the size of peas. With the motor running, add between 1/2 and 1 cup of ice water; process only enough to moisten the dough and have it just come together. Dump the dough out onto a floured board and knead quickly into a ball. Wrap the dough in plastic and allow it to rest in the refrigerator for 30 minutes.
To make filling:
-In a medium saucepan, heat 5 cups of chicken stock (I used homemade stock from the bones I used to roast the chicken). Bring to boil and then leave at a low simmer.
-In a large pot, heat a few tablespoons of oil and saute until tender:
1 yellow onion, diced
1 celeriac bulb, peeled and diced into small cubes
2 carrots, diced
-Add in stock with veggies.
-Chop 1 pound of potatoes and about a medium head (2 small) of cauliflower, hard stems removed. Add to pot.
-Bring everything to a boil and then turn the heat down to medium-high heat and cook until the potatoes are tender, about 10 minutes.
-In another small saucepan make a roux by melting 1 stick (8 tablespoons) of butter and adding 3/4 cup of flour. Salt and pepper. Cook on medium heat for just a minute or so. Add roux to pot and stir until the mixture begins to thicken.
-Add 1/2 cup of heavy cream (half-and-half or whole milk will also do), the chicken and a dash of thyme, sage or rosemary.
*The filling should be thick and have a nice gravy. If it seems to thin, just cook on medium heat uncovered for a little longer.
-Pour filling into a large cast iron dish. Roll out your dough to a 1/4 inch thickness and place on top of filling leaving some overhang. Brush dough with an eggwash and sprinkle with fresh cracked pepper and sea salt. Bake at 375 degrees for about 45-50 minutes or until the crust is golden brown. Let cool for at least a half hour so it can set a bit.
**You can also make these into 4 individual pot pies if you have oven safe bowls.
Recipe and photos by Jana Smart- Blooming Glen Farm employee and frequent creator of creative recipes using farm fresh seasonal ingredients. Check out more of her recipes on her food blog http://www.agrarianeats.blogspot.com/