This Thai-style curry is a light, mild version of the one I usually get at my favorite Thai restaurant. Filled with seasonal veggies such as sweet potatoes, spinach and cauliflower cooked in a creamy peanut sauce, this vegetarian dish is packed with flavor. You can adjust the amount of curry if you like a more bold flavor and substitute the tofu with chicken or beef if you like. Serve alongside brown rice.
Serves 4-5.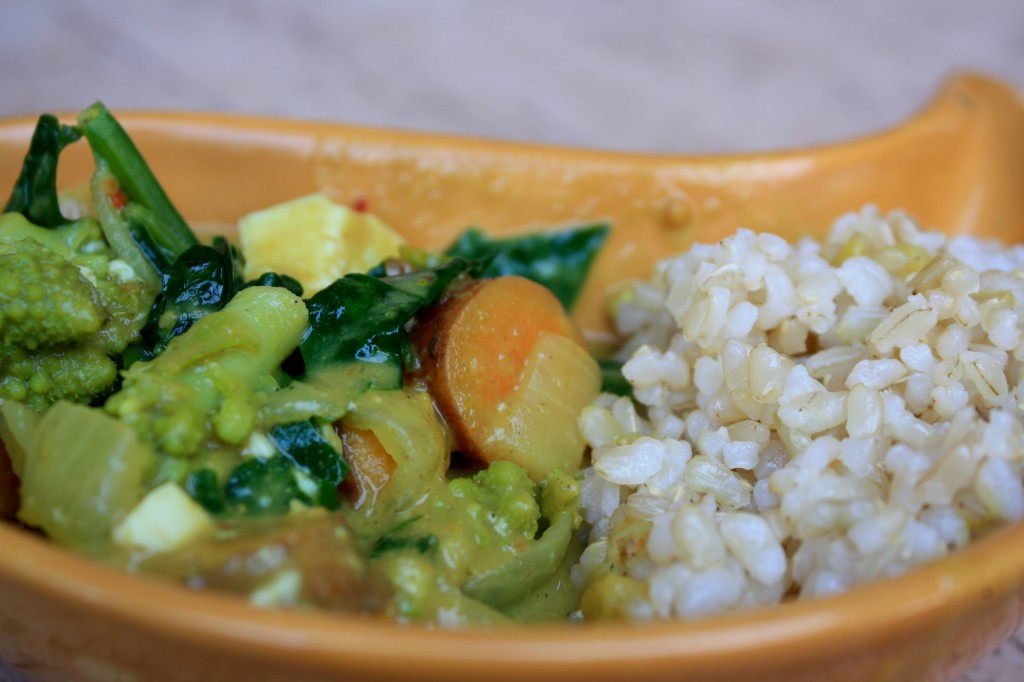 Massamun Curry
-In a large pot, heat 2 tablespoons of coconut or olive oil. Chop 1 yellow onion and saute for a few minutes until onion starts to sweat. Throw in 3 cloves of minced garlic and 1 inch cube of fresh ginger, also minced finely. Saute for 2 more minutes.
-Add in:
1 tablespoon of mild curry powder
1/2 teaspoon of salt
1/2 teaspoon of red pepper flakes (only if you want it a little spicy)
1 cup of coconut milk
2 tablespoons of peanut butter
-Stir all the ingredients together before adding 2 cups of broth or stock and 2 cups of sweet potatoes, diced. Bring to a boil then turn down to a simmer and cook for 10 minutes with the lid on.
-Break up 2 small cauliflower heads into florets (about 2 cups) and add in. Cook for 10 more minutes with the lid on.
-Roughly chop 1 bunch of fresh spinach (or substitute with tatsoi or bok choy) and throw in the pot, mixing until wilted. Cook for 5 more minutes with the lid off.
-Let cool slightly and serve on top of brown rice. ENJOY!
Recipe and photos by Jana Smart- Blooming Glen Farm employee and frequent creator of creative recipes using farm fresh seasonal ingredients.