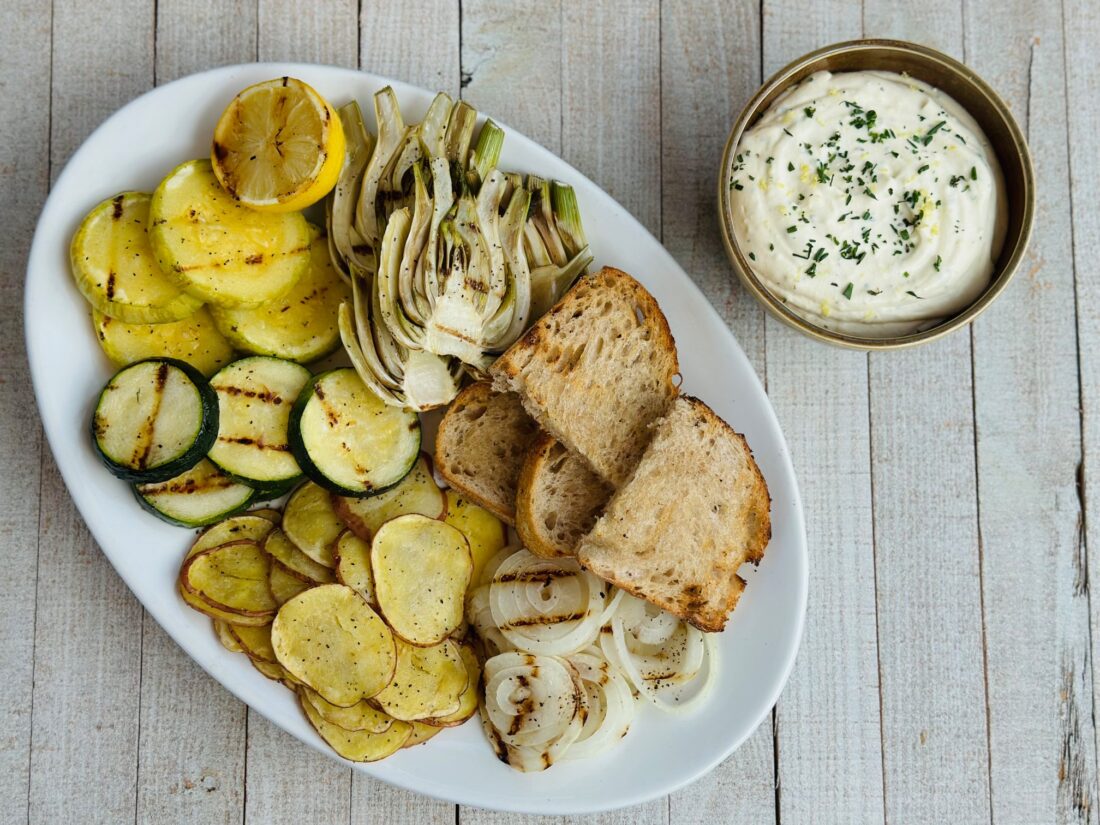 14 Jul

Whipped Ricotta with Grilled Vegetables

This week's recipe is a great way to use a lot of different produce- summer squash, onions, potatoes, fennel, and more.  As the harvest changes through the weeks ahead, change up what vegetables you use and what herbs you include in the whipped ricotta.  This will be a huge hit at any dinner party or just served to your own family.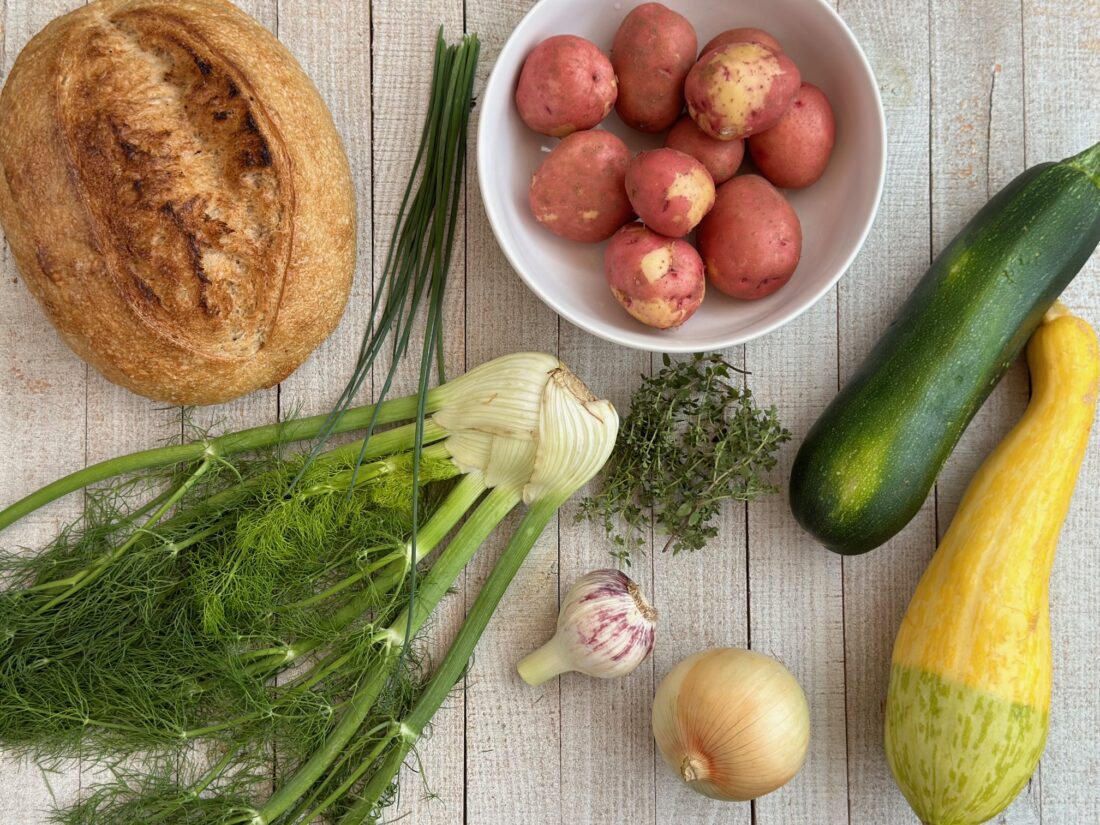 Whipped Ricotta with Grilled Vegetables
Whipped Ricotta Ingredients:
15 ounces whole milk ricotta
½ tsp sea salt
¼ tsp black pepper
1 clove garlic, crushed
1 tsp honey
1 tsp lemon juice
½ tsp lemon zest
2-3 tsp fresh herbs, finely chopped (basil, thyme, parsley, chives, etc.)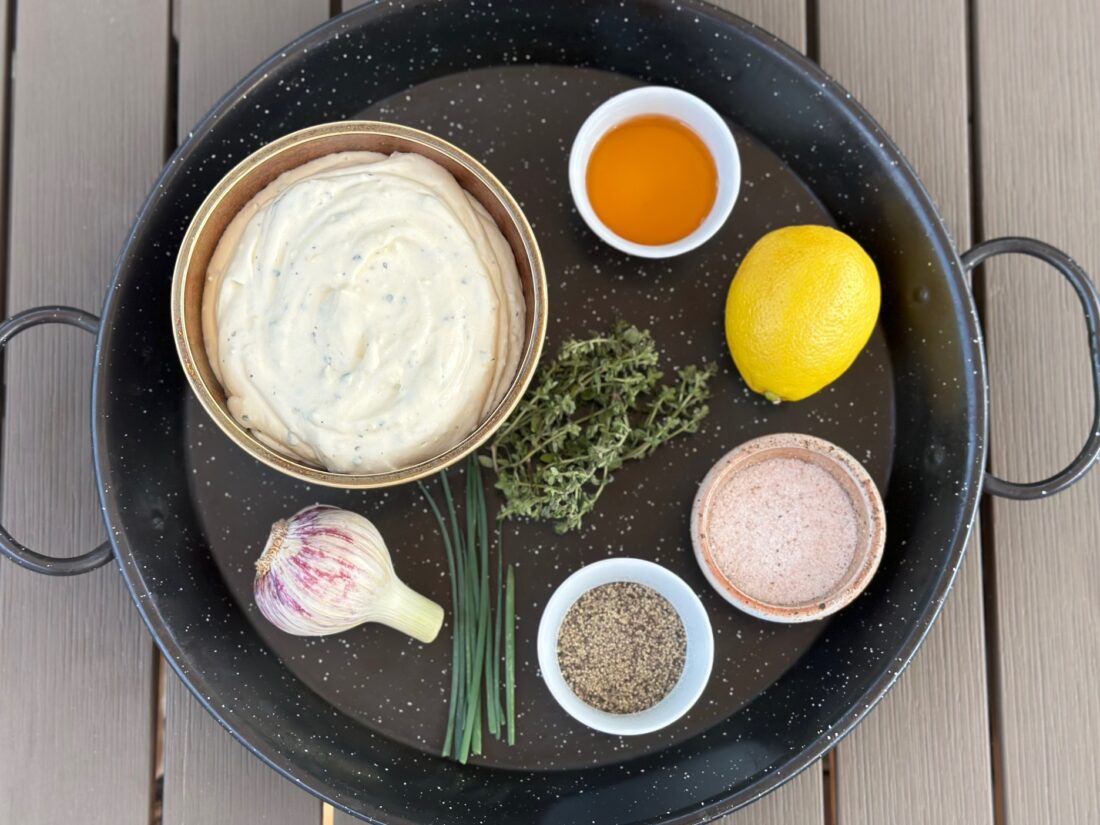 Grilled Vegetable Ingredients:
1 bulb fennel, sliced in half
1 large summer squash, sliced into ½ inch thick rounds
4-5 new potatoes (larger ones work better), sliced into 1/8 inch thick rounds
1 large onion, peeled and sliced into ¼ inch rounds
½ lemon
3-4 Tbsp olive oil
2 tsp sea salt
¾ tsp black pepper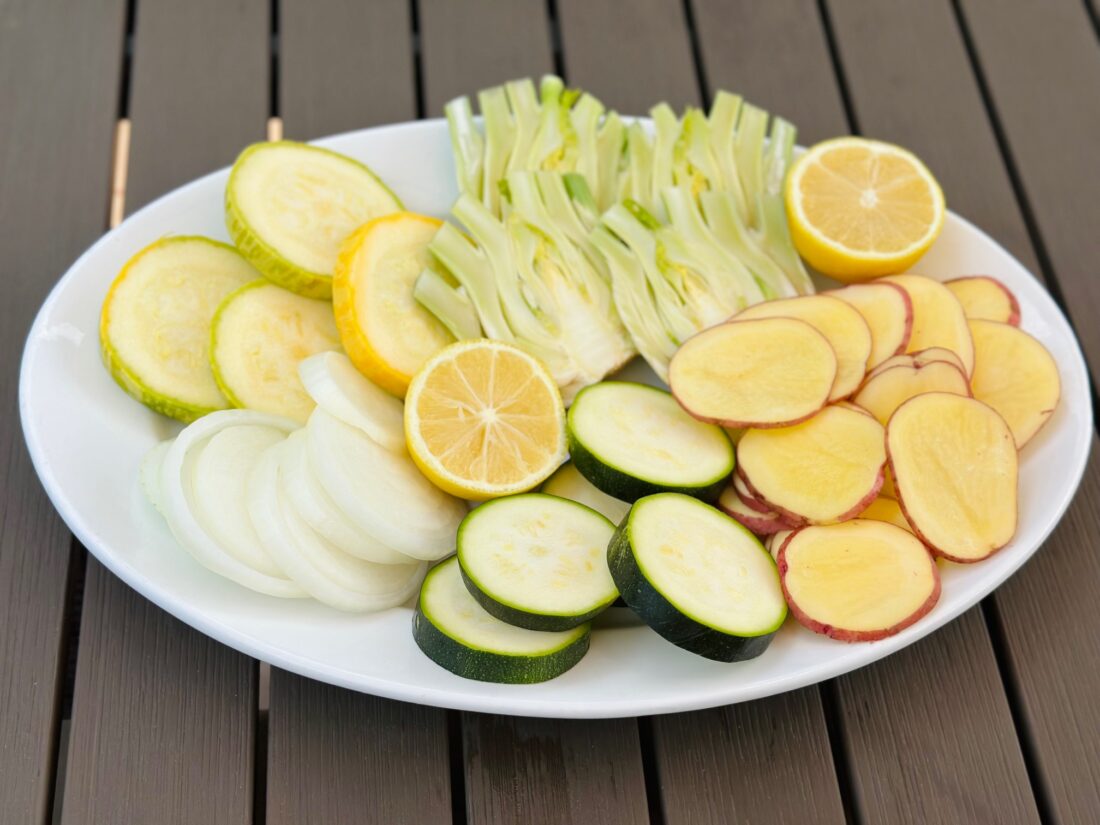 Beat ricotta in stand mixer or in food processor until creamy. This should take about 4-5 minutes.
Add remaining ingredients and mix on high for another 2 minutes.
Move to a serving bowl and garnish with a little lemon zest and fresh herbs.
You can also store whipped ricotta in the fridge in an airtight container for 3-4 days.
Preheat grill. Turn heat to low.  The grill should be about 375-400°F.
Prepare all vegetables and lemon as described above. Brush with olive oil on both sides.
Place vegetables and lemon in single layer on the grill. Grill for 4-6 minutes per side.  The fennel may take a little bit longer but other vegetables should be done in that timeframe.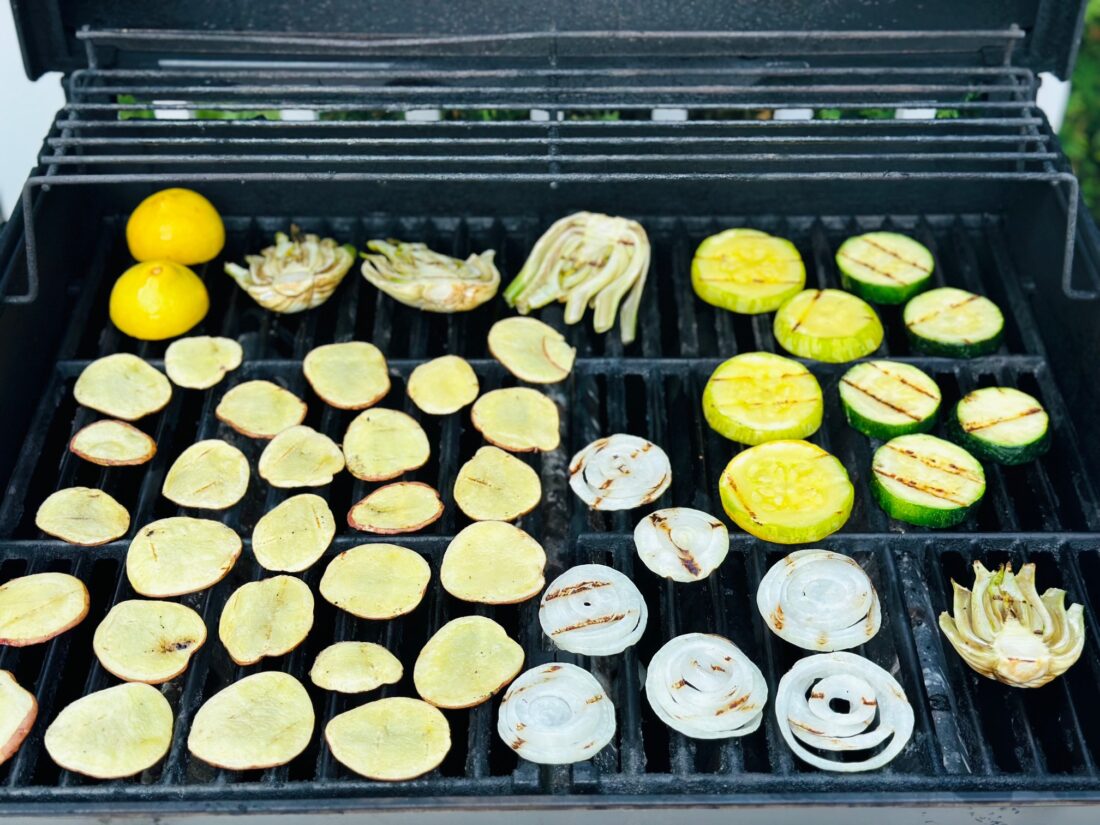 Flip vegetables (except for the lemon) and grill for another 4-6 minutes. Place on serving platter.
Sprinkle vegetables with salt and pepper. Squeeze the grilled lemon half on the vegetables.
Serve grilled vegetables with the whipped ricotta.
Enjoy!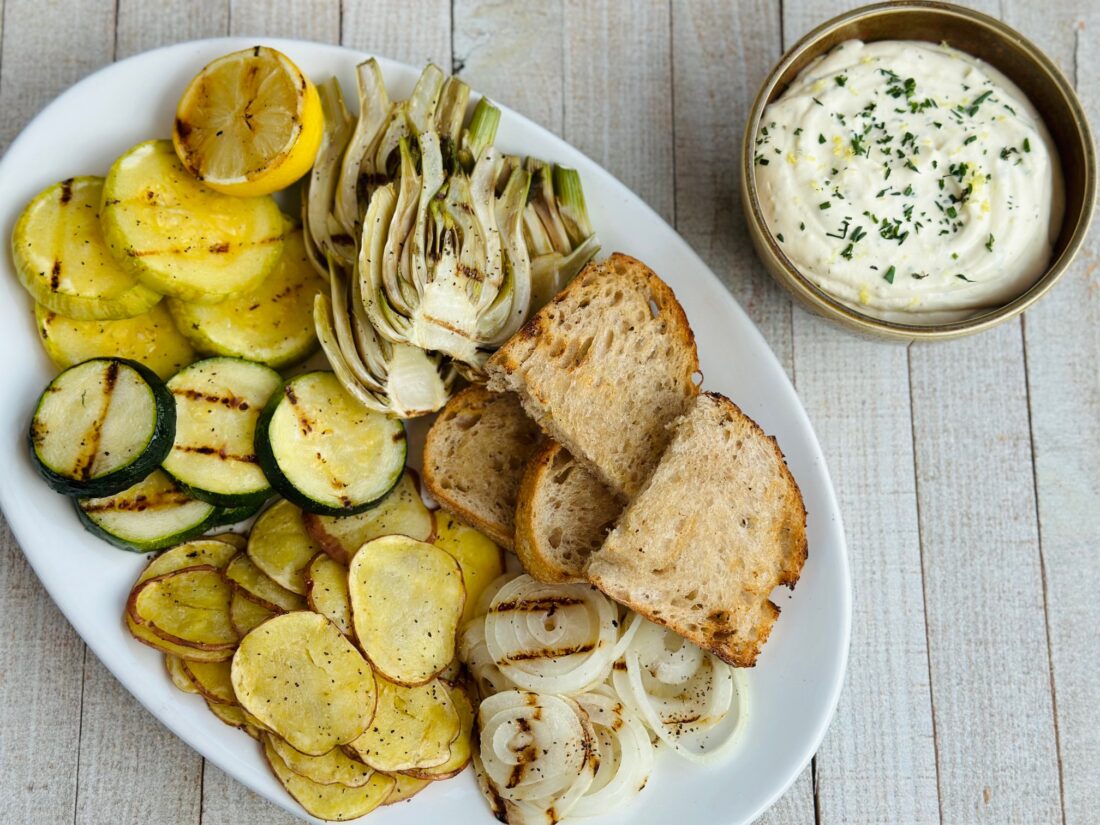 **Another great addition to this dish is NORD bread.  Slice a few pieces of bread, brush on oil, and grill a few minutes on each side just like you do for the vegetables.
Recipe and photos by Stephanie Borzio.  Stephanie is a mom of three active boys and is an autoimmune warrior.  After battling her own health for several years, Stephanie found healing through food and lifestyle changes, including joining Blooming Glen Farm CSA of which she is a long time member.  She is a Board Certified Integrative Nutrition Health Coach who is passionate about sharing healthy living tips and real food recipes.  Instagram and Facebook: Tru You Essentials; Website: www.truyouessentials.com