03 Jul

Watching the weather

11.2 inches of rain have fallen on the farm in the last 30 days- that's a quarter of our annual rainfall. As farmers we pretty much are always checking the weather radar, but these past few weeks it seems like we are glued to our mobile devices, as storms constantly pop up and head our way. Luckily there has been enough drying time between downpours for us to get the last of the winter squash planted, along with the leeks and brussel sprouts. We were also able to cultivate the sweet potato aisles, stake and trellis the peppers and eggplants, and hand weed the corn, onions and sweet potatoes.

This week's share sees the first of the potatoes- freshly dug with tender uncured skins, they are called new potatoes, and should be refrigerated. Our crew had the chance yesterday to get up close and personal with the colorado potato beetle- left to its own devices this colorful striped beetle will rapidly defoliate the potatoes (and eggplants), eventually killing the plants. Instead, we hand pick them off the crops, dropping them into buckets of soapy water.

Walking throught the cantaloupe field this weekend, there was a steady hum of honey bees. It won't be long before we are enjoying these fragrant fruits. The sweet potato vines are rapidly spreading- they seem to be flourishing in the rain, as are the green beans. Despite lots of muddy feet, CSA members enjoyed the pick-your-own flower patch this week, which is in full bloom.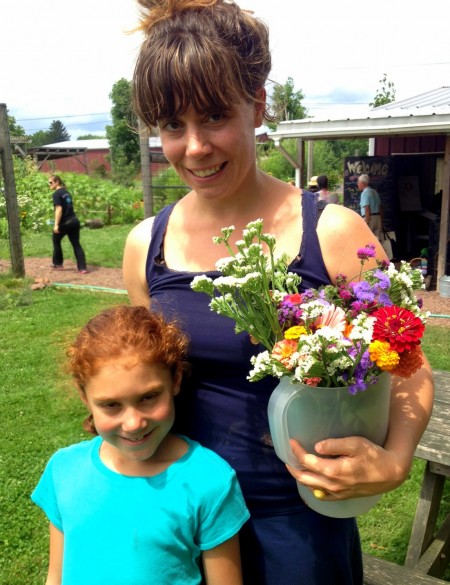 Photos and text by Tricia Borneman, Blooming Glen farmer and co-owner.