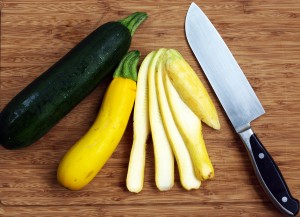 One of my favorite parts of summer is the time we get to spend cooking and eating outside.  Grilling vegetables brings out a depth of flavor that just cannot be matched on the stovetop, and we've been taking full advantage of that with this season's CSA share.  One of the best veggies to grill is summer squash and its partner, zuchinni.
Eating summer squash provides us with cancer-fighting antioxidant nutrients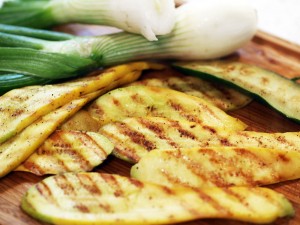 vitamin A, vitamin C and manganese. We also get a healthy dose of essential minerals magnesium and potassium, as well as copper. However, because many of these nutrients live in the skin of the squash, we need to make sure we leave it intact. Grilling summer squash allows us to do just that!
Of course, squash can be cubed or cut into disks for kabobs, but I really like it when its cut into planks and placed right on the grates of a hot grill. The recipe below calls for this method of cooking; give it a try and let us know what you think. I've paired the delicious and nutritious summer squashes with superfoods, brown rice and Swiss chard, and healthy plant protein from chickpeas. All that wrapped up into a summery salad suitable for a main dish or a side — that's tough to beat!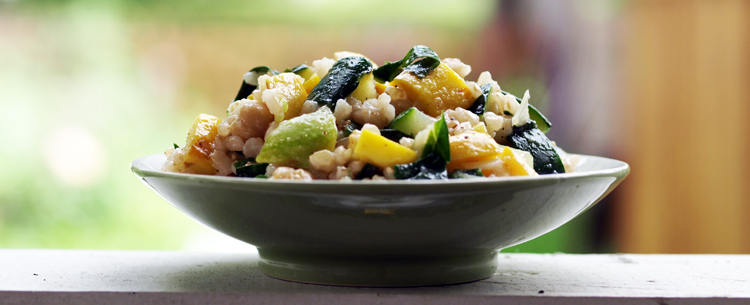 Grilled Summer Squash & Brown Rice Salad

Ingredients
1 cup brown rice
3-4 summer squash and/or zucchini, sliced lengthwise, about 1/4″ thick
5-6 leaves Swiss chard, stems completely removed (slice the stem out from between the two halves of the leaves)
1 can chickpeas, drained and rinsed
1/2 sweet onion and some of its greens, chopped
Dressing
2 tbs olive oil (or other oil of your choice)
1 tsp grated lemon zest plus 2 tbs juice
1/2 teaspoon agave
1/2 teaspoon salt
fresh herbs of your choice (basil works great here), chopped
additional salt and pepper to taste
Method
Cook the rice according to package directions.
Fire up your grill! Lay out the squash slices. Lightly spray each side with grapeseed (or other high-heat) oil, and then sprinkle with salt and pepper. Once the grill is heated, place the squash in one layer, cover and cook for ~3 minutes, until grill marks are apparent. Flip and cook another couple minutes, again until grill marks are apparent. Squash cooks very quickly on the grill and can become soggy (especially the larger ones) if left on too long, so be careful not to overcook. Remove from heat and let cool.
Blanch the Swiss chard in boiling water for 2 minutes, rinse in cold water and chop. Add chard, onion, chickpeas to a serving bowl.
Cut squash into a large dice and add to the bowl; you should have about 2 cups.  Gently stir in rice.
Combine the dressing ingredients in a small bowl. Mix well and then add to salad, stirring to combine everything. Adjust seasonings to taste.  Serve at room temperature, or chill.  This salad also make a great stuffing for tortillas or collard wraps.
Post and photos by Mikaela D. Martin: Blooming Glen CSA member since 2005, board-certified health counselor, and co-founder of Guidance for Growing, an integrative wellness practice in Souderton. Read more about healthy eating and living on her site, http://guidanceforgrowing.com!