01 Jun

Swiss Chard Recipes: One Bunch, Two Ways

Some of you might remember the survey we sent out a few months ago that had a variety of questions surrounding a big idea we had for a BGF cookbook. Although we are not quite ready to make it happen this year, we still gleaned a lot of important information for this blog and the weekly recipes we put on it. One of the most helpful survey questions we asked was, "what veggie would you like more recipes for?".  An overwhelming number of you said that Swiss chard was among the top of your list. Since Swiss chard is not going to be a stranger to anyone's CSA pickup basket, we would like to help you out by throwing you a few of our favorite chard recipes every now and then to keep your kitchen churning out delicious variations on this Blooming Glen favorite.

One problem people always run into when they first cook chard is the difference in cooking times for the leaves and stems. These recipes allow you to make two dishes from one bunch of Swiss chard–one with the tender leaves and the other with the crunchier stems.

This is also a great way to use these beauties from this week's share….

Recipe for the leaves:

Creamed Chard and Spring Onions

With 1 bunch Swiss chard from your share:

-Remove leaves from chard and set stems aside.

-Chop and wash (no need to dry) chard leaves and place it in a large pot over high heat. Cook, covered, with just the water clinging to leaves, stirring occasionally, until wilted, about 6 minutes.

-Press or squeeze out the excess liquid any number of ways, either by wringing it out in cheesecloth or paper towel or putting it in a mesh strainer and pressing the moisture out with a spatula. Wipe out the large pot so you can use it again.

-Heat: 1 1/4 cups milk or cream in a small saucepan over moderate heat, stirring, until warm. Keep warm.

-Back in the large pot, saute: 3 tablespoons of butter, 3 spring onions, ends trimmed, white and some green parts sliced into thin coins, and 2 cloves of garlic (optional).

-Whisk in 3 tablespoons all-purpose flour and cook roux, whisking, about three minutes.

-Add warm milk or cream in a slow stream, whisking constantly to prevent lumps, and simmer, whisking, until thickened, three to four minutes.

-Stir in chard, 1/4 cup finely grated parmesan (keep extra on hand for serving). Then salt and pepper to taste and cook, stirring, until heated through.

TIP: This is delicious tossed with pasta. Just use 1 3/4 cups of milk instead of 1 1/4 cups. This should be enough to toss with about half a pound of pasta (more or less depending on how saucy you like yours).

With the stems:

Swiss Chard Stalk "Hummus" (taken from the NY Times Recipes for Health)

If you usually toss the stems in favor of the more tender leaves, consider saving them for this luscious and ingenious Middle Eastern appetizer.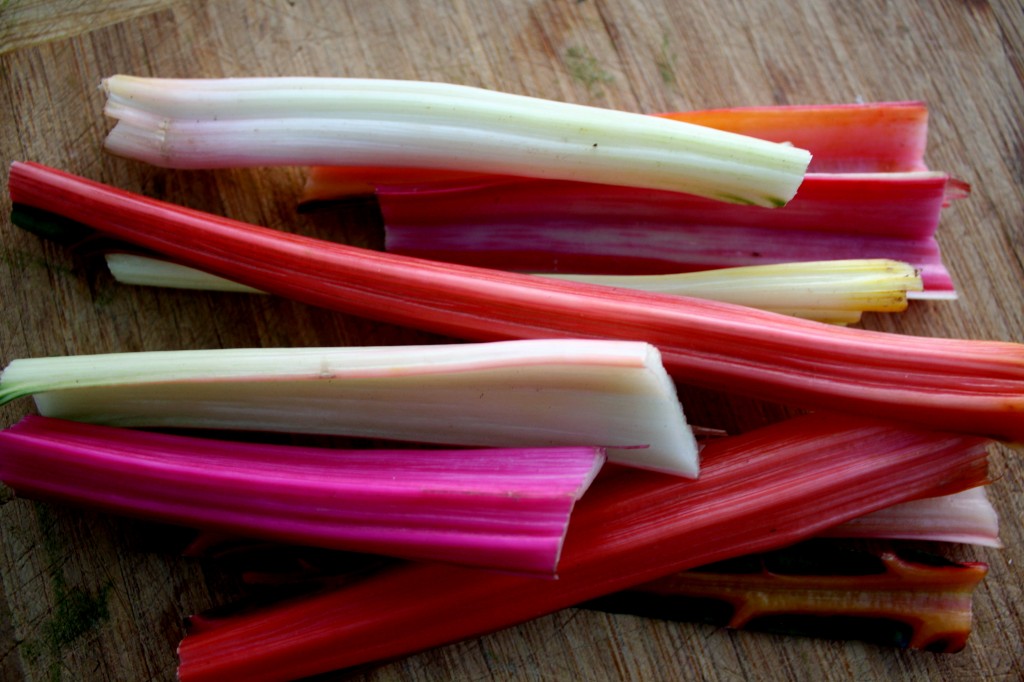 -Chop 1 pound Swiss chard stalks (about 4 cups)
-Steam the chard stalks about 15 minutes or until tender when pierced with a fork. Drain well, and allow to cool. Place in a food processor fitted with the steel blade. Puree, stopping the machine from time to time to scrape down the sides.
-In a mortar, mash 2-4 cloves of garlic with 1/2 teaspoon salt until you have a smooth paste. Add to the chard stalks. Process until smooth.
-Add 1/2 cup tahini, and again process until smooth. With the machine running, add 1/4 cup lemon juice and salt to taste. Stop the machine, taste and adjust seasonings.
-Transfer the dip to a wide bowl. It will be a little runny (unless the tahini you used was thick) but will stiffen up. Drizzle on the olive oil and serve.
Yield: About two cups.
Recipes contributed by Jana Smart- Blooming Glen Farm employee and frequent creator of creative recipes uses fresh seasonal ingredients. Check out more of her recipes on her food blog http://www.agrarianeats.blogspot.com/