15 Jun

Summer Squash Spring Rolls

As spring moves into summer, the season of barbecues, picnics and parties is upon us. And so is the season of summer squash! If you've ever planted them in your garden, you know what a bumper crop squash can be once they get going — here at the farm, it's no exception. Try this fresh recipe to help you use your share of the bountiful harvest and entertain in style. Fresh spring rolls will always wow a crowd, but they are actually pretty easy to make. Keep this recipe on hand throughout the summer and swap in different veggies as your CSA share changes.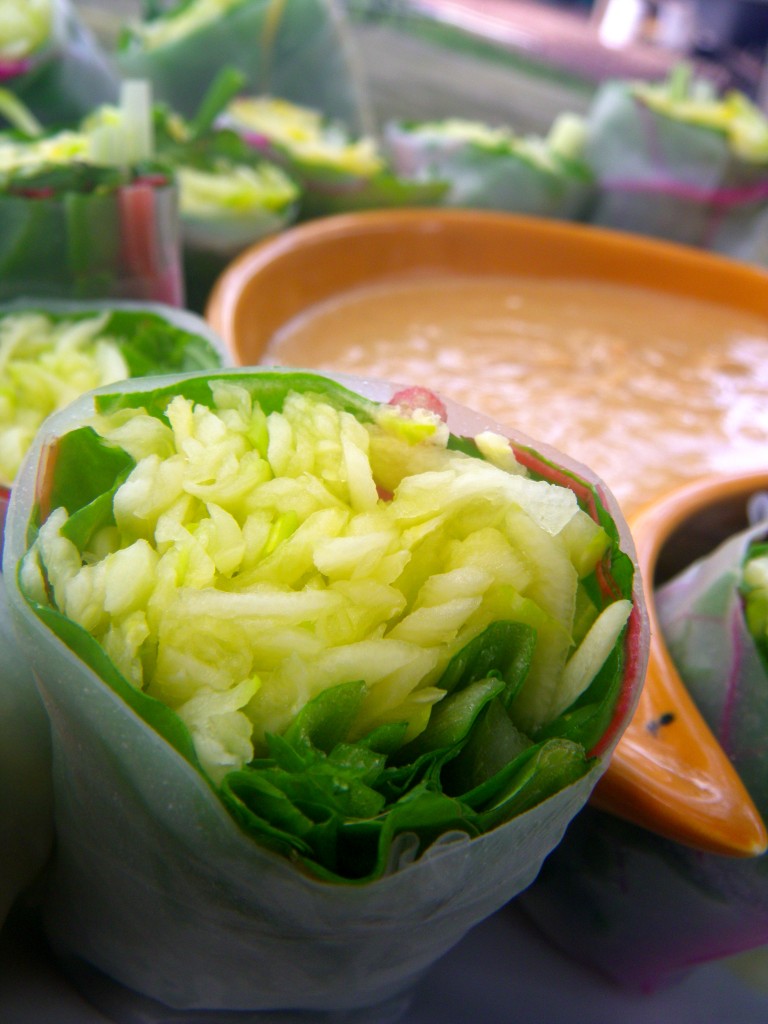 Summer Squash Spring Rolls
Start by preparing the filling ingredients:
2 medium summer squash, grated
2 spring onions, cut into long thin strips
6 swiss chard leaves, de-stemmed and cut in half
1 bunch cilantro, de-stemmed
1 bunch basil and/or mint (optional), de-stemmed
Place these in piles on a cutting board or plate. Now, prepare an assembly station: Fill a baking pan with a bit of hot water. Next to the water, you'll need two clean plates — one to work on and one to put the finished product on. Now you're ready to roll!
Begin with a package of Spring Roll Wrappers (also known as rice paper wrappers, found in the Asian section of most grocery and health food stores). Soak one rice paper wrapper in the water for about 15 seconds, until it is soft and pliable. Lay the wrapper flat on the plate and fold in the right and left sides. Stack the filling, starting with swiss chard, on top of the wrapper — kind of like you would do a burrito.
Wrap the bottom edge over the veggies, rolling it up as tight as you can. The wrapper will stick to itself as it dries. Repeat with the rest of the wrappers. Cut each roll in half. Serve with Peanut Dipping Sauce. Makes 24 rolls
Peanut Dipping Sauce
Whisk together:
1/2 cup peanut butter
2 teaspoons sesame oil
2 tablespoons soy sauce
3 tablespoons vegetable broth or coconut milk
1 tablespoon rice wine vinegar (substitute white wine vinegar if needed)
1 tablespoon sweet chile sauce, or 1 teaspoon tabasco
Juice of 1 lime
1-inch piece of fresh ginger, grated or finely minced
Serve with spring rolls. Use any leftovers as a dip for other fresh veggies like kohlrabi and turnips.
Recipe contributed by Kate Darlington – Blooming Glen Farm intern, Colorado native, and food lover.