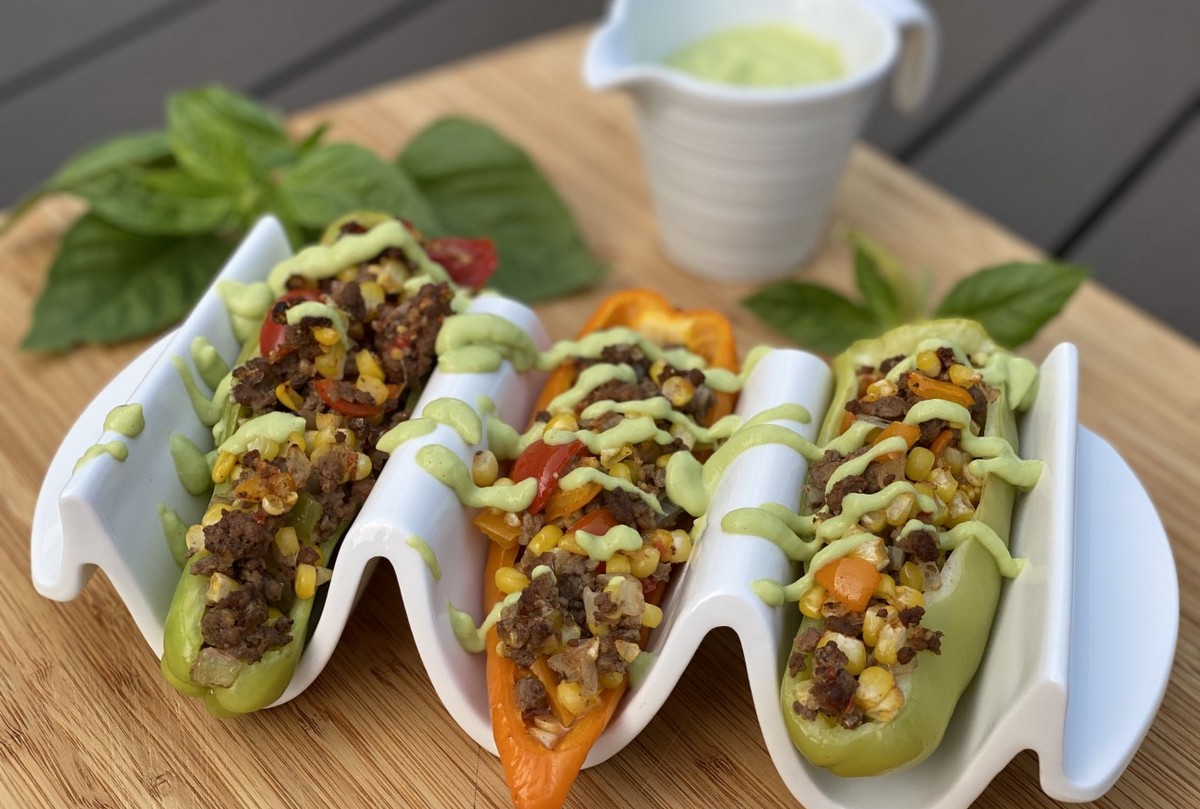 12 Aug

Stuffed Peppers with Creamy Avocado Sauce

What a beautiful bounty we have this week in our CSA shares!  We certainly won't have any trouble eating the rainbow as we incorporate all of the amazing produce from the farm.  This week's recipe highlights the cubanelle and sweet peppers we received, but also incorporates the sweet onion, tomatoes, corn, and basil from our shares.  Enjoy!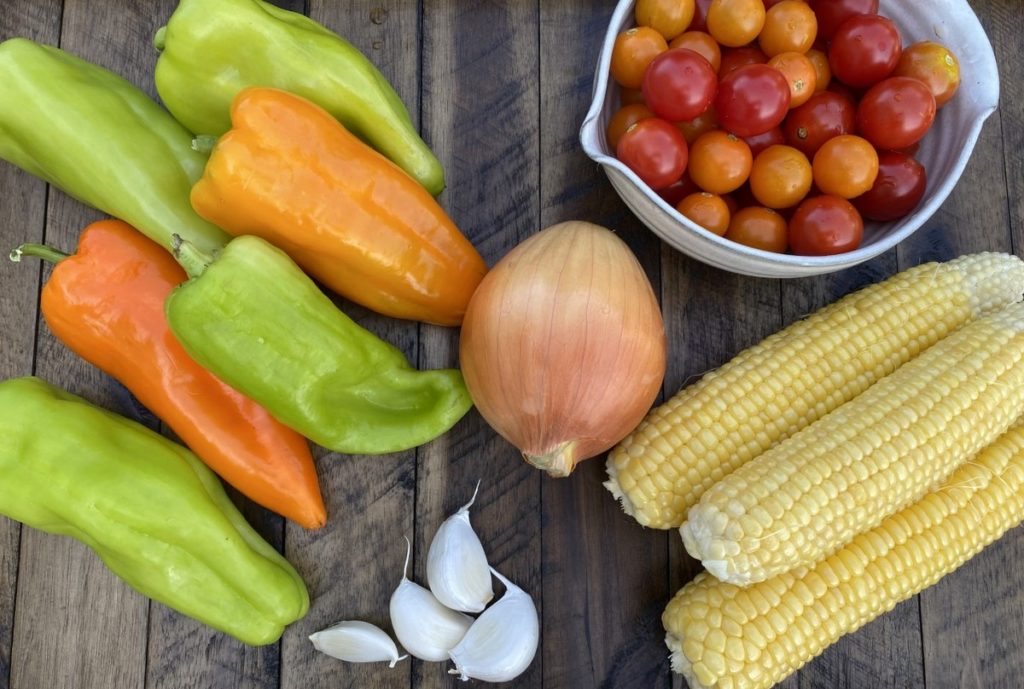 Stuffed Peppers with Creamy Avocado Sauce
Ingredients:
6 cubanelle or sweet peppers (or add in a poblano for the heat lovers in your household)
1 Tbsp olive oil or avocado oil
½ sweet onion, chopped
2 cloves garlic, minced
1 lb ground turkey or ground beef**
1 cup chopped tomatoes (I used cherry tomatoes, but use whatever kind you have on hand)
2 ears corn
½ tsp sea salt
¼ tsp black pepper
Creamy avocado sauce (recipe below)
Preheat oven to 350°F.
Lay peppers lengthwise. Cut off the top third of the pepper and remove the seeds.  Dice the pepper pieces that you just removed and set aside.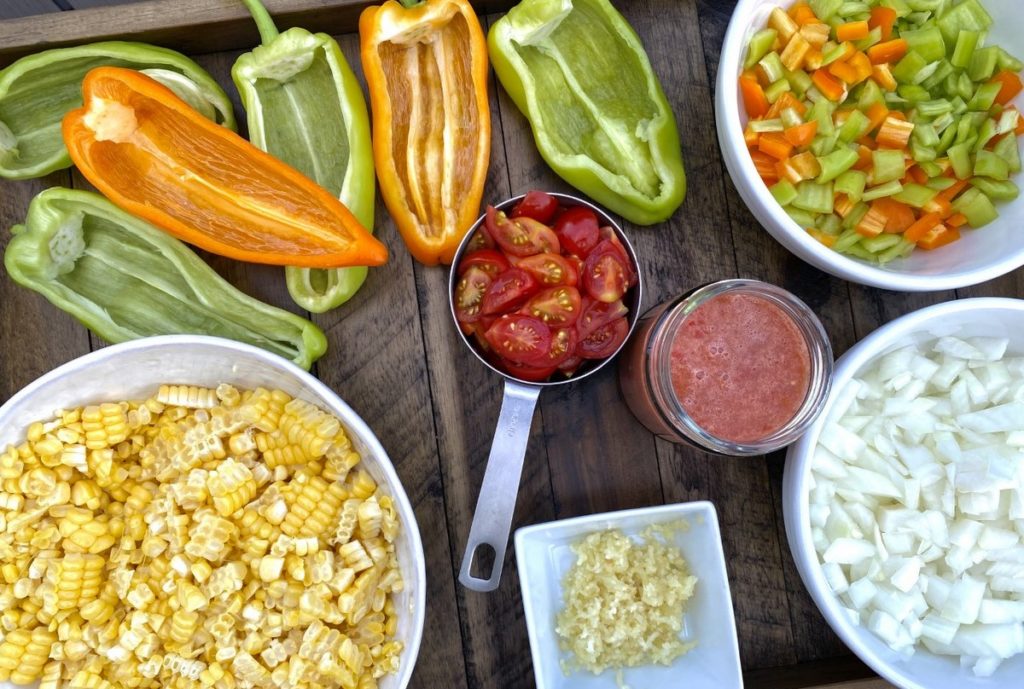 Place oil in frying pan and heat. Sauté onion for 3 minutes on medium heat.  Add garlic and cook for another minute.
Add ground turkey or ground beef and cook through, about 6-8 minutes.
Remove corn kernels from the cobs.
When meat is cooked through, add corn and diced peppers. Cook for 2 minutes.
Puree half of the tomatoes.
Add chopped tomatoes, tomato puree, salt, and pepper to meat mixture. Mix to incorporate and remove from heat.
Place peppers in baking dish and fill with meat mixture.
Bake for 25 minutes.
Drizzle with creamy avocado sauce before serving.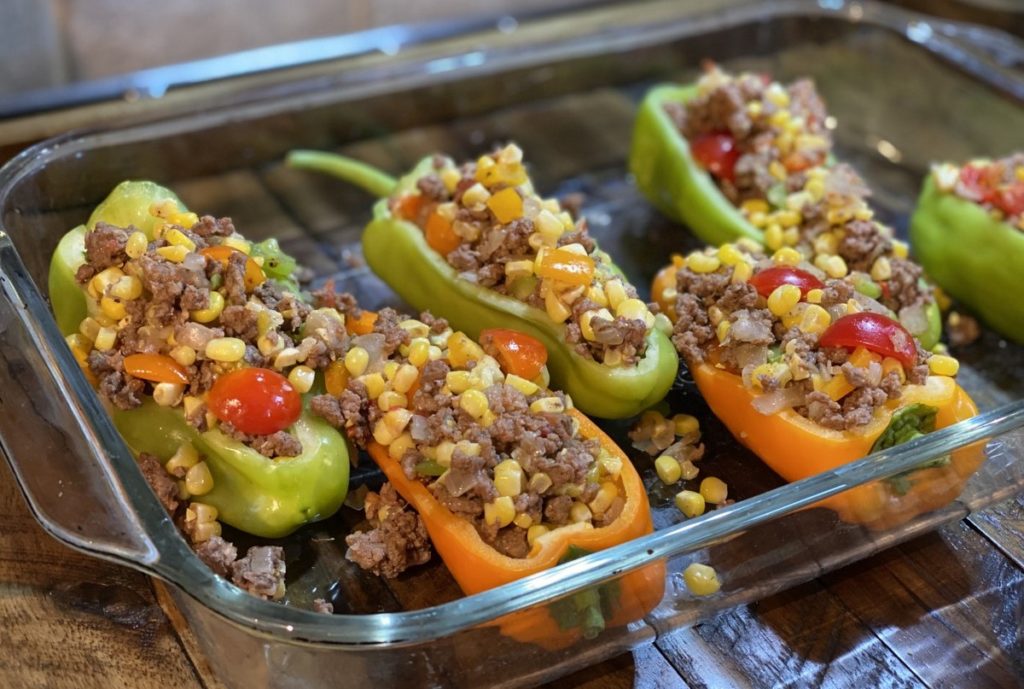 **For a vegetarian or vegan option, eliminate ground turkey/beef and replace with 2 cups cooked quinoa.  Sauté the onions and garlic as noted above and then add the quinoa.  Then add the corn and diced peppers and follow the remainder of the steps.
Creamy Avocado Sauce
Ingredients:
1 avocado, peeled and seed removed
1 ½ Tbsp lemon juice
1 clove garlic
1 Tbsp olive oil
¼ tsp sea salt
1 Tbsp fresh basil
½ cup water
** optional- add a ¼ to ½ a jalapeno to taste for extra kick. Remove seeds and inner flesh for less heat.
Place all ingredients in blender. Blend until smooth.
If sauce is too thick, add a little bit more water.
Store in airtight container in the refrigerator.

Recipe and photos by Stephanie Borzio.  Stephanie is a mom of three active boys and is an autoimmune warrior.  After battling her own health for several years, Stephanie found healing through food and lifestyle changes, including joining Blooming Glen Farm CSA of which she is a long time member.  She is a Board Certified Integrative Nutrition Health Coach who is passionate about sharing healthy living tips and real food recipes.  Instagram and Facebook: Tru You Essentials; Website: www.truyouessentials.com