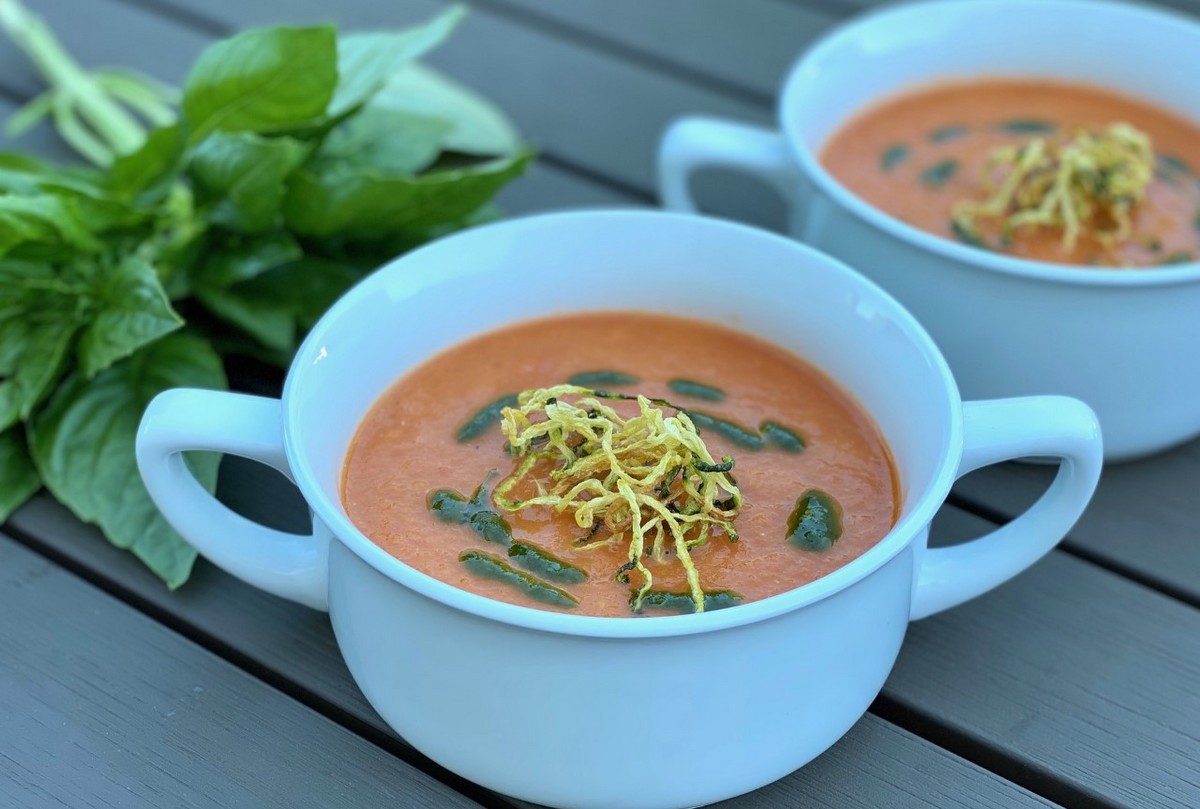 05 Aug

Roasted Tomato Soup with Basil Oil and Fried Zucchini Noodles

Cherry tomatoes, plum tomatoes, heirloom tomatoes, and beefsteak tomatoes… oh my!  There are so many amazing things we can do with tomatoes.  They can be the star of a meal or a delicious side.  Eat them as is, add them to salads, can them, make sauce, or create this delicious soup.

Roasted Tomato Soup with Basil Oil and Fried Zucchini Noodles

Ingredients:
3.5- 4 lbs fresh tomatoes
2 medium onions, peeled and quartered
1 pepper (green bell or sweet cubanelle), halved and seeds removed
1 medium summer squash (zucchini or yellow squash), roughly chopped
6 cloves garlic, with skin on
3 Tbsp olive oil
1 tsp sea salt
½ tsp black pepper
6 basil leaves
Basil oil (recipe below)
Fried zucchini spirals (recipe below)
Preheat oven to 400°F.
Slice tomatoes into quarters or eighths if they are really big.
Place tomatoes, onions, pepper, summer squash and garlic in a large bowl. Add olive oil, salt, and pepper.  Toss to coat.
Place tomato mixture on baking sheet.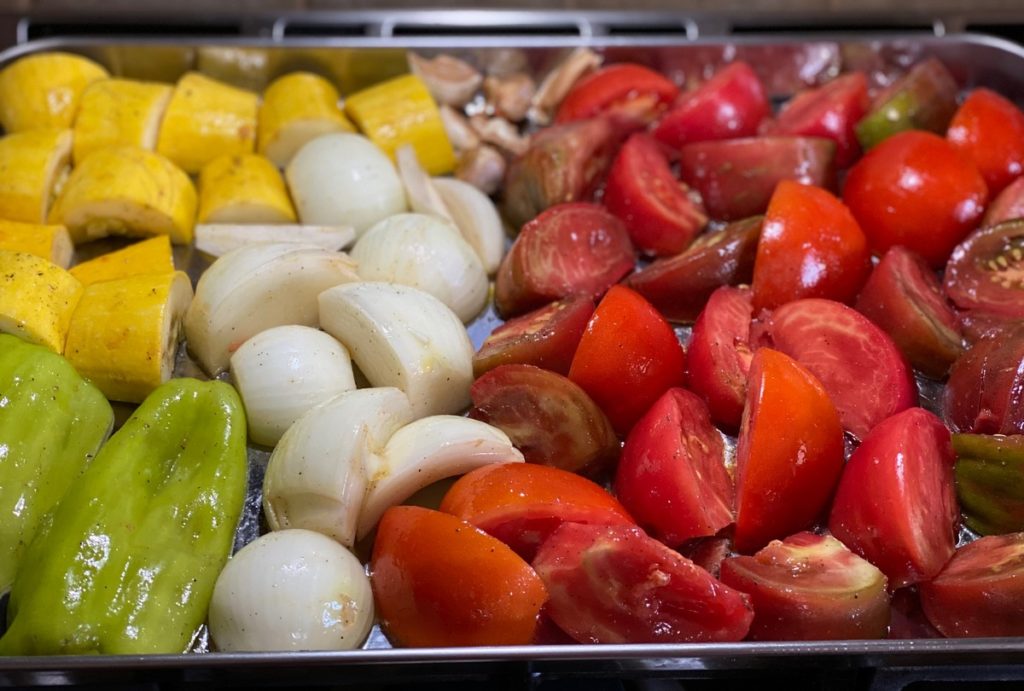 Roast for 25-30 minutes. Vegetables should be fork tender.
Allow to cool for a few minutes. Remove the skin from the garlic cloves.
Transfer mixture to blender, including juices on baking sheet. Add basil.  Process until smooth.  You may need to process in two batches.
Serve immediately or place in large saucepan and reheat later.
To serve, ladle soup into bowls. Drizzle on basil oil and top with fried zucchini spirals.
Soup can be stored in the refrigerator for up to a week. It also freezes well.
Basil Oil
Ingredients:
¼ cup basil leaves, packed
2 Tbsp olive oil
Pinch sea salt
Place boiling water in a bowl. Quickly blanch basil leaves (about 10 seconds) and then pat dry.
In food processor or blender, combine basil leaves, salt, and olive oil. Process well.
Fried Zucchini Spirals
Ingredients:
½ zucchini
½ cup avocado or coconut oil
Sea salt
Spiralize zucchini. If you don't have a spiralizer, you can thinly slice strips of zucchini.  Place between paper towels to remove some of the water.
Heat oil in small saucepan.
When oil is hot, fry zucchini. Place one spiral in the oil to make sure it is hot enough.  Process the spirals in small batches for about 6 minutes each.  When done, the zucchini spirals should be crunchy.
Lay on paper towels and sprinkle with sea salt.
Recipe and photos by Stephanie Borzio.  Stephanie is a mom of three active boys and is an autoimmune warrior.  After battling her own health for several years, Stephanie found healing through food and lifestyle changes, including joining Blooming Glen Farm CSA of which she is a long time member.  She is a Board Certified Integrative Nutrition Health Coach who is passionate about sharing healthy living tips and real food recipes.  Instagram and Facebook: Tru You Essentials; Website: www.truyouessentials.com