29 Apr

It's been slow growing…but winter is finally on its way out!

The only thing predictable about spring in southeastern Pennsylvania is how unpredictable spring is in southeastern Pennsylvania. Last year was wet and rainy, this year winter just doesn't seem to want to let go. We're farmers so it goes without saying we are pretty in tune with the weather (ok, some might say obsessive, but hey, we're like sailors over here- this land is our sea).

By April the greenhouses are brimming full with rootbound plant starts and we're sick of the weekly propane deliveries. We're down to the last of our canned tomatoes, and we're eager to move through the pages of our planting chart that we labored over during the "off season". We start scanning for the annual patterns and signs that hint at winters swan song- the first sound of the spring peepers (check), the nesting of the killdeers (definitely), the blooming of the daffodils (late!), the warbling song of the red winged blackbird (still waiting). The dandelions, which I like to imagine are winter's white flags waving in surrender, typically coincide with our potato planting. Not this year.  They finally reared their sunny heads in the last few days, weeks past when our spuds hit the ground.

Freezing temperatures at the end of last week had us scrambling to unroll our giant row covers and protect the field crops from lows in the upper 20s. Then the constant onslaught of wind has us tacking that very same row cover back on at least every other day.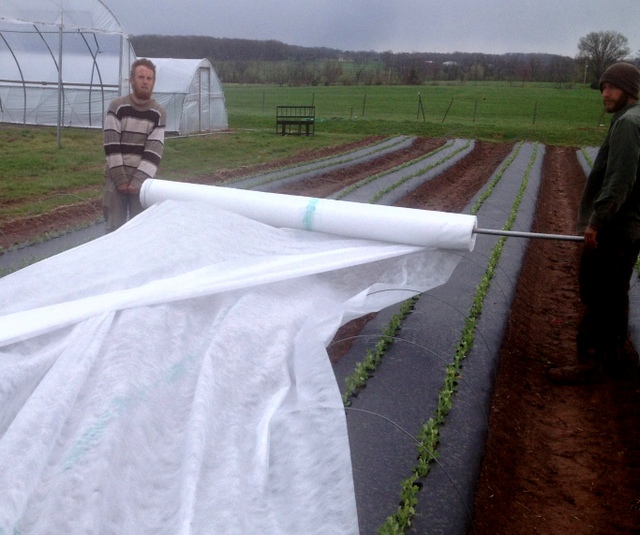 We're not complaining (well at least not too much). We are super thankful for the long stretches of dry weather, which enabled us to till, make beds and plant, plant, plant. Over the past three weeks we have been able to get a ton of crops in the ground, and we're still going strong. However, due to all those cold windy days, those plants aren't doing a heck of a lot of growing. Today was the first truly beautiful warm day, and the wind on our hill top died down quite a bit. What a relief! What a day!
So what have we managed to plant out in the fields over the past three weeks?? Lots! We planted 3,000 pounds of potato seed, 5 plantings of lettuce, spring onions, red onions, shallots, bok choy, radicchio, escarole, cabbage, kohlrabi, kale, swiss chard, arugula, spinach, turnips, radishes, beets, field tomatoes, flowers, and sugar snap peas.
The overwintered strawberry plants are just starting to bulk up, and the garlic has pushed through its straw blanket in neat tight rows of green.
We've pre-sprouted the ginger seed from Kauai. We've grafted the heirloom tomatoes and prepped the greenhouses (including reskinning the wind damaged one).
It's a steady merry-go-round of plants from the heated greenhouse, to the coldframe to harden off, and than off to the fields where they'll grow until harvest time. And just as soon as we make space in our propagation greenhouse, Jenna quickly fills it back up with her weekly seeding of more flats. While we're planting spring and summer outside, she's always a few months ahead inside- seeding late summer crops like watermelon, peppers, corn and winter squash, making sure we have a steady supply of plants to go into the fields.
On a side note we have an awesome crew this year- I hope you get to meet them all when you come to the farm, or at least see their smiling faces- so positive and upbeat and hard working- some new faces as well as a lot of familiar folks that have been with us two, three, even four seasons.
Everyone is finding their groove, learning new skills, and excited to be here growing food for ourselves and our community. We are looking forward to the first of the farmers markets this weekend- we won't have a ton quite yet, but we'll be representing with a few things like broccoli raab, overwintered leeks and hakurei turnips! And soon enough the bounty will come.
The on-farm CSA pick-ups will start the first week of June: Tuesday June 2nd and Thursday June 4th (hopefully just as those luscious strawberries are ripening). Registration is still open and available for on-farm pick-ups as well as for the delivery share to CrossFit Summa in Doylestown and Congregation Beth El in Yardley. Those delivery shares will start Wednesday June 10th. More details and registration for all these pick-ups can be found on our website. And lastly, we're having fun posting these photos and more on Instagram (search bloomingglenfarm), yet another way for you to follow the progress of your food from field to fork!
Post and photos by Tricia Borneman, Blooming Glen farmer and co-owner. Tricia and her husband Tom have been farming together since 2000. Blooming Glen Farm is entering its 10th season bringing high quality certified organic vegetables, herbs, fruits and cut flowers to our local community. Tricia is passionate about food, art and nature and the intersection and expression of all three.