10 Sep

Harvest Fest Hoe Down Coming Soon!

Save the Date! Blooming Glen Farm's annual Harvest Fest is coming up in October. This year the event is on a Sunday, October 12, at 3pm, community potluck at 5:30pm (that's Columbus Day weekend). What's on tap? Local music and performance, community art, pie bake-off contest (plan your winning entry now!), garlic seed social, farmy crafts, wagon ride and more! We can't do it without you! Please consider volunteering to help the day of the event. Sign up sheets will be available in the CSA distribution room. Help us celebrate year nine of Blooming Glen Farm, and another rocking harvest season!

Speaking of the harvest, we are excited for the first of the fall broccoli, swiss chard and cabbage.  All these crops are loving the cooler weather, and are growing beautifully.

Looking ahead, we planted next spring's strawberry crop. We treat our strawberries as annuals, replanting every fall so as to avoid weed and disease issues. This planting was our largest yet, with over 10,000 strawberry plugs going into the field. Every plug goes in by hand. Since it's so crucial not to bury the crown below the soil level, we forego using the transplanter, and tuck in each plant with care. In late fall the aisles will get mulched with straw and by early winter we will cover the plants with a heavy cloth row cover to help them survive the harsh cold.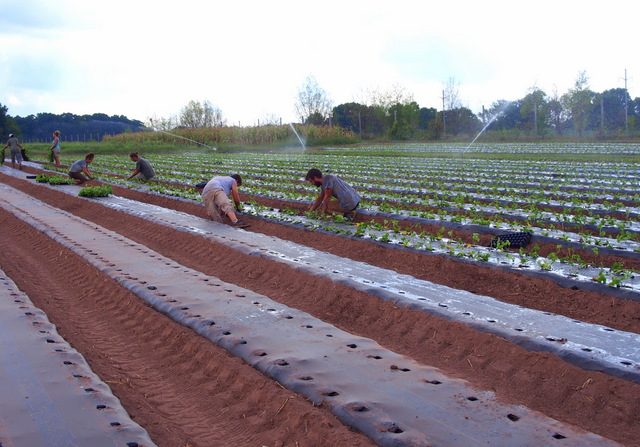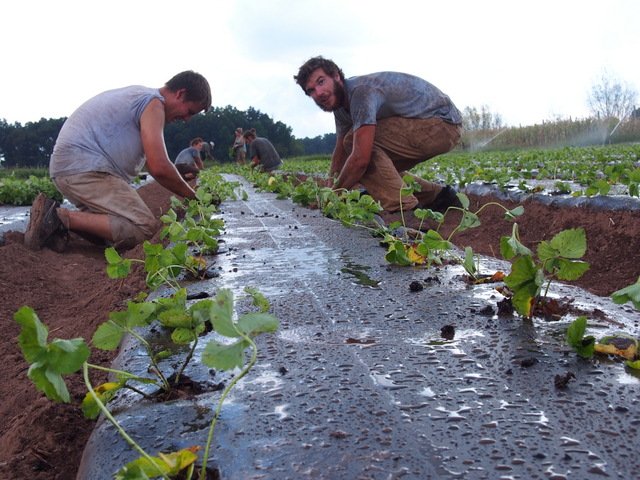 Even though the strawberry plants are on drip tape, since it was such a hot day when they were planted, we turned the overhead sprinklers on immediately. Then (some of us) promptly ran through the sprinklers.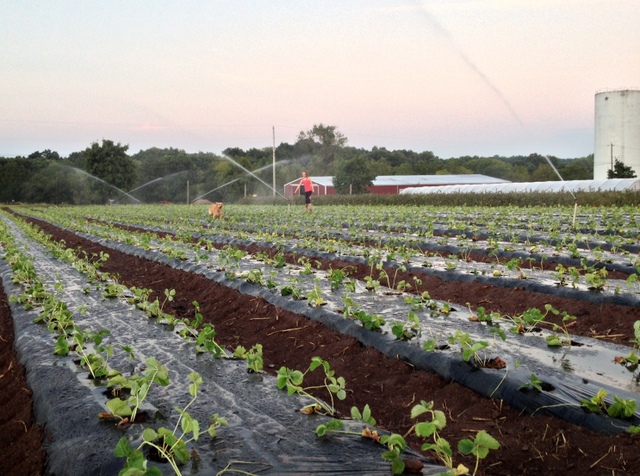 Post and photos by Tricia Borneman, Blooming Glen farmer and co-owner. Tricia and her husband Tom have been growing together since 1996 and farming together since 2000. They started Blooming Glen Farm in 2006. Tricia is passionate about food, community, art and nature and the intersection of all four.