17 Oct

Harvest Fest a Success

Sunday was a beautiful sunny afternoon, sandwiched between two dreary rainy days. With over a hundred votes cast in Blooming Glen Farm's 5th annual pie bake-off contest, we are judging attendance around 150 to 200. The band was hopping, the popcorn popping and the scarecrows multiplying. What a fun way to wind down this wonderful growing season with amazing weather and amazing people. The festival, and especially the potluck was truly a celebration of the bounty of this land! Thanks to all who volunteered and attended, and those who contributed their creativity, like clay artist Katia McGuirk, playwright Anne Hamilton and her actors and actresses, chef Kristin Moyer and popcorn popper Justin, the goofy and talented band members of Goose Creek Pioneers, and all the pie bakers. It really felt like a very special community celebration.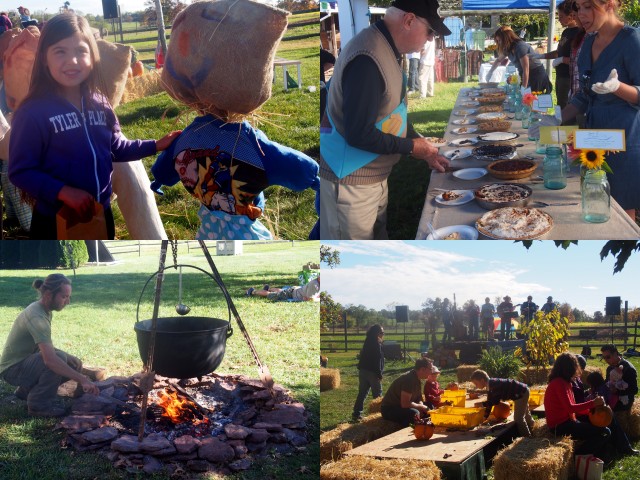 Next week we will be posting the winning pie recipes- the top three in the people's choice, and the top three judges vote. All the pies were superb- as one pie judge said- there must be something in the veggies at Blooming Glen Farm! This year's first place winners were new to pie baking. The people's choice first place went to a novice 16 year old baker with her chocolate pecan recipe, and the judges vote went to two young children who baked a classic apple pie with the help of their dad. Pretty cool! More details and recipes to come!
The share this week features two winter squash varieties to chose from, the Long Island Cheese Pumpkin and the Cuban pumpkin.  A classic pumpkin of the 1800s, the Long Island Cheese pumpkin was most likely named for its shape and color, which bring to mind a wheel of fresh cheese. The name may also stem from the colonial practice of making "pumpkin cheese", a sweet preserve we'd call pumpkin butter. In addition to its beautiful pale orange skin, this pumpkin contains a sweet flesh that's fantastic for baking.
The other winter squash choice was a Cuban Pumpkin, also called Calabaza, or Jamaican pumpkin. It is mottled green, yellow and tan, with a light yellow flesh and a smooth sweet flavor. We grew this pumpkin sucessfully last season, and increased our planting this year. As the name suggests it is typically grown throughout the Caribbean as well as Central and South America. A popular Cuban dish is Arroz con Calabaza, or Pumpkin Rice. Chunks of squash are simmered with rice, garlic, onions, peppers, and fragrant herbs and spices. The squash can also be baked or made into soup, and substituted in recipes for other hard skinned winter squashes like butternut and hubbard.
Also new this week- romanesco cauliflower and kohlrabi. The fall kohlrabi is a variety that is grown to be large, store well, and still maintain its sweetness. We've featured this strange alien shaped veggie in various recipes on the blog over the year: Kohlrabi Dal with Aromatic Rice, Kohlrabi Fritters with a Yogurt Sauce, and Kohlrabi and Turnip Slaw (and variations). I love kohlrabi raw as a slaw with apples and fennel. Enjoy the flavors of fall!

Post and photos by Tricia Borneman, Blooming Glen farmer and co-owner. Tricia and her husband Tom have been growing together since 1996 and farming together since 2000. They started Blooming Glen Farm in 2006. Tricia is passionate about food, community, art and nature and the intersection of all four.