22 Jun

Grilled Radicchio Salad with Pear and Pecorino

Radicchio is another one of those veggies most people avoid because they either 1) don't know what the heck it is  2) don't know how to prepare it even if they muster the courage to pick it up from the farmers' market 3) are plagued by some bitter and unpleasant memories of the time a few leaves made their way into a salad mix. Well I'm here to tell you that you can overcome your fears…you CAN love radicchio! All it takes is a preparation that balances the pleasant bitterness of the leaves with a sweet and nutty topping.

Radicchio is a member of the chicory family (along with endive and frisee) and is a widely grown crop in Italy where it was first cultivated and popularized. In addition to making a delightful salad, this veggie is sturdy enough to braise and grill–a popular option for those who might not be crazy about it raw. For this recipe I chose to grill the radicchio in halves on a gas grill, but you can also use a cast iron pan or roast it in the oven.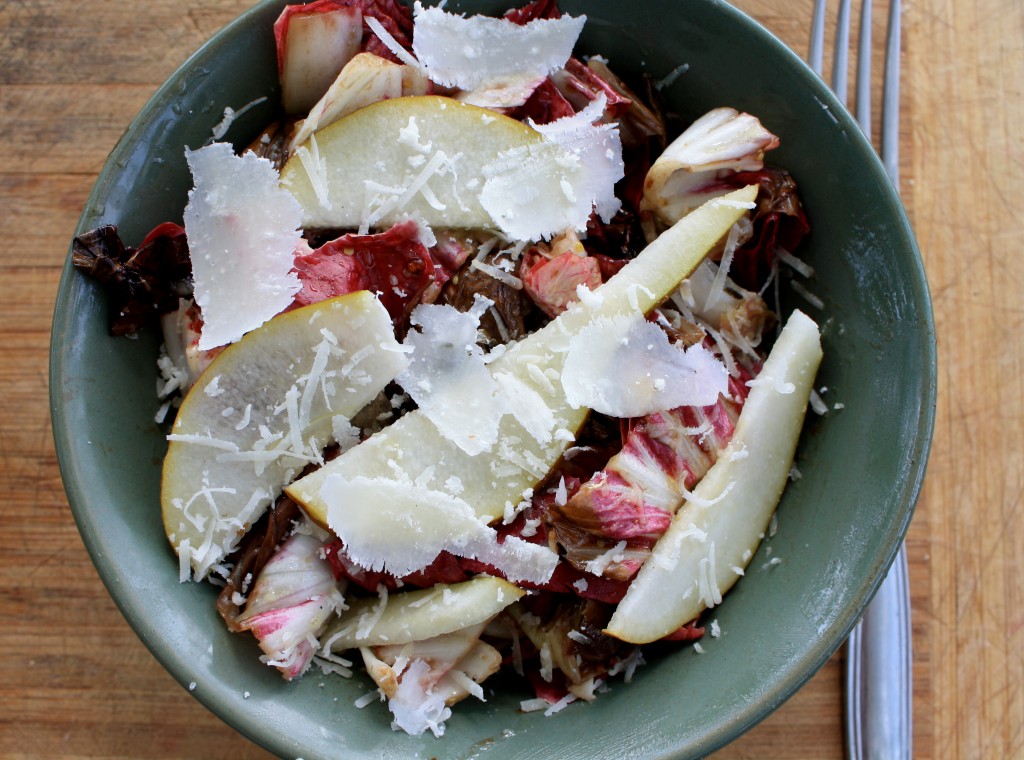 Grilled Radicchio Salad with Pear and Pecorino
-Wash and dry:
1 head of radicchio from your share
-Cut into half and coat with olive oil
-On a medium/low heat, grill radicchio halves on each side for 4 minutes until wilty and tender. If the outer leaves get a little crispy, that's okay! (It is more delicious that way)
-Set aside to cool slightly and in the meantime whisk together:
2 tablespoons balsamic vinegar
1 teaspoon Dijon mustard
3 cloves of green garlic (from your share!)
4 tablespoon Extra Virgin Olive Oil
Salt and pepper to taste
-Cut up the radicchio halves into chunks and toss them with the vinaigrette. Thinly slice 1 half of a Bosc pear (or an apple) to toss in. Top with some grated Pecorino or Parmigiano-Reggiano. Serve warm or at room temperature. ENJOY!
Recipe contributed by Jana Smart- Blooming Glen Farm employee and frequent creator of creative recipes uses fresh seasonal ingredients. Check out more of her recipes on her food blog http://www.agrarianeats.blogspot.com/