31 Aug

Green Pepper Dolmas

With a few "Hurricane Specials" rolling in this week, I figured you might need something to do with all those big, beautiful green peppers and eggplant you will be getting.

This is a delicious recipe for stuffed peppers I picked up while I was in Turkey. Dolma simply means "stuffed" in Turkish and usually contains some mixture of meat, veggies, herbs and rice. My recipe has meat in it, but can easily be made vegetarian if you double up on the rice and eggplant. Serves 4 as a main dish.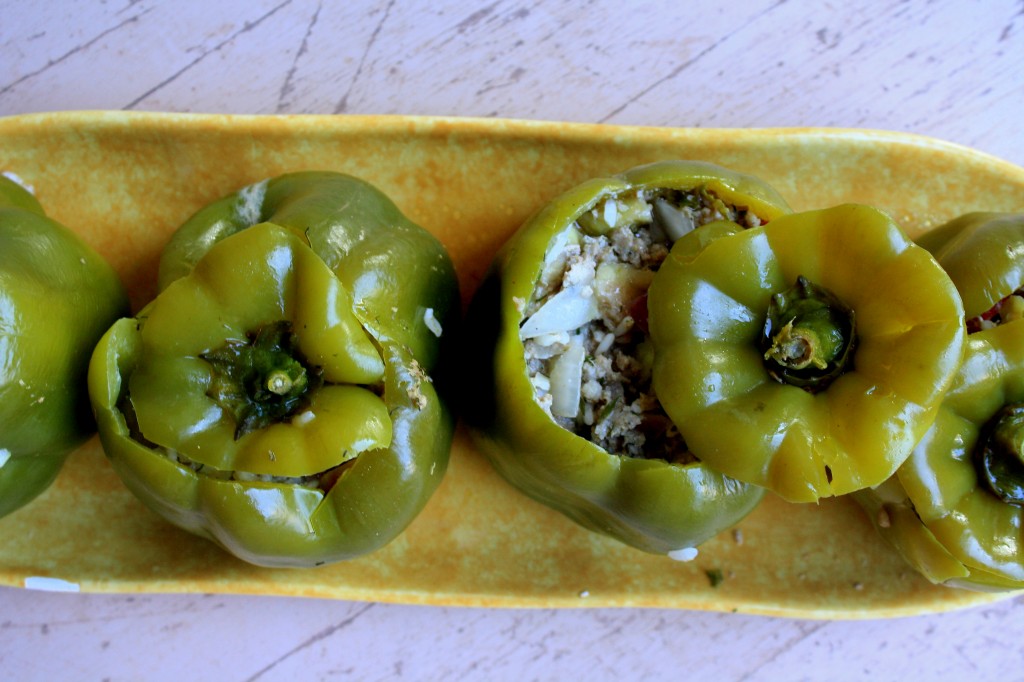 Green Pepper Dolmas
-Preheat oven to 400 degrees
-Prepare the eggplant for the filling by peeling and dicing 1 Asian eggplant and generously salting it. This draws out water and takes away any bitterness that might linger. Needs to set about 15 minutes to half an hour before being put in the filling.

-Take 4 green bell peppers and cut a slice off each end; reserve the tops. Remove the seed cores, wash and drain.
-Make filling by mixing in a large bowl:
5 tablespoons white rice, uncooked
1 onion, finely chopped
1 cup of tomato, chopped
the salted eggplant, rinsed and wrung out with a towel to remove moisture
3/4 pound of ground beef or sausage (I used kielbasi removed from its casing)
2 cloves of garlic
thyme and oregano (about a tablespoon each if it's dried, or to your taste)
1/2 teaspoon of cumin
Salt and pepper
-Add 3/4 cup of water to the mixture and let stand for 30 minutes.

-Stuff peppers loosely with the filling. Arrange in a heavy shallow pan. Place pepper tops over the dolmas. Dot with butter.
-Add 3/4 cup of chicken or veggie stock to the pan. Cover and simmer on the stove on medium-low heat for 35-40 minutes. Add small amounts of water if the bottom of the pan starts to dry out.
-Carefully remove peppers from liquid and place in baking dish. Pop in the oven for about 1o to 15 minutes. **This will help dry out the filling since it is usually a little soupy. It will also help make sure the rice is cooked through.
-Serve with a dollop of yogurt laced with garlic or herbs and ENJOY!
Recipe and photos by Jana Smart- Blooming Glen Farm employee and frequent creator of creative recipes using farm fresh seasonal ingredients. Check out more of her recipes on her food blog http://www.agrarianeats.blogspot.com/