06 Jun

Green Garlic Dressing
Woo hoo, another season has begun at Blooming Glen Farm! I'm sure you were as excited as I was about the first share of the year. Fresh strawberries, lots of greens (including gorgeous spinach), turnips, and green onions and garlic have been making their way into our meals all week.
Green garlic is probably a crop that most of us aren't too familiar with, but can do a lot for meals and nutrition. Green garlic is "baby" garlic, also known as spring garlic. Although it's smell is as pungent as the mature bulb, the flavor is much more mild and can be enjoyed raw in salads, or cooked, where it sweetens up a bit. The greens can also be used, similar to how one would use chives. As far as nutrition, green garlic contains the same great benefits as garlic:
Allicin, a natural antibiotic that helps boost your immune system by blocking infections.
Iron, which keeps iron levels high in your blood stream, and ferroportin, a protein that transports iron from the inside of a cell to the outside of it.
Vitamin C, a super vitamin that can help with everything from weight management to cancer prevention.
Vitamin B6, which has been shown to help prevent heart disease.
Selenium, which support our cancer-fighting antioxidant system.
Manganese, another mineral that supports antioxidant efforts, as well as our "good" cholesterol (HDL).
Luck for us, there are lots of ways to utilize green garlic in the kitchen. Here are a few yummy recipes to add to your recipe box:
I've been using the creamy (and bright!) green garlic dressing below with grain and pasta salads, green salads, and in stirfries this week.  I've played with a couple different oils and vinegars and they all turned out tasty. If you don't have the called-for ingredients, feel free to play around with what you do have on hand!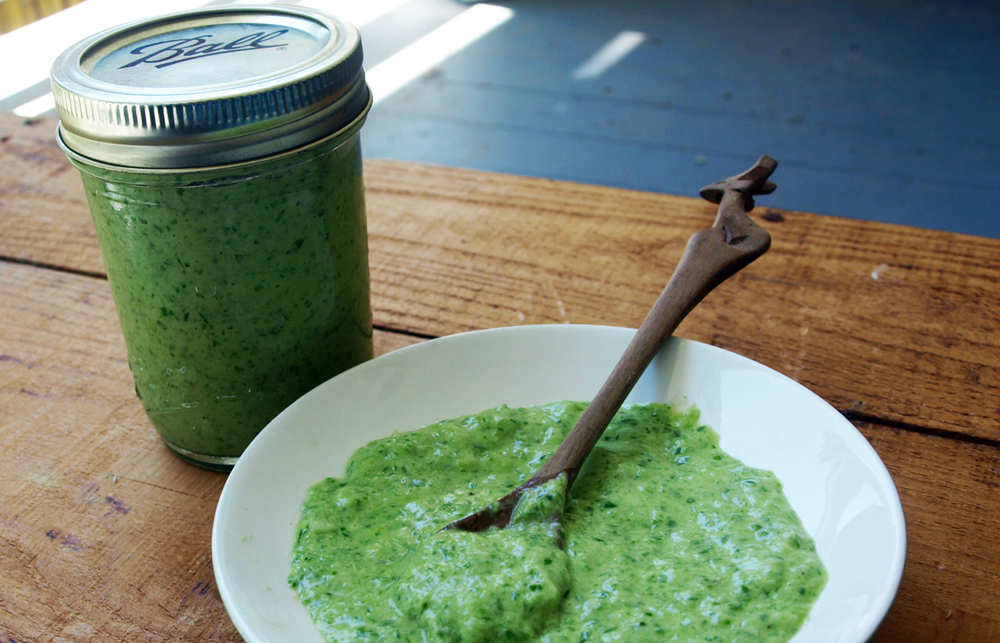 Green Garlic Dressing
Ingredients
2 stems of green garlic, trim bulbs, include greens
1/4 cup champagne vinegar
1/4 cup sesame oil
1/4 cup water
1 tbs agave honey, plus more to taste
salt and pepper, to taste
Method
Simply add all the ingredients to a food processor or blender and blend until smooth, adding a bit of water if needed. Adjust agave, salt and pepper to taste.
Post sources and recommended links:
What's New and Beneficial About Garlic, from WHFoods.
Ferroportin on Wikipedia.
Spring Vegetable to Try: Green Garlic, from PopSugar.
Green Garlic: All The Flavor & Nutrients 5 Calories Can Handle from Your Organic Gardening Guide.
Post and photos by Mikaela D. Martin: Blooming Glen CSA member since 2005, board-certified health counselor, and co-founder of Guidance for Growing, an integrative wellness practice in Souderton. Read more about healthy eating and living on her site, http://guidanceforgrowing.com!