23 Jul

Field Tomatoes are coming, Cantaloupes are here!

Another strange summer in Pennsylvania… It may feel warm during the day but these cool nights that are such wonderful sleeping weather are keeping our tomatoes from ripening, and testing our farmer patience. Loaded with green fruit, we are finally seeing the first blush of red on the plants.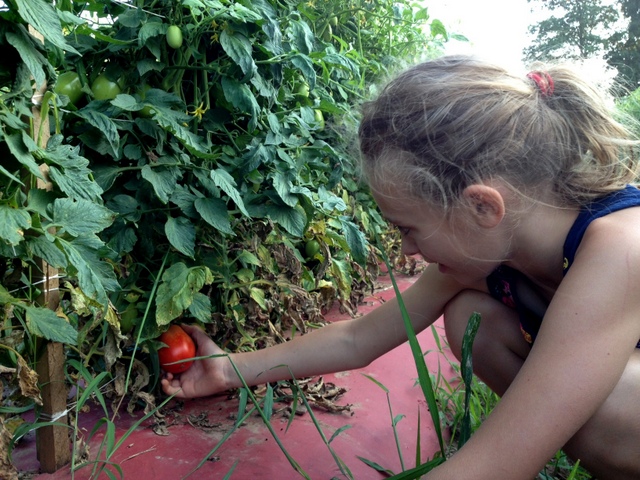 It may still be a week or two until we see the full avalanche of ripe fruit. This is definitely a later harvest than usual- caused by both the current weather and the late winter that pushed the spring planting back a few weeks. Hopefully the first frost of the fall will be later than usual as well!
The conveyor belt worked overtime this week as we put it to use to harvest the sweet corn and cantaloupes. This back-saving harvest tool is a favorite of the whole crew, used almost every other day in the cucumbers and summer squash. We harvest right onto the belt which funnels the crops directly onto a wagon to be packed.
The cantaloupes are a success story this season. We have tinkered with variety and planting methods in hopes of getting a great harvest- and here it is!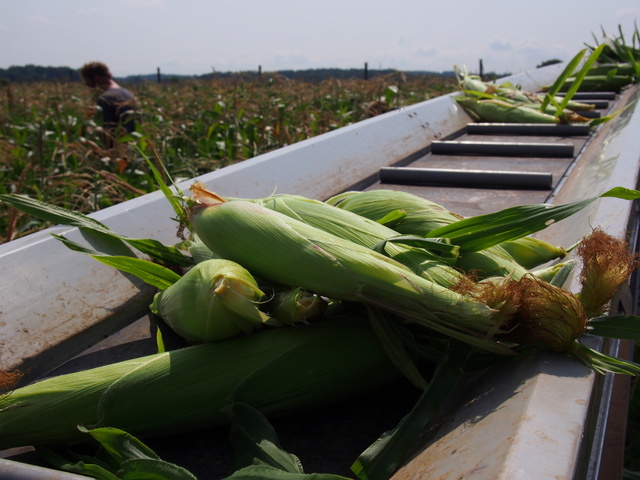 The sweet corn, as we have written about in the past, is always a challenge to grow organically. We mainly battle the corn worms and the black birds. Each year we hang dozens of cards on the corn tassels which contain thousands of beneficial wasps. 
To keep the birds at bay, we invested in a noise making cannon- our experience from last year proved it is effective after just a few times. Still, you will see some bird and worm damage on the ears in this week's share. In addition to managing pests, another challenge with growing sweet corn organically is that corn has heavy nutrient demands. We switched corn varieties this season, in hopes of growing a larger ear. Since we do not utilize chemical fertilizers like conventional growers, we have to look for varieties that respond well to organic management practices.
Another treat in this week's harvest are the Purple Viking potatoes. This beautiful variety has a deep purple skin with hot pink splashes and a creamy white flesh. Delicious baked, roasted or mashed, this is one of Tom and my favorite potato varieties, not only for its appearance but for its wonderful flavor.
Post and photos by Tricia Borneman, Blooming Glen farmer and co-owner.