09 Jun

Enough rain now, thank you.

Our crew donned their muck boots and headed out this morning, pumped up for what we all knew was going to be a huge harvest. Tuesday is always a more popular pick-up day for our farm share members, so it is the larger CSA harvest of the week. Plus today we added in the numbers for our first boxed shares to Yardley and Doylestown to be delivered on Wednesday. Everyone did an amazing job getting the produce out of the field and ready for the on-farm pick-up by 1pm. Not bad for a morning's work.

Yesterday was also a flurry of activity on the farm. With impending storms breathing down our neck, we cultivated, planted, made more beds, weeded and trellised. We knew that heavy storms and up to 3 inches of rain were headed towards us. The window of opportunity was small, and we needed to seize it. Things had finally dried out enough from the last rainstorms, so we really only had the one day to get as much field work done as we could before the fields were a soggy mess again. We worked well into the evening, until the skies darkened and common sense told us to head inside. Luckily the tornado watch for Upper Bucks County did not come to fruition.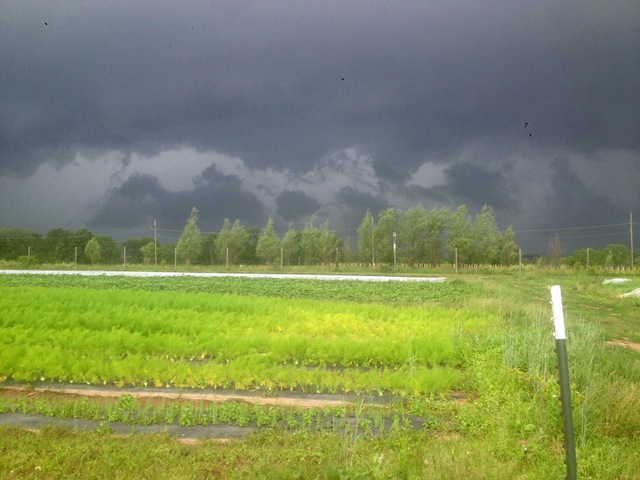 Still, it was more than a bit disheartening to see how much standing water we had in the fields (again!) this morning. It was pretty intense downpours at the farm last night, especially tough in the middle of strawberry season. I must admit, one of the downsides of being a farmer is that when your crops are growing you lose the ability to be lulled asleep by the sound of rain- instead you lie awake thinking about what veggies are suffering in the deluge. Still, it is always amazing how resilient crops are, just like us farmers I guess! We keep planting, and the crops keep growing, some better than others. But in the end it all comes together in a robust share.
This week's harvest contains a veggie that may be new to many of you. Agretti, an Italian vegetable, is the hot new food trend that chefs are clamoring for in their kitchens. It's needle shaped leaves are succulent in texture- the tender tips are the tastiest- the tougher base of the stems can be removed before cooking, Also known as saltwort, or friar's beard, or land seaweed in Japan, it is close in taste to spinach, albeit with a saltier flavor. It is traditionally served with oil and lemon, a theme I replicated by very lightly sautéing it (to retain its bright green color and texture) and adding a dash of fresh squeezed lemon juice. We enjoyed it both sautéed and served with pasta (agretti spaghetti, anyone?) as well as a topping on our homemade wood fired pizzas. A quick google search will bring up a variety of recipes if you are still feeling stumped. We hope you enjoy this special treat in this week's share!
Post and photos by Tricia Borneman, Blooming Glen farmer and co-owner. Tricia and her husband Tom have been farming together since 2000. Blooming Glen Farm is entering its 10th season bringing high quality certified organic vegetables, herbs, fruits and cut flowers to our local community. Tricia is passionate about food, art and nature and the intersection and expression of all three.