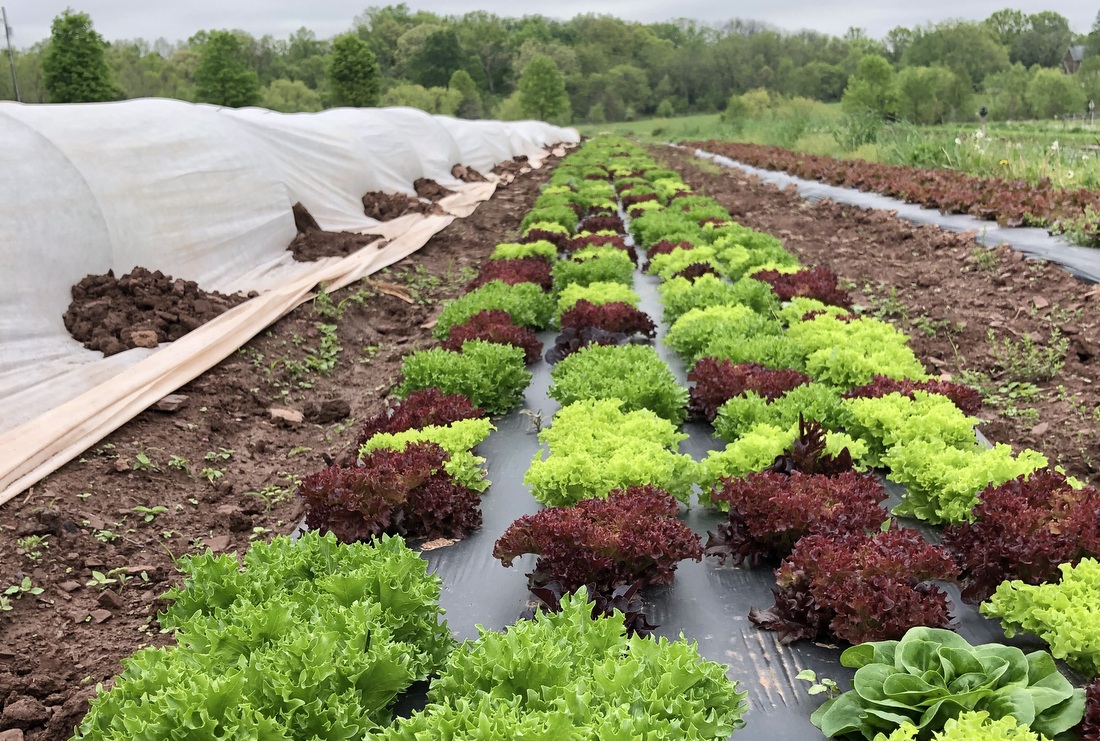 07 May

Dandelions and Potato Planting

This Spring though! What beautiful weather- even with the rain we've been having, there's been enough drying time to get crops planted. What a relief! The CSA starts May 21- be sure to register now so you don't miss out on any of the wonderful crops we are growing for you!

Here on the farm when we see the dandelions blooming we know its potato planting time. With almost 2 acres of potatoes planted we are hoping to have a prolific harvest, and spuds well into next winter. Along with the onions, potatoes are one of the first big plantings we accomplish.

Step 1: break open the stacks and stack of seed potato bags, and cut in half any of the seed pieces that are too big. Swish the seed pieces in a wet slurry of organic beneficial bacteria to help ward off root diseases and promote healthy growth.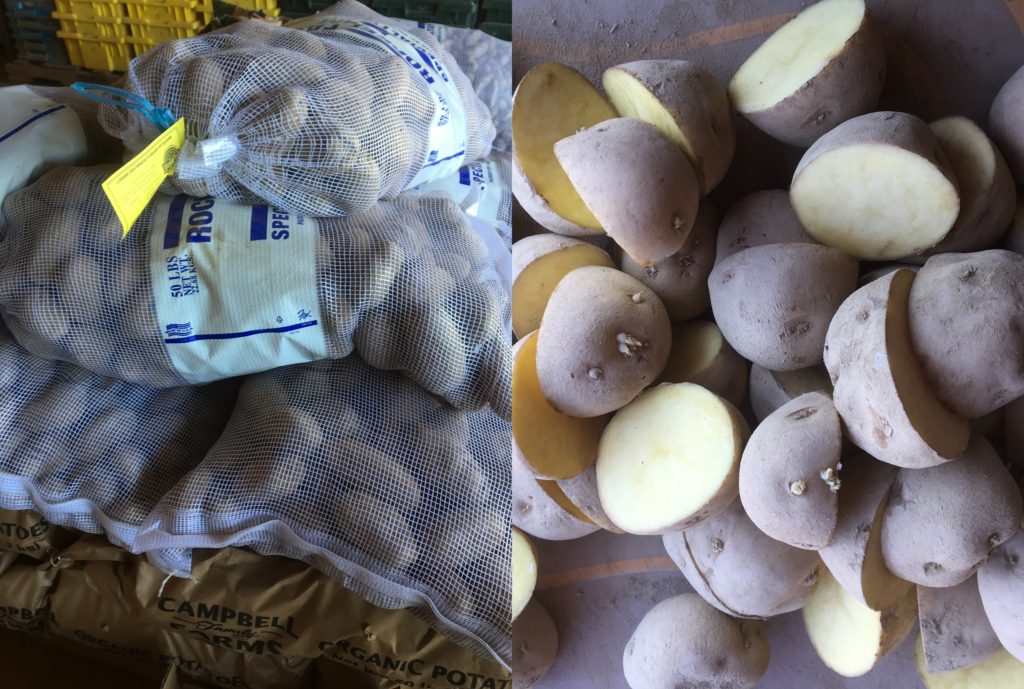 Step 2: After readying the field for planting, set the potatoes in rows. Our awesome planting team rides along on the tractor pulled transplanter which is marking the spacing with small divets. Next we come through with our smaller (cuter) Kubota tractor and hill the soil over the seed pieces. We will continue to hill as the plants emerge, and until they are too tall to drive a tractor over without damaging them.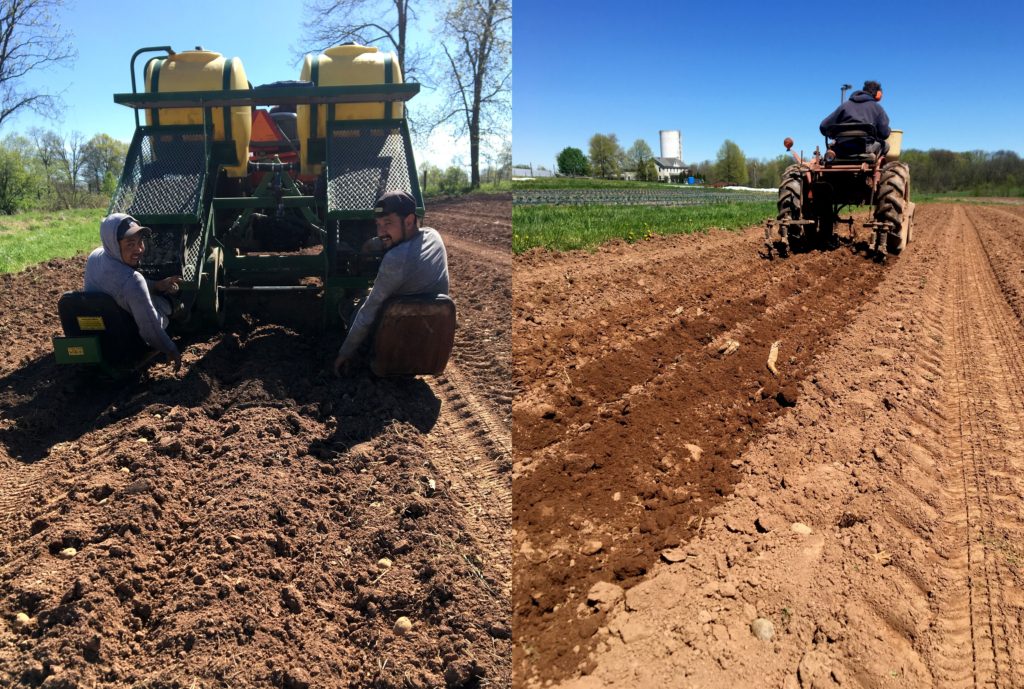 So much food is in the ground (did I mention what a nice spring it's been??)- zucchini and cucumbers, cabbage and fennel, tomatoes, kale and chard and spinach, radishes, carrots and turnips, and so much more. Eggplants and peppers are next up- we keep an eye on the forecast around the full moon in May, our last likely chance for a frost. It's been dry enough to cultivate the aisles with our cultivating tractor which saves a lots of time, and hands.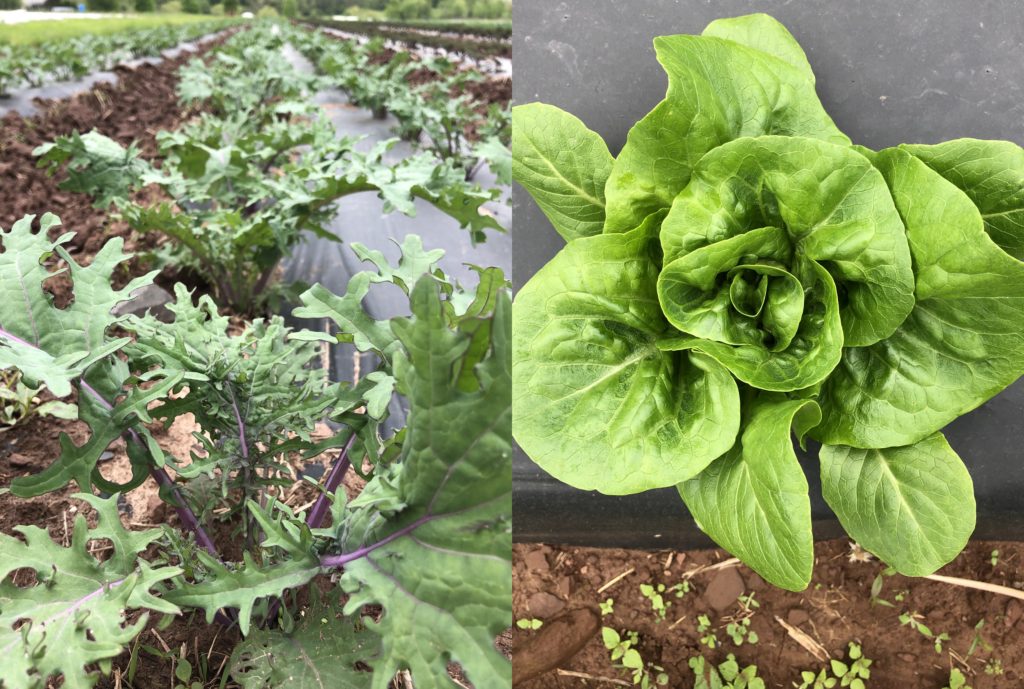 Carrots are up and growing (photo below, right), the very first potatoes have sprouted (below, left), and the first round of spring radishes are headed to market this weekend. We've also got lots of plant starts for sale for your garden- herbs (Oh that basil!! It's been hard to resist harvesting all the tops and making pesto!), tomatoes, greens and more!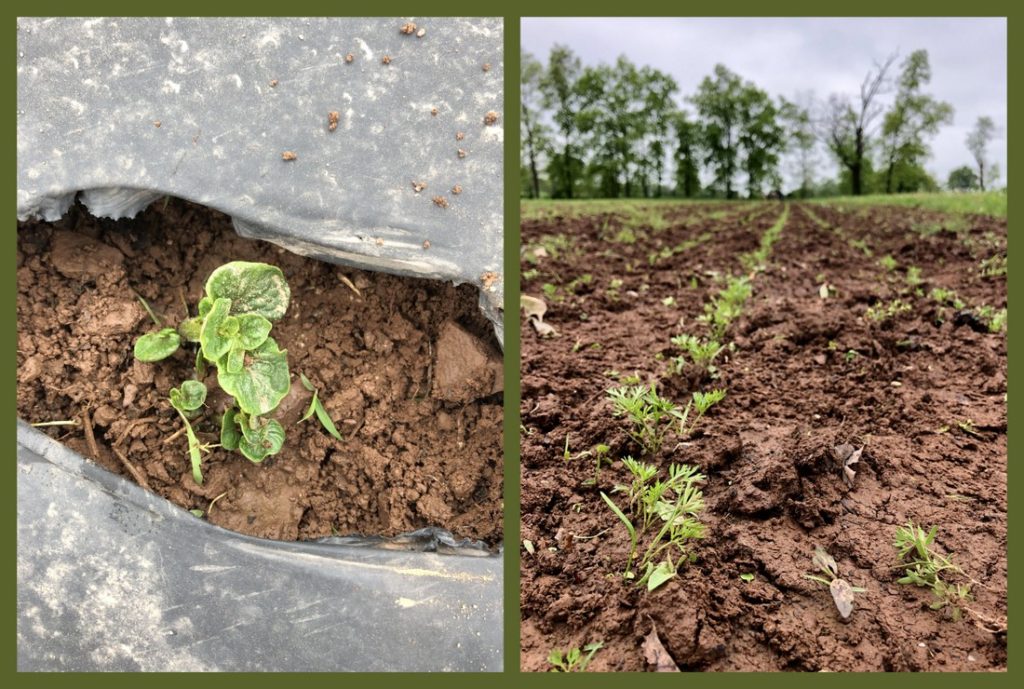 Interested in a unique Mothers Day gift? Consider a 10-week pick-your-own flower share for $145. The shares start at the end of June, and you have the flexibility and convenience of coming to the farm any week day or Saturday until 3pm to harvest your blooms. Sign up between now and Mothers Day, and you'll be entered to win a free mini family photo session with photographer Vanessa Lassin this summer in the fields in bloom.
Post and photos by Tricia Borneman, Blooming Glen farmer and co-owner. Tricia and her husband Tom have been farming together since 2000. Blooming Glen Farm is celebrating its 14th season bringing high quality certified organic vegetables, herbs, fruits and cut flowers to our local community.