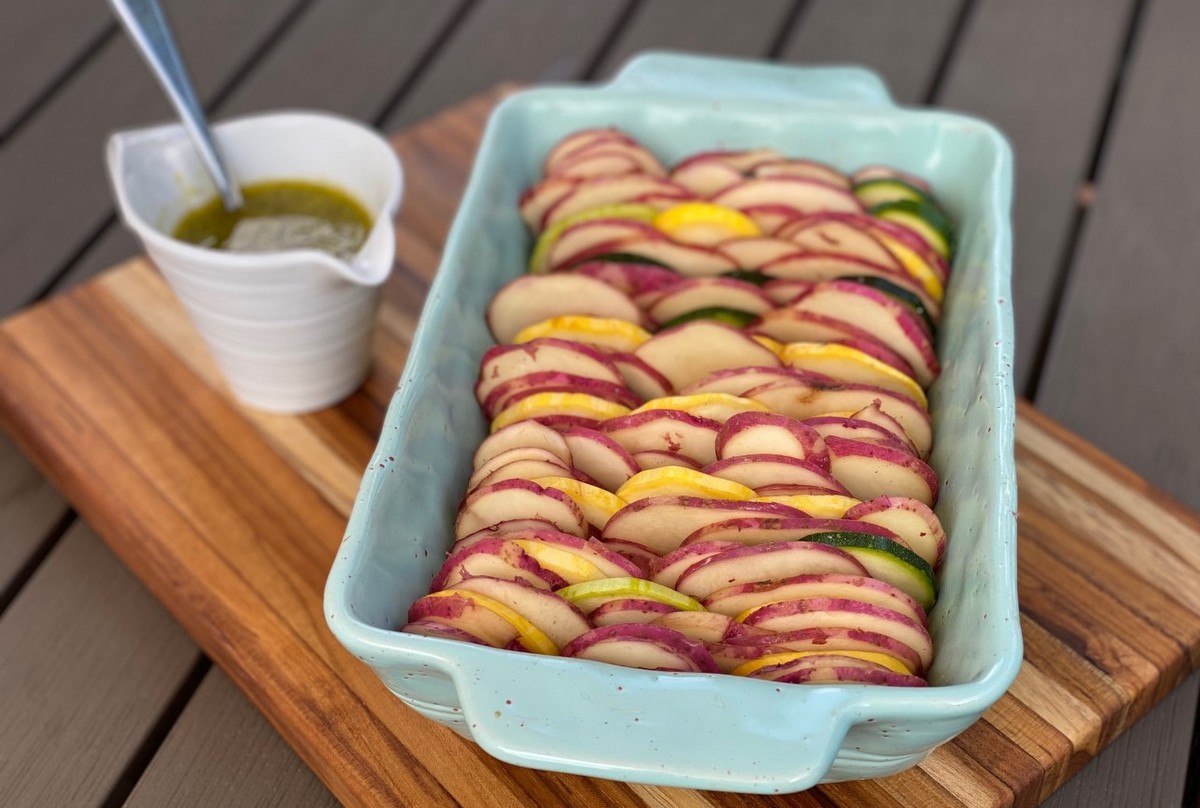 24 Jun

Crispy Sliced Potatoes and Summer Squash

This recipe showcases the potatoes, summer squash, and garlic scapes out of this week's share.  Serve this as a side with dinner or make it part of your weekend breakfast buffet.

Ingredients:
½ medium yellow squash
½ medium zucchini
1 quart potatoes
½ cup salted butter, divided
¼ cup garlic scapes, chopped
½ tsp sea salt, divided
½ tsp black pepper, divided
Preheat oven to 375°F.
Using a mandolin, slice the yellow squash and zucchini into ¼ inch thick slices. Place in small bowl.
Slice the potatoes into 1/8 inch thick slices and place in a medium bowl.
Melt butter in small saucepan. Add 1 Tbsp melted butter to summer squash, sprinkle with salt and pepper, and toss to coat.  Add 2 Tbsp melted butter to potatoes, sprinkle with salt and pepper, and toss to coat.
Leave remaining butter in saucepan. Add garlic scapes and simmer for 2 minutes.
Blend butter and garlic scapes. Set aside.
Lightly butter baking dish (you can use an 8 inch square dish, or a 9 by 6 inch dish).
Layer potatoes and squash in baking dish (not flat, but upright). Fill dish but don't overpack.
Pour butter and garlic scape sauce over vegetables.
Bake for 45-50 minutes. Potatoes should be fork tender.
Broil for 2 minutes to get the tops extra crispy.
Serve topped with fresh herbs or Parmesan cheese (if you can tolerate dairy).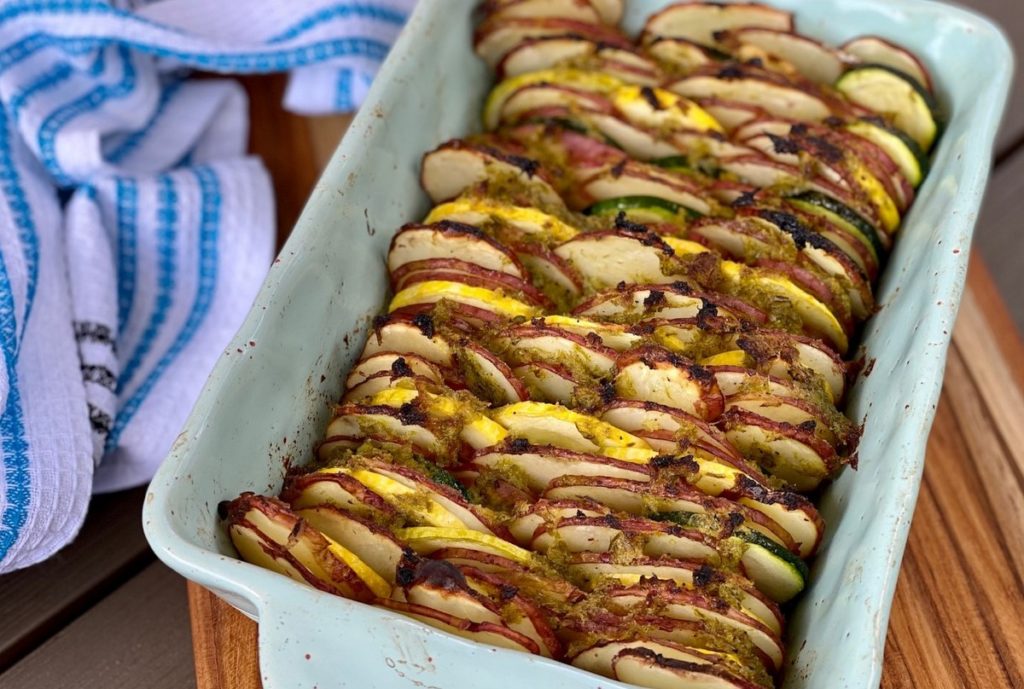 Recipe and photos by Stephanie Borzio.  Stephanie is a mom of three active boys and is an autoimmune warrior.  After battling her own health for several years, Stephanie found healing through food and lifestyle changes, including joining Blooming Glen Farm CSA of which she is a long time member.  She is a Board Certified Integrative Nutrition Health Coach who is passionate about sharing healthy living tips and real food recipes.  Instagram and Facebook: Tru You Essentials; Website: www.truyouessentials.com