10 Jul

Cool off with Cucumbers

It's that time of year- the cucumbers are prolific! The following four recipes- potato salad with beans and kirbies, cucumber water with citrus basil, and cucumber avocado soup garnished with cucumber salsa all highlight this summer staple.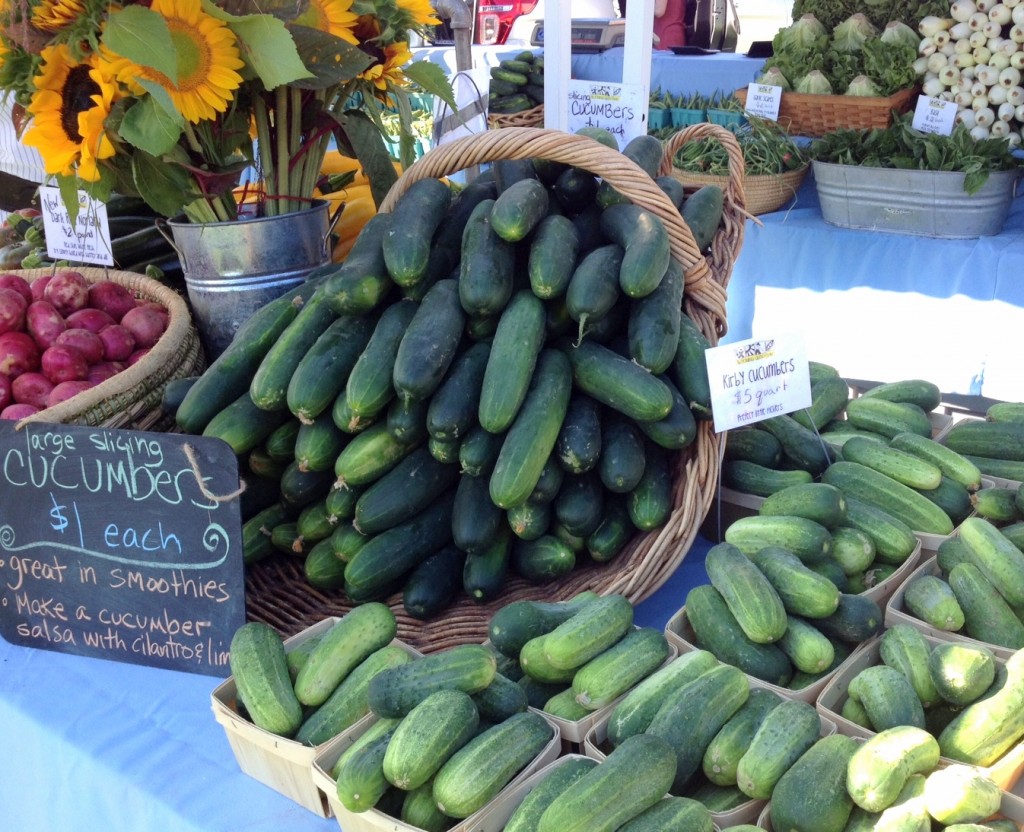 Cucumbers have a long list of health benefits, but the thing that really makes them the perfect summer fruit is their cooling effect on the body. We grow two types of cucumbers here at Blooming Glen Farm.
Slicing cucumbers are what you probably are most familiar with: they are around 8-10 inches long, juicy, with watery seeds. The skin can be thick, so you may be tempted to peel them- but the skin does contain a high level of vitamin A, so avoid peeling it if you can. "Slicing" is a catchall term for lots of varieties, including the ones overflowing in the basket in the image above of our farm market booth in Wrightstown. Great in smoothies or cucumber salads, sliced onto a sandwhich or eaten raw with your dip of choice.
Kirby cucumbers are small, usually 4 inches long or less, with thin bumpy skins and firm flesh. They are the most common variety of pickling cucumbers but we also love them as a fresh snack or diced into cucumber salsa. Super crunchy and full of great cucumber flavor.
Potato Salad with Beans and Kirby Cucumbers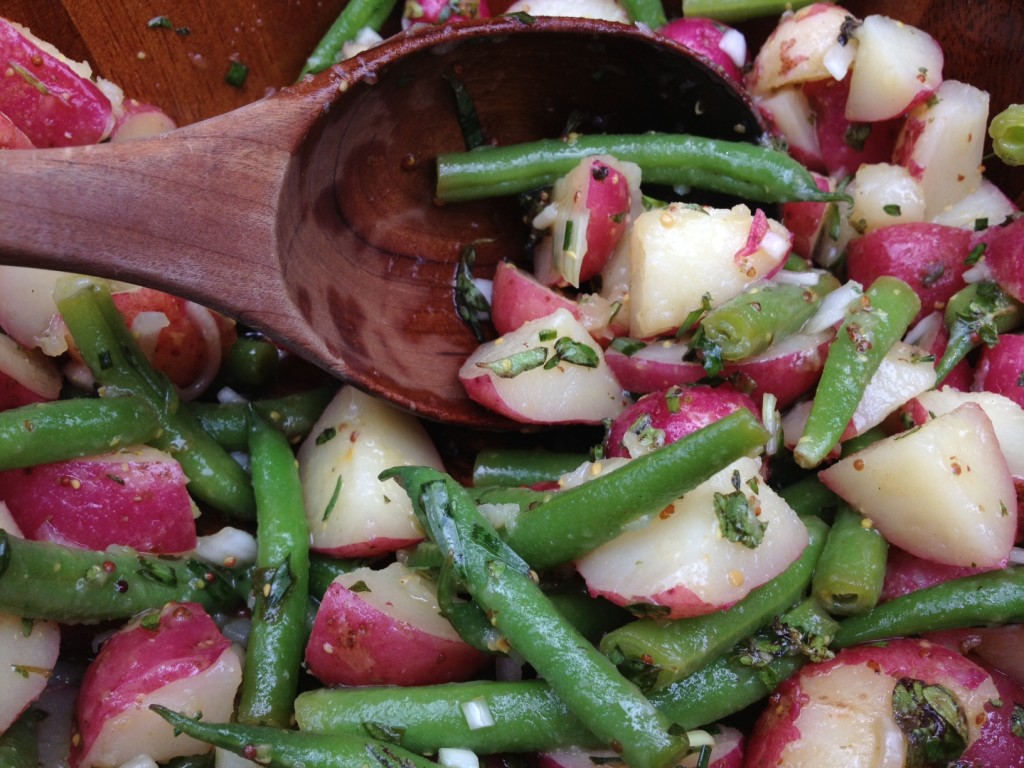 Ingredients
4 cups red new potatoes
2 cups beans
1 cup kirby cucumbers
1/4 cup onion
Herb Vinaigrette
1 tbs shallot
2 tbs fresh oregano
1 tbs fresh marjoram
1 tbs fresh parsley
1 tbs fresh chives
1 cup olive oil
1/2 cup cider vinegar
1/4 cup honey
1 tbs dijon mustard
1 tsp black pepper
salt to taste
Halve new potatoes and cover with cold water in a large stock pot. Add 3 tbs of salt to the water. Bring to a boil and simmer until tender, about 10 minutes. Drain and roll out onto a sheet tray, give them a few shakes of oil and vinegar while they are hot. Hot potatoes love to soak up flavor. Put in fridge to cool.
Clean and snap beans in half, blanch in salted boiling water and submerge drained beans in ice water to crisp and lock in that bright green color. Make pretty stripes on the kirbies with your vegetable peeler. Cube. Dice onion. In a large bowl whisk your dressing ingredients. Add your potatoes, cukes and beans to dressing and toss, toss, toss…toss more. Enjoy!
Cucumber Water with Citrus Basil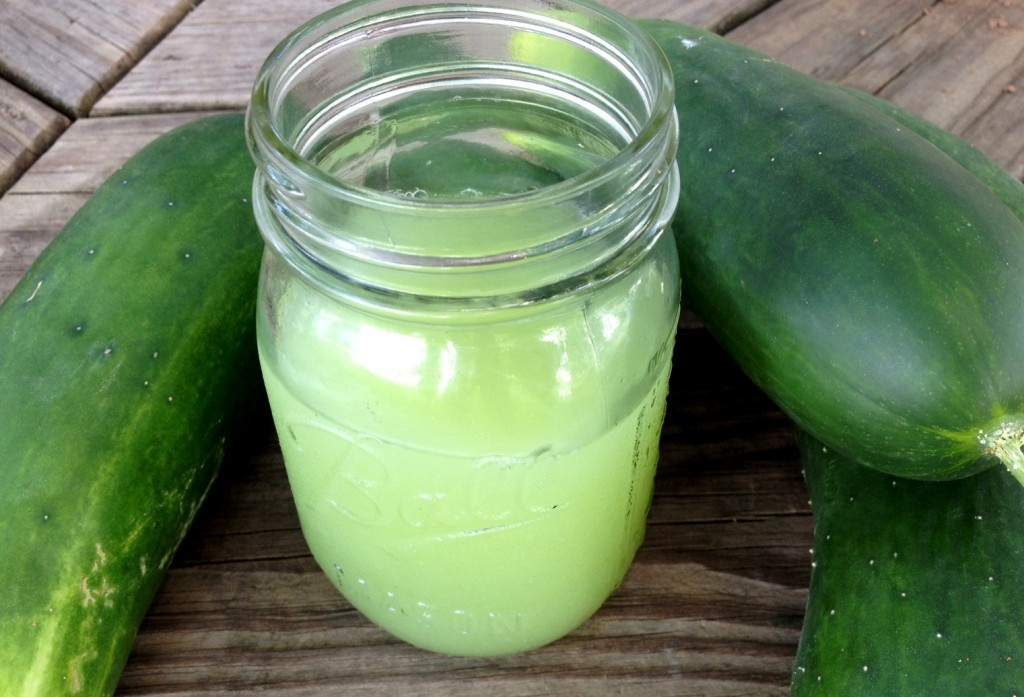 Cucumbers make a super refreshing drink- its a farmer's natural gatorade! This was a crowd favorite during Chef Kristin's CSA tasting this week.
Peel and cut in half lengthwise 2 medium slicing cucumbers. If the cucumbers have large seeds scrape them out with a spoon. Coarsely chop the cucumber and stir in: A pinch of salt. Cut in half and squeeze: 3 lemons (or limes). You should have about 1/4 cup juice. Measure into the jar of a blender: 1 cup water. Add the cucumbers and purée well, about 1 minute. Pour through a strainer, pushing the pulp with a spoon to extract as much liquid as possible. Add the lemon, or lime, juice. Add some muddled citrus basil. Leave overnight for flavor to infuse. Strain out herb. Serve over ice.
Cold Cucumber Avocado Soup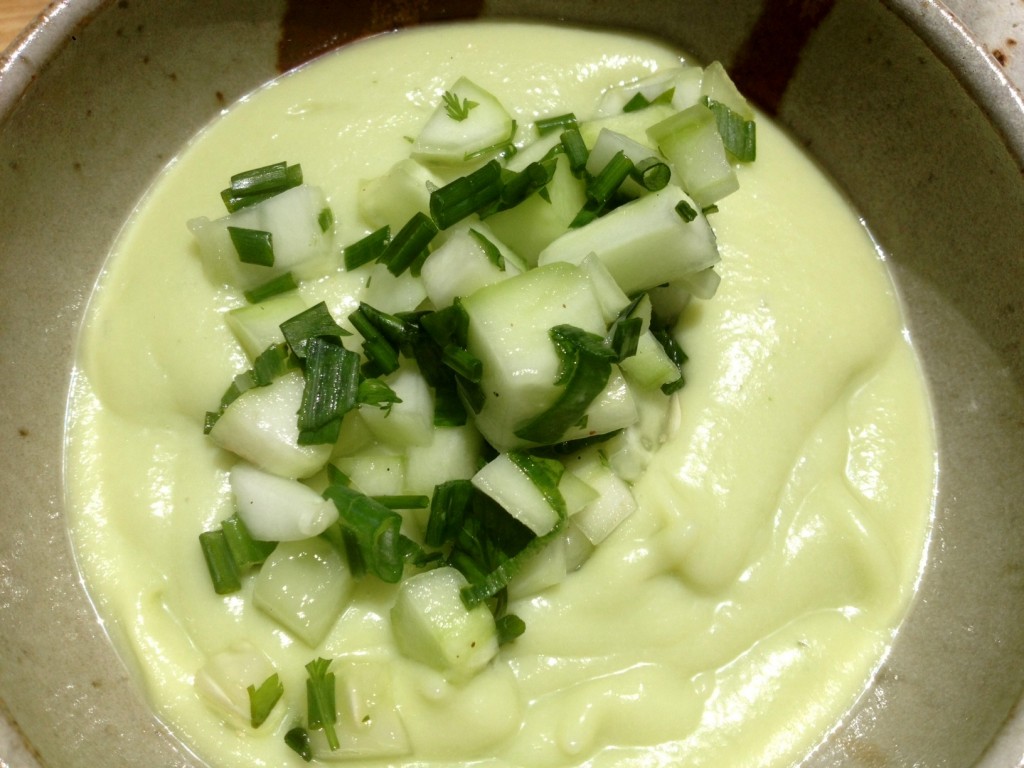 Ingredients
3 slicing cucumbers, peeled and seeded, roughly chopped
2 avocados
1/2 cup lime juice
1 tbs honey
1 tsp salt
Pepper to taste
Purée all the ingredients. Refrigerate until cold. Serve garnished with cucumber salsa. (Recipe follows)
Cucumber Salsa
2 kirby cucumbers, diced (no need to peel)
1 tbs onion, finely diced
1 tbs garlic, finely diced
cilantro, one handful, chopped
juice of one lime
drizzle of olive oil
salt and pepper to taste
Combine all ingredients in a bowl. Use as garnish on cucumber soup, or on top of a grilled white fish. Also wonderful with chips!
Post and photos by Tricia Borneman, Blooming Glen farmer and co-owner.  Recipes provided by Kristin Moyer, Blooming Glen Farm Chef.