30 May

Chive Blossom Vinegar

In the Discovery garden at the CSA you'll find the wonderful edible flowers, chive blossoms. Neighboring farmer friends of ours have been selling chive blossoms for years to chefs, where I imagine the blossoms are sprinkled on soups, garnished on salads and mixed with goat cheese. I was delighted to discover on Marisa McClellan's Blog, Food in Jars, a very simple home recipe for what to do with these beautiful springtime treats.

Chive Blossom Infused-Vinegar

First harvest or purchase one bunch of the purple chive blossoms. Next, remove the blossoms from the stem, soak in a bowl of cold water to remove any bugs or dirt, and then drain well. You can use a salad spinner to dry them, or leave in strainer for a few hours to air dry.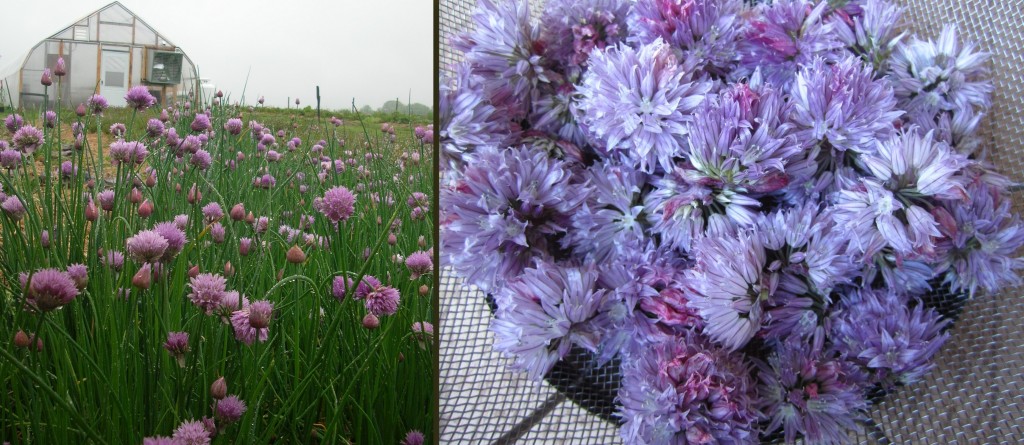 Then pack a mason jar 2/3 full of the blossoms and cover with raw apple cider vinegar or white vinegar (raw apple cider vinegar has more health benefits than the white vinegar, however you won't get the same colorful results as shown in the photos below)- you can use a pint or quart size jar depending on how many blossoms you have. Leave the vinegar in your pantry in a cool, dark place for 2-3 weeks for a chive flavored vinegar.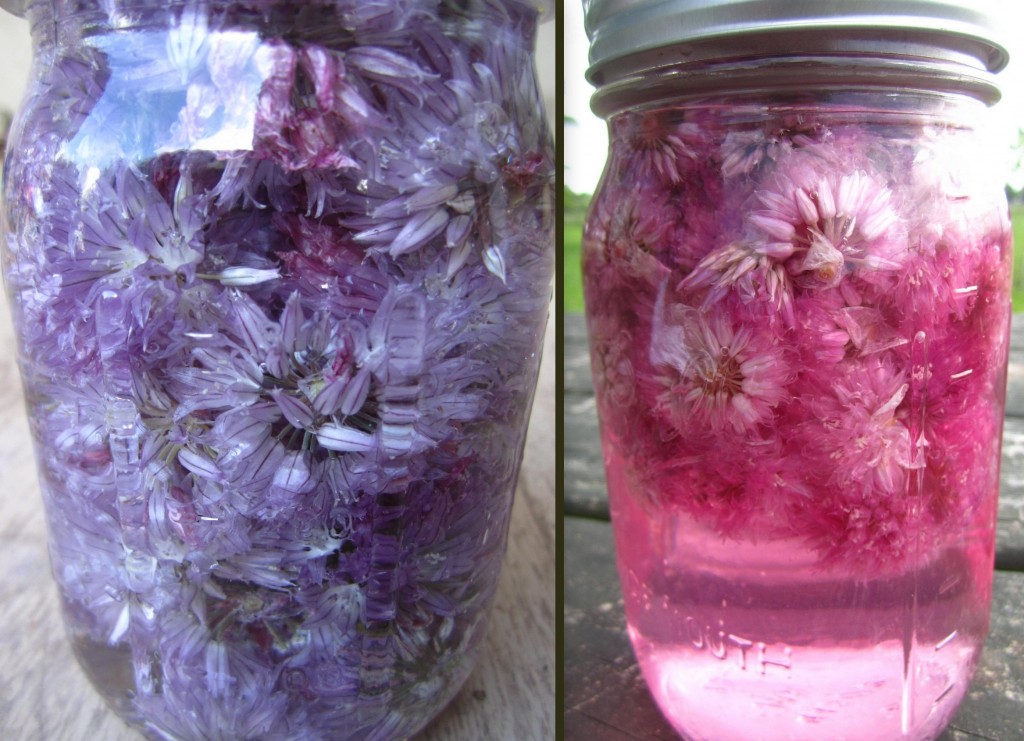 Within just a few days the vinegar has turned a gorgeous bright pink and has a wonderful onion aroma. The longer you leave it to infuse, the stronger the chive flavor will be. Strain out the blossoms when ready to use. This vinegar can then be used as a base for salad dressings or marinades. I love to use it in my potato salad, in place of raw onions which Farmer Tom doesn't love, the chive blossom vinegar gives it a more subtle onion flavor. You can also read a recipe posted on the blog last spring for Escarole Salad with Fennel and Orange that uses chive vinegar.
Photos and text by Tricia Borneman, Blooming Glen farmer and co-owner.