11 Sep

Baba Ganoush: Skinny Style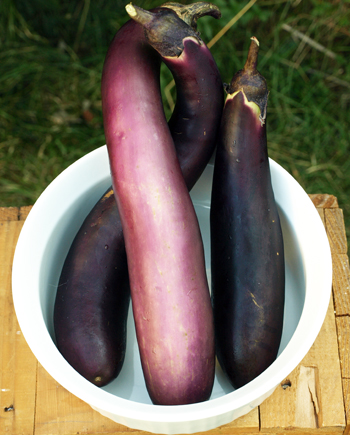 While the assets of eggplant lie mostly in their beauty (such gorgeous shades of purple!), they do have nutritional merit as well. Low in sodium and calories, and high in fiber, eggplant is a great addition to every diet. However, most of us don't realize that to get the most bang for the nutrition buck, we must be sure to eat the skin; this is where all of the disease-fighting and health-building phytonutrients, vitamins and minerals live. Most notably, eggplant skin contains nasunin, an anthocyanin phytonutrient found to protect the fats in brain cell membranes, and chlorogenic acid, which has been found to benefit antimutagenic (anti-cancer), antimicrobial, anti-LDL (bad cholesterol) and antiviral activities.
Here are some easy ways to include eggplant in your meals:
Sauté chopped onion, garlic, peppers and eggplant and add to your spaghetti sauce.
Layer thin slices of eggplant with layers of tomatoes, Swiss chard, onions and squash in a vegetable lasagna.
Lightly coat thick slices of eggplant with a grapeseed oil and herb mixture for the grill (eggplant is very porous and will absorb a ton of oil if soaked or dunked in marinade).
Use shredded eggplant as you use shredded zuchinni; try adding it to an omelet, quiche, bread or cookies.
Cut eggplant and other farm veggies into large chunks, toss in a 1-part soy sauce/4-parts water mixture and and roast for a delicious side dish (served hot) or salad topping (served cold).
Of course, one of the most delectable uses for eggplant is baba ganoush, a traditional Mediterranean spread that's perfect for dipping farm-fresh veggies and whole wheat pitas into. It also serves well as a spread on sandwiches and wraps, or as a side with other Mediteranian foods like tabbouleh, falafel and hummus. The recipe below is for a simple and classic baba ganoush, but this time with directions that include all of the nutrition eggplant has to offer!
Baba Ganoush: Skinny Style
–Preheat the oven to 400-degrees.
-Pierce 2-3 eggplant several times with a fork, and place on a baking sheet or dish and cook in the oven until the skin sinks in, about 45-60 minutes.
-Let cool, cut in half lengthwise, squeeze off any excess juice, cut into chunks and process in a food processor with:
1/4 teaspoon ground cumin
1/2 teaspoon smoked paprika
1 teaspoon salt
1 1/2 tablespoons lemon juice
1 tablespoon tahini
two cloves of garlic
Baba Ganoush is very flexible, so feel free to adjust these quantities to your taste. You can also add flavors — try a dash of cayenne for some heat, or fresh basil for a cooler taste.
Post and photo by Mikaela D. Martin: Blooming Glen CSA member since 2005, board-certified health counselor, and co-founder and -owner of Guidance for Growing, an integrative wellness practice in Souderton. Read more about healthy eating and living on her site, http://guidanceforgrowing.com!