If you're like a lot of our market customers and CSA members, you might find yourself puzzled as to what to do with that oddly shaped vegetable you picked up this week. On first glance it can be daunting to figure out how to even begin to use it. But kohlrabi, which comes from Eastern Europe and is the German name for 'cabbage turnip', is really just a strange looking sister to the cabbage family and can be used in many similar ways. You can eat the bulbs raw or cooked. Shred them into a salad with some lemon juice or substitute them for cabbage in your favorite coleslaw recipe. They are equally delicious cooked into a stir-fry or vegetable sauté.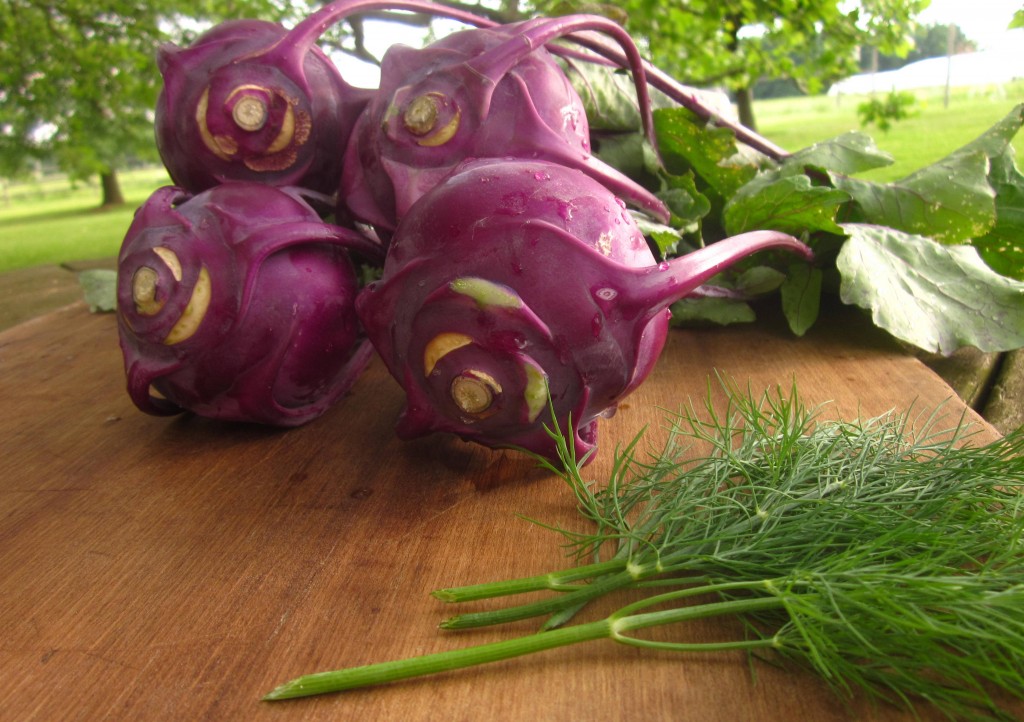 I'm new to kohlrabi myself. But, I've already found my favorite way to use it… in fritters! Mostly composed of ingredients you'll already have in your cupboard or refrigerator, they are really simple to whip up and take very little time. You can use them as a side dish or for a lighter meal, pair them with a spring salad mix. However you use them, one thing is for sure, you'll definitely remember them the next time kohlrabi season comes around!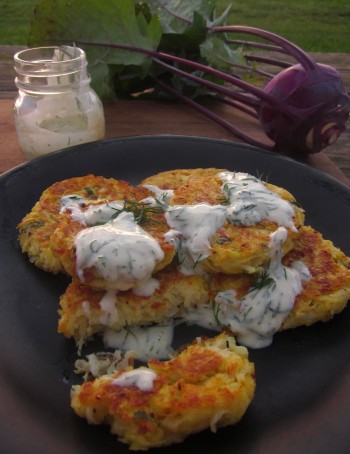 Start by combining the following ingredients for yogurt dip and refrigerate 30 minutes before serving: 1/3 cup yogurt, 3 Tablespoons chopped fresh dill, 1 teaspoon lemon juice and salt to taste. *For a different sauce, you can replace the dill with cilantro and the lemon with lime juice, and add a bit of honey. Or try mint!
Meanwhile, peel and shred the 4 kohlrabi bulbs into a colander and sqeeze out excess moisture. In a separate bowl combine 2 beaten eggs, 3 Tablespoons dried bread crumbs, 1/4 cup chopped spring onion (you can add in some green garlic too if you have it), 1 teaspoon of salt, 1/4 teaspoon crushed red pepper and black pepper to taste. Add kohlrabi by the spoonful and mix until egg is coating the entire mixture. Heat 4 Tablespoons of olive oil in skillet until small bubbles appear. Form fritter mixture into two-inch balls and drop into skillet. Press gently with spatula to flatten. Cook for 5-7 minutes on each side, or until golden brown. Serves 4-6
Recipe adapted from: From Asparagus to Zucchini, A Guide to Cooking Farm Fresh Produce (3rd ed.). Photos and text by Blooming Glen Farm apprentice Rebecca Metcalf.