One of the most frequent questions we get at the CSA pick-ups and farmers markets is what to do with pea tops (also called pea shoots or pea tendrils). The question should really be: what can't you do?
You can eat them raw in salads and by the handful, throw them in a stir-fry, or put them on top of a flatbread. This recipe for rice salad is another that works great with the fresh and tender pea tops.
Rice salad is a staple summer lunch in Italy. When I was a nanny there, my host mother taught me this great trick for quick, wholesome, and fresh lunches. Make a pot of rice the night before so it has time to cool for lunch the next day. Come lunchtime (or in the morning when you are packing up for work, school, etc), you can throw together a delicious, hearty salad with whatever you've got on hand. 
I replace typical white Italian rice with whole-grain brown rice for a more nutritious spin. This incarnation uses some oven-dried cherry tomatoes that I preserved last year, but any "sun-dried" tomato will do.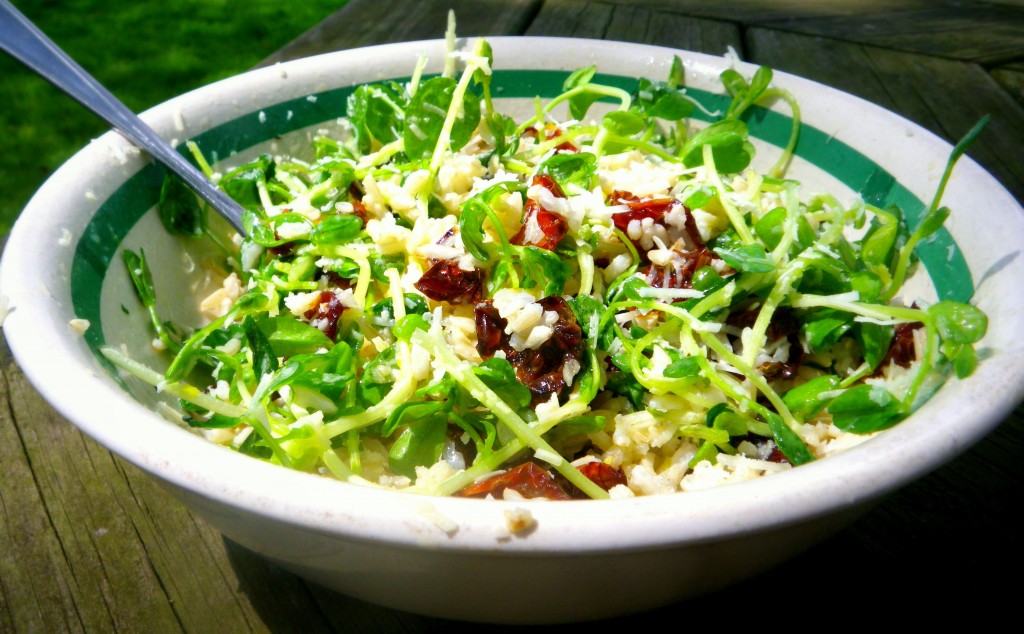 Ensalata di Riso (Rice Salad) with Pea Tops
Make a simple dressing by whisking together 1/3 cup olive oil, juice of one lemon, one clove of garlic, and salt to taste.
Toss a ½-pound bag of pea tops, 2 cups cooked brown rice, ½ cup sundried or oven-dried tomatoes, and ¼ cup grated Parmesan cheese with the dressing.
It's as simple as that!
Text and photography by Kate Darlington – Blooming Glen Farm second year intern, Colorado native, and food lover.