The real winners of Blooming Glen Farm's third annual pie bake-off contest were all of us tasters who had the chance to sample the 15 mouth-watering pie entries, including "Green Tomato Cranberry Maple", "Wild Foraged Paw-Paw", "Asian Pear and Ginger", "Butternut Squash and Pecan", "Chocolate Almond Custard Pear" and "Crab Apple". With almost 100 people tasting and voting, the following three pies were the top winners.
Maple Custard Pie with Candied Bacon, by Michelle Guerriero, First Place and the trophy winner!
"I love cooking, but have less of a passion for baking. As I pondered the type of pie I was going to bake for the contest, I decided to join my two favorite flavor profiles in cooking: sweet and savory. Somehow candied bacon came to mind. Slowly, the creation started coming together. I thought, 'what goes better with bacon than maple?' Voila: Maple Custard Pie with Candied Bacon was conceived. I didn't plan to put the whipped cream on, but I had extra heavy cream, so I whipped it up with some maple syrup and nutmeg. I'm glad I did, as I think it made a 'light' (not 'lite!') element to the pie. I will admit, I played a little dirty including bacon in my pie. I mean, who can lose with bacon?! In any case, I'm glad people liked it. It gives me some motivation to cultivate my baking skills!"- Michelle Guerriero
Pie Crust:
1 1/2 cups organic flour
1/2 cup lard (I used Ledamete Grass Farm's lard)
pinch of salt
4 tablespoons ice cold water
Add flour and salt in food processor, pulse. Add lard, pulse until blended. Add cold water 1 tablespoon at a time until pearl-size beads form. Dump on lightly floured surface, roll into ball, wrap in plastic and refrigerate for 1 hour. Take out, roll, then mold into pie pan.
Filling (from smittenkitchen.com):
3/4 cup maple syrup (organic)
2 1/4 cup heavy cream (organic)
4 egg yolks (organic)
1 whole egg (organic)
1 teaspoon salt
1 teaspoon freshly grated nutmeg
1 teaspoon vanilla extract (organic)
In a medium saucepan, bring maple syrup to a low boil. Stir in cream and bring to simmer, making small bubbles form on side, but do not bring to a full rolling boil. Remove from heat.
In a standing mixer (or by hand, if you choose), whisk together egg yolks and egg. Add vanilla extract, salt and nutmeg. Keeping the whisk at a medium-high speed, slowly add the cream mixture to the eggs. Strain the mixture through a fine-mesh sieve and pour the hot mixture into your pie crust.
Bake at 325 degrees until firm to touch but jiggles slightly when moved, about 30-45 minutes (depending on the depth of pie it could be longer). Let cool to room temperature.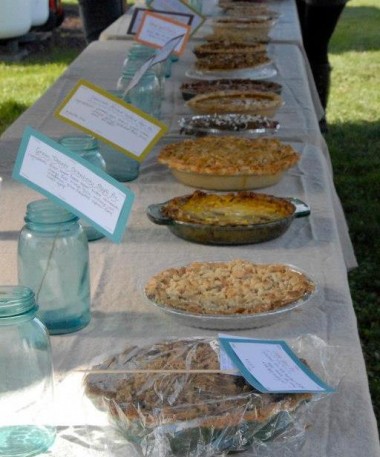 Whipped cream:
heavy cream (organic)
maple syrup (to taste)
grated nutmeg (to taste)
Whip until soft peaks form.
Candied bacon:
8 pieces of thinly sliced bacon or pancetta (I used all-natural pancetta from Whole Foods)
maple syrup (organic)
brown sugar (organic)
Preheat oven to 350 degrees.
In one bowl, pour about 1 cup maple syrup. In a separate bowl, add approximately 1 cup brown sugar. One at a time, dip the bacon in the maple syrup, removing excess syrup from bacon with your fingers, then dip in the brown sugar to coat. Place on baking sheet with non-stick foil or parchment paper. Repeat with all pieces (doing two batches if there's not enough room on the pan). Place parchment paper over top of the bacon and top with another cookie sheet. This will help keep the bacon flat while baking.
Place in oven for about 20 minutes. Check under top layer of parchment paper for doneness. They should be golden and done (not fatty). If they still look "fatty," just give them more time. Remove and place on a separate piece of parchment paper. They will firm up more as they dry and the maple/brown sugar hardens.
To assemble:
When pie is cooled to room temperature, add whipped cream on top in a layer. Then add crumbled bacon over whipped cream (you could even place one piece of bacon per slice for presentation).
Almond Pear Pie with Raspberry Glaze by Bernadette Rodrigo, Second Place.
"I developed this recipe by mixing components from various sources. I chose to use pears because they are a wonderful seasonal fruit and often over shadowed by apples. I wanted to duplicate the rich almond filling found in European pastries and the raspberry glaze gives this pie an extra burst of fruit flavor."- Bernadette Rodrigo
Pie Crust:
2 1/2 cups flour
1/3 cup sugar
2 sticks chilled butter
3 egg yolks
4 tablespoons ice water
Combine flour and sugar. Chop butter into 1/2-inch squares and add to flour mixture. Using a pastry cutter or your fingers, blend until it resembles course meal. In a small bowl lightly beat egg yolks and water. Add liquid to the flour mixture, tossing with a fork, until evenly distributes. Mixture will be crumbly. Use hands to press the dough into a ball. Turn out onto counter top and kneed a few times, smearing the butter forming the dough into a ball. Flatten into a disc. Wrap and refrigerate.
Poached Pears:
1 cup sugar
4 cups water
1/4 cup raspberry preserves
1 tablespoon orange blossom water
4 pears, peeled, halved and cored
Combine first four ingredients in a large pot. Bring to a boil, then lower to a slow simmer. Add pears and simmer 10 minutes. Turn off heat and allow pears to soak 10 more minutes. Then remove pears from pot and allow them to cool. Reserve poaching liquid.
Filling:
1/2 cup blanched almonds, finely ground
1/3 cup sugar
2 tablespoons flour
1/2 cup heavy cream
2 egg yolks
1 tablespoons dark rum
1 teaspoon vanilla
1 teaspoon almond extract
Mix all ingredient until well combined.
To assemble:
Roll out pastry dough into pie pan. Cover with almond filling. Slice pears and arrange on top. Bake at 400 degrees for 35-40 minutes. Crust and filling will brown. While pie bakes make glaze.
Raspberry Glaze:
3/4 cup raspberry preserves
2 tablespoon poaching liquid
Combine in sauce pan over low heat. Stir to incorporate ingredients. When mixture comes to a boil, remove from heat. Use a pastry brush to gently paint glaze over hot pie. Allow pie to cool completely. Enjoy!
Pecan Pie, by Corbin Williams, Third Place.
A classic, Corbin's pecan pie comes from his mother's recipe. It arrived at the contest still warm and gooey from the oven.
Pastry for one 9-inch pie crust
3 eggs
2/3 cup sugar
1/2 teaspoon salt
1/3 cup butter
1 cup dark or light corn syrup
1 cup pecan halves or broken pecans
Heat oven to 375 degrees. Prepare pastry. Combine eggs, sugar, salt, butter and syrup; beat thoroughly. Stir in nuts. Pour into pastry-lined pie pan. Bake 40-50 minutes or until filling is set and pastry is nicely browned. Cool and enjoy.