This recipe is a slight variation to the much beloved latke, or potato pancake. Usually lightly fried and served with sour cream or applesauce, potato pancakes make a great side dish to pork chops or can be topped with sauteed greens for a lighter, vegetarian option. Purple-top turnips give the cakes another layer of flavor and added creaminess. Here, turnips are made tasty…for even the pickiest of eaters!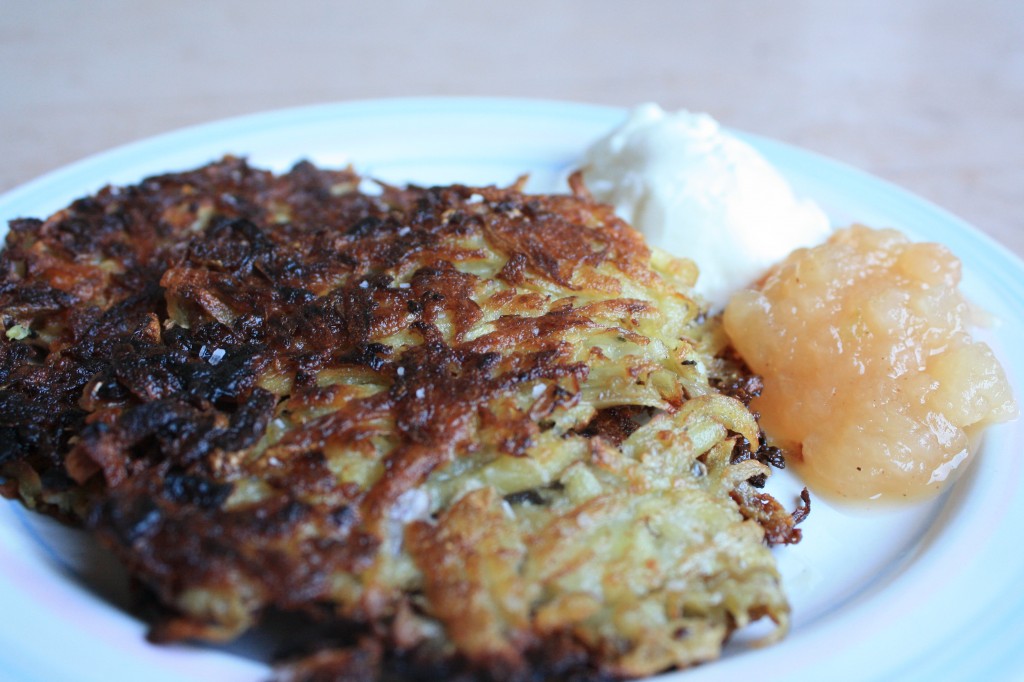 Potato and Turnip Cakes
-Coarsely grate (with a box grater or a food processor fitted with the grater attachment) 2 pounds of potatoes and 1 large purple-top turnip, all scrubbed and trimmed. (Optional: add 1 fennel bulb, grated.)
-Dump grated veggies onto a clean dishtowel and squeeze to remove as much moisture as possible; transfer vegetables to a medium bowl.
-Beat 2 large eggs and toss in with coarse salt and ground pepper.
-Heat 1/4 cup olive oil in a large skillet over medium heat. Form potato mixture into four tightly packed patties; place in skillet, flattening gently with a spatula to a 3/4-inch thickness. Cook patties, turning once, until browned and cooked through, about 10 minutes per side (reduce heat if patties start to brown too quickly, and add more oil to skillet if necessary). Transfer to paper towels; sprinkle with salt.
-Serve with applesauce for a traditional treat, alongside eggs for breakfast, or as a base for sauteed kale or chard.
Recipe and photos by Jana Smart- Blooming Glen Farm employee and frequent creator of creative recipes using farm fresh seasonal ingredients. Check out more of her recipes on her food blog http://www.agrarianeats.blogspot.com/