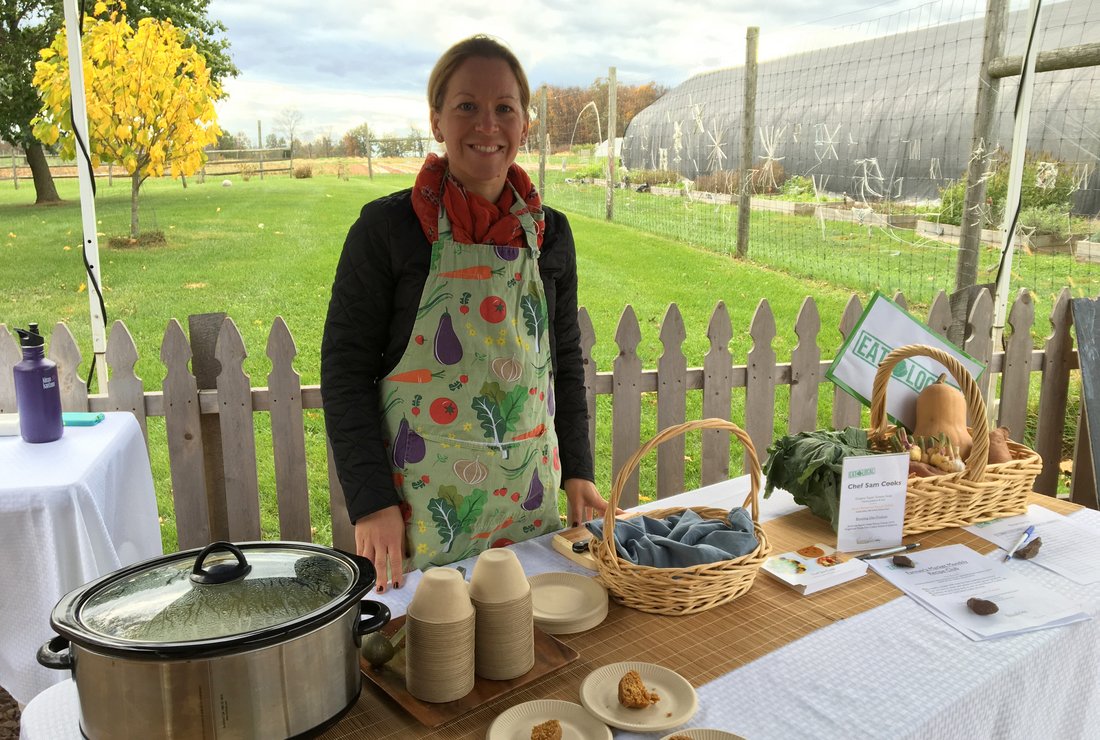 26 Oct

Super Greens Soup and Spiced Butternut Muffins

Frosty mornings and a cold chill in the air- no better time to make a super nutritious soup chock full of vibrant fall greens and a bit of ginger and jalapeno heat. Pair it with warm-from-the-oven perfectly spiced muffins that take advantage of the proliferation of winter squash this time of year and dinner is served. Thanks to Chef Samara Salisbury (bio after recipes) for sampling her wonderful recipes at the farm on Tuesday. Delicious!

Gingery Super Green Soup with Coconut, Jalepenos & Lime
Serves 6-8

Ingredients
1 1/2 tablespoon organic, unrefined, virgin coconut oil
1 small yellow/sweet onion
1 leek, top removed, washed well and sliced thin
1 stalk celery, small dice
3 cloves garlic, peeled and minced
5 tablespoons fresh ginger root, peeled and grated on micro-plane
sea salt and fresh ground black pepper, to taste
2 kefir lime leaves, broken in half
zest and juice 2 limes
1-2 jalapeños, seeded and minced (add more or less depending on the level of spice you prefer)
7 cups greens (any type of kale, collard greens, spinach or Swiss chard leaves), washed well, stems and ribs removed then chopped
4-5 cups cold water
2 cups unsweetened fully fat organic coconut milk
2 tablespoons cilantro leaves

Garnish Suggestions
Fresh grated coconut, hemp seeds or roasted chickpeas

Method
In a large heavy bottom stock pot warm coconut oil over medium heat. Add onions, garlic, celery and leek and sauté about 5 minutes until onions are soft and translucent. Generously season with sea salt and fresh black pepper. Add grated ginger root, jalapeños, lime leaves, zest and juice, greens, 4 cups water and coconut milk. Turn up heat and bring to boil then turn down and simmer on low for 25-30 minutes. Greens should be very soft and tender. Turn off heat, remove kefir lime leaves and add cilantro. In small batches, puree soup in Vita-mix until completely smooth. Check seasoning and adjust with more sea salt and black pepper.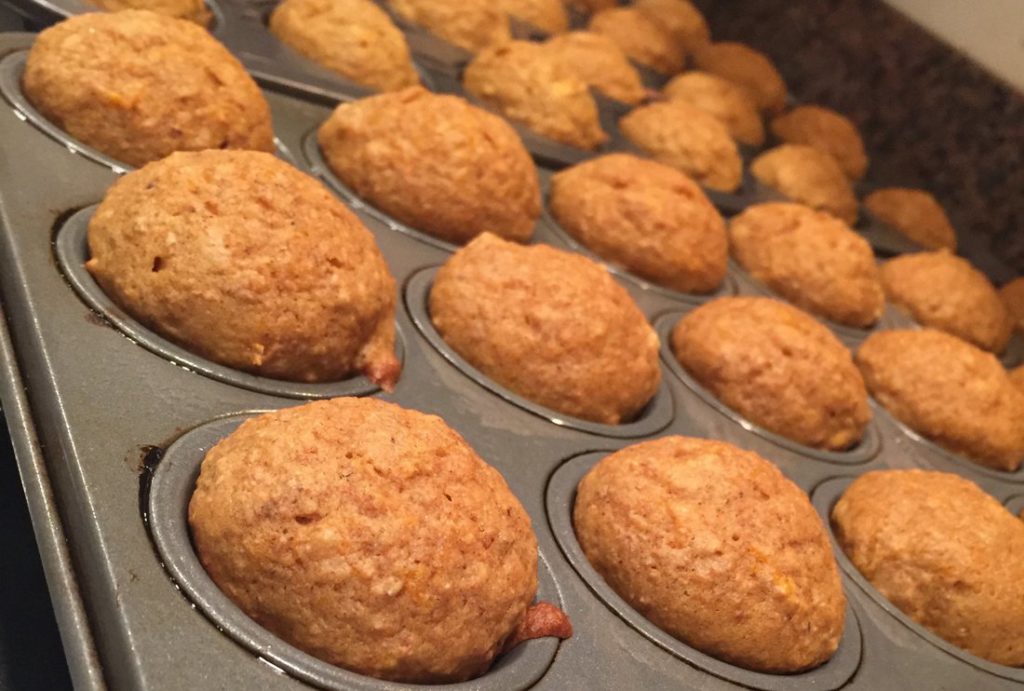 Spiced Butternut Squash Whole Wheat Muffins
Makes 16 standard size muffins (or 48 mini)
Ingredients
3 eggs, room temperature and beaten
2 cups roasted and pureed butternut squash **
1/2 cup organic, unrefined & virgin coconut oil, melted
1/3-1/2 cup water
1 cup local raw honey
1 teaspoon pure vanilla extract
2 teaspoon ground cinnamon
1/2 teaspoon fresh ground nutmeg
1/2 teaspoon ground cloves
1 teaspoon fresh ginger root, peeled and grated on micro-plane
3 cups Castle Valley Mill whole wheat flour
1 1/2 teaspoons baking powder
1 1/2 teaspoons baking soda
1/2 teaspoon sea salt
1/2 cup chopped walnuts, pecans or almonds (optional)
Method
Preheat oven to 400 degrees. Grease 2 24-cup (or 16-cup standard size) mini muffins pans with a small amount coconut oil. In a large mixing bowl combine beaten eggs, squash puree, coconut oil, water, honey, vanilla, cinnamon, nutmeg, cloves and ginger root. Whisk until smooth. In another medium mixing bowl combine flour, baking powder, baking soda and sea salt. Add dry ingredients to wet and using a wooden spoon mix until just combined. Using a small ice cream scoop, portion out batter to fill 48 mini muffin tins. Bake for 9 minutes (or longer for larger size) then cool on wire rack. Store in glass airtight container up to 5 days or freeze.
** Butternut squash puree can be substituted with any of the following: Cheese pumpkin, kabocha squash, acorn squash or sweet potato. You can also combine different squashes.
Recipes created by Samara Salisbury. Chef Samara Salisbury, known as "Chef Sam" to her clients, is a graduate of The Culinary Institute of America. Her background includes cooking professionally in both New York City and Paris, and working in marketing for Whole Foods Market. Over the years Chef Sam has developed a strong passion for supporting local organic farmers and food artisans. She enjoys using her cooking skills to help educate customers about where to source locally grown ingredients and how to prepare simple wholesome dishes with them.
Chef Sam has worked extensively with farmers markets in both New Jersey and Pennsylvania and has created seasonal recipes featured in Edible New Jersey magazine and cookbook. This past year she created a farm to school afterschool cooking program for 3rd-6th graders at Bridge Valley Elementary in Furlong, PA. Her goal is to further educate young children and their parents about the many amazing farms we have right here in Bucks County. Raising more awareness about supporting sustainable agriculture and nourishing our bodies with fresh wholesome foods needs to be a priority with this generation. Chef Sam is hoping to expand this program district wide.
Services include: Personal cooking lessons/parties, Monthly Farmer's Market Recipe Club, Farm to Table Catering and Wholesome Pantry Make-Overs. For more information please visit her website http://www.chefsamcooks/ (website currently under construction but will be live soon) or follow her Chef Sam Cooks Facebook page and @chefsamcooks Instagram page. You can email Samara at mailto:chefsamcooks@gmail.com or call 973-202-2026.
Post and photos* by Tricia Borneman, Blooming Glen farmer and co-owner.  Tricia and her husband Tom have been farming together since 2000. Blooming Glen Farm is celebrating its 11th season bringing high quality certified organic vegetables, herbs, fruits and cut flowers to our local community. (*Muffin photo provided by Chef Sam.)