03 Aug

Oven-Dried Cherry Tomatoes

I came upon this method for drying cherry tomatoes that is a bit different than the standard "dry" dehydrating method. Here, you toss the tomatoes in olive oil before drying–a simple touch that gives them a wonderfully caramelized flavor that is perfect for pizza or pasta toppings. These are a great alternative to those expensive oil-packed sundried tomatoes you find in most stores. The only downside is you will need to freeze them if you want them to keep for storage. Good luck getting that far though! These make for a super sweet and delicious snack!

**If you want to dry these the traditional way to keep for a while in your cupboard, simply omit the olive oil and check to make sure the tomatoes are completely dry before storing.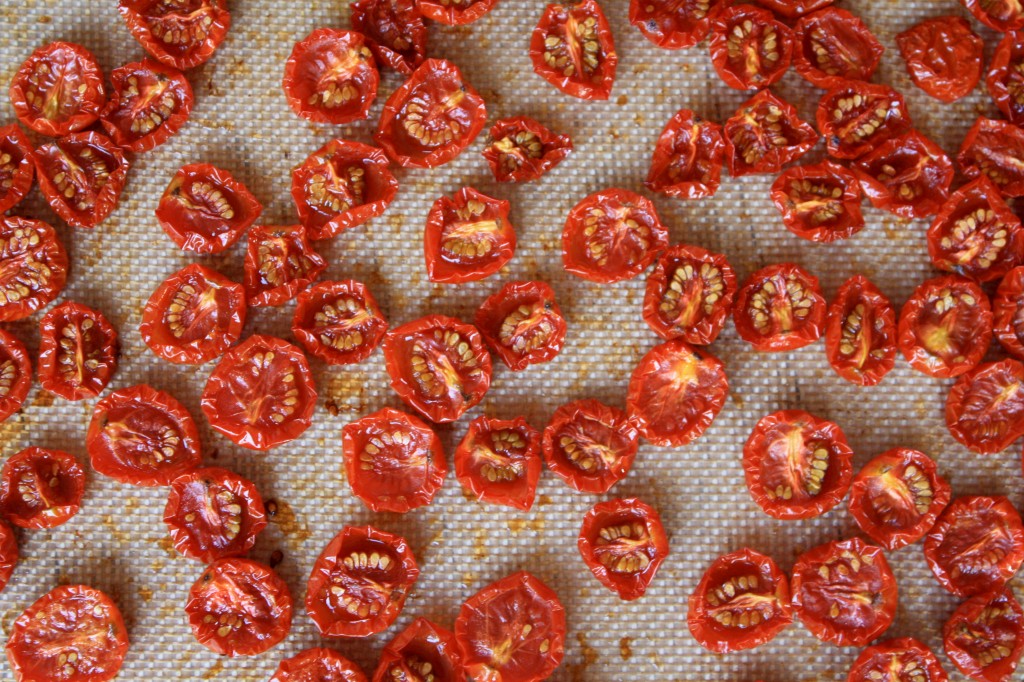 -Heat your oven to 250 degrees
-Cut whatever quantity of cherry tomatoes you have in half and put in a bowl and lightly coat with olive, grapeseed, or other light oil.
-Spread on cookie sheet, cut side up (1 pint will fit on one cookie sheet give or take)
-Slow roast them in the oven for 5-6 hours depending on how dry you want them.**I was going to eat them right away so I didn't dry them all the way (only about 4 hours) and used them in a pasta dish. YUM!
-Throw them in a quiche, on a pizza or some Penne and ENJOY! If you want to freeze them, simply cool and put in a plastic baggy.
Recipe and photos by Jana Smart- Blooming Glen Farm employee and frequent creator of creative recipes using farm fresh seasonal ingredients. Check out more of her recipes on her food blog http://www.agrarianeats.blogspot.com/