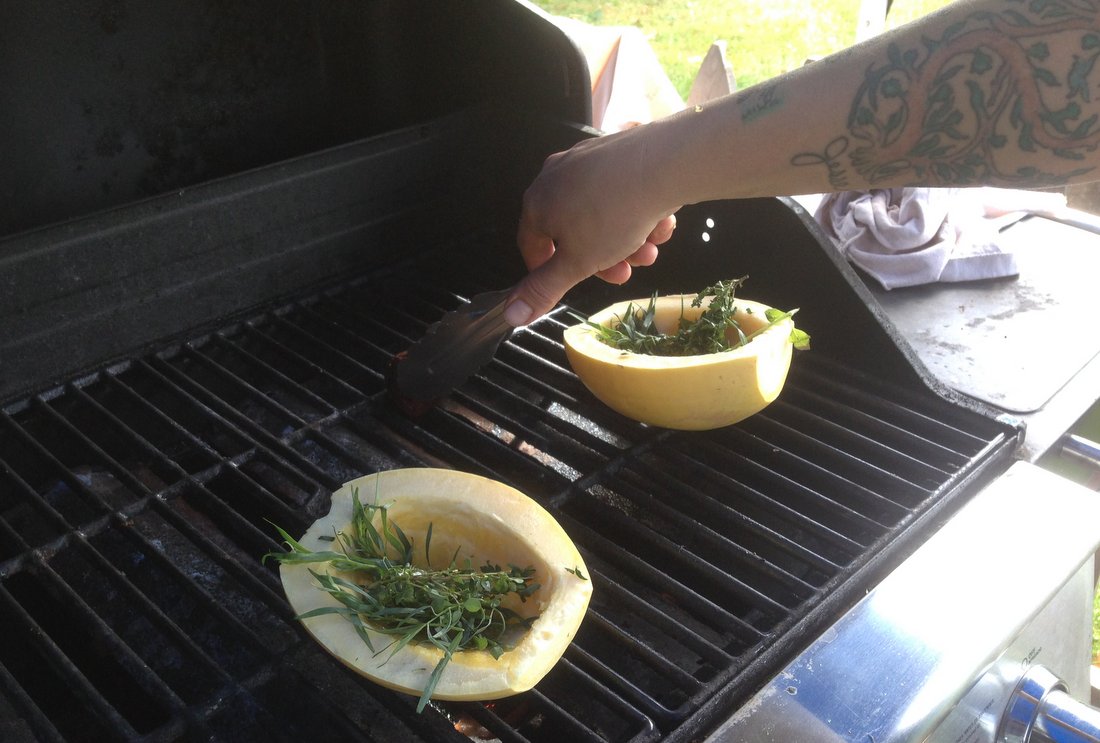 14 Sep

Grilled Root Veggies with Chef Kristin

As we move into fall, the harvest starts to see more root veggies, winter squashes and fall greens. Kristin Moyer's chef demo last week was the perfect transition into fall goodness (her post and recipes follow). While it's still warm enough to use your grill, this recipe makes for a delicious dinner. I love the addition of fresh herbs- you can really use whatever is to your liking. They always elevate a dish from ho hum to extraordinary.

Grilled Root Vegetables

Preheat grill to medium heat. Gather and wash your assortment of squash and root veggies (beets, hakurei turnips) from the farm share. Cut the spaghetti squash in half lengthwise, place on the grill and put 1 tablespoon oil, herbs and garlic into each cavity. Cut the remainder of the roots and any other winter squash (acorn and/or delicata) being sure to remove all seeds- you can leave skin on) and cutting them into pieces that will grill in a reasonable time and manner. You could also grill some eggplant to add in.

Put all of your beautiful rooty goodness in a bowl and toss with olive oil, salt, pepper and any other herbs and spices you like. Arrange them on your grill, adjust the heat to a real-deal medium and close the lid. Check every 10 minutes, flip and rotate as needed. The spaghetti squash will take the longest, followed by the beets and then the others will soon follow.

In a large bowl they go, one by one as they are done. I add the beet greens, chopped, some kale or fresh herbs (thai basil, lemon verbena, lemon basil, anise hyssop- any of these will work), salt, pepper, olive oil and a squeeze of lemon. Done! This warm root mash-up is perfect for either one of the sauces below (or the sauces can be enjoyed on their own as a dip with raw veggies). Nom Nom, Enjoy ~Kristin Moyer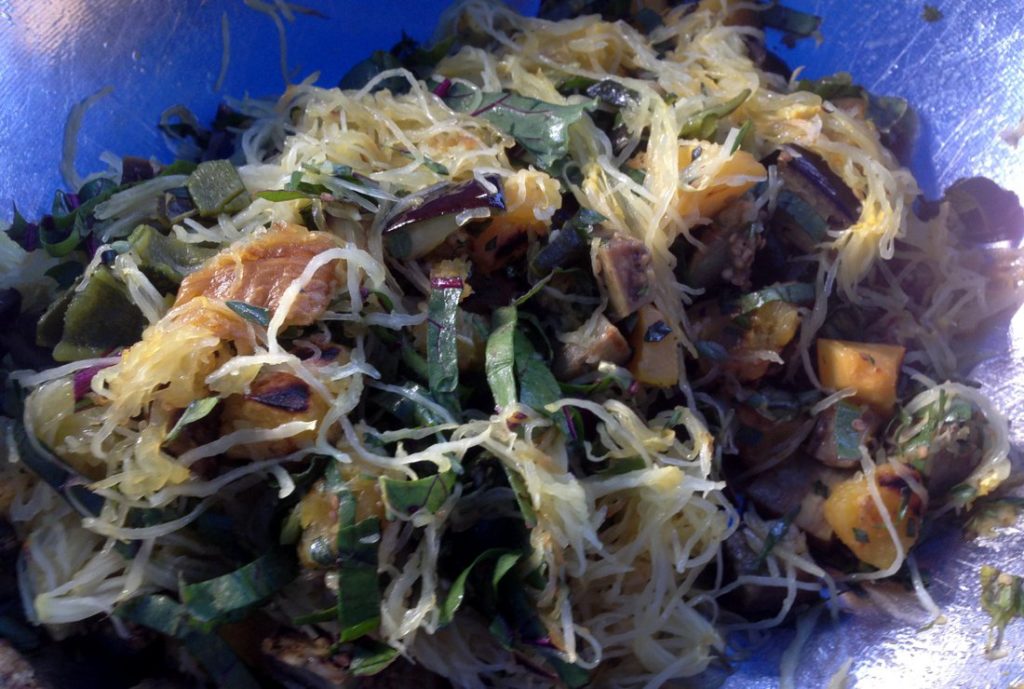 Harissa
Harissa is a spicy and aromatic chile paste that's a widely used staple in North African and Middle Eastern cooking.
Ingredients, makes about 2 2/3 cups
1 tablespoon coriander seeds
1 tablespoon caraway seeds
1 tablespoon fennel seed
4 large garlic cloves, unpeeled
4 large sweet peppers
4 hot peppers (jalapeño,serrano,habanero, etc..)
1/2 cup extra-virgin olive oil
1 tablespoon honey
2 teaspoons dried crushed red pepper
juice of a lemon and juice of a lime
Stir coriander, fennel, and caraway in small skillet over medium-high heat until aromatic, about 30 seconds. Transfer to processor. Peel garlic; add to processor.
Char sweet peppers over gas flame or in broiler until blackened on all sides. Enclose in paper bag; let stand 10 minutes. Peel, seed, and coarsely chop peppers; add grilled peppers, oil, sugar, citrus, crushed red pepper and hot peppers to processor. Puree. Season with salt and pepper. (Can be made 1 day ahead. Cover and refrigerate.)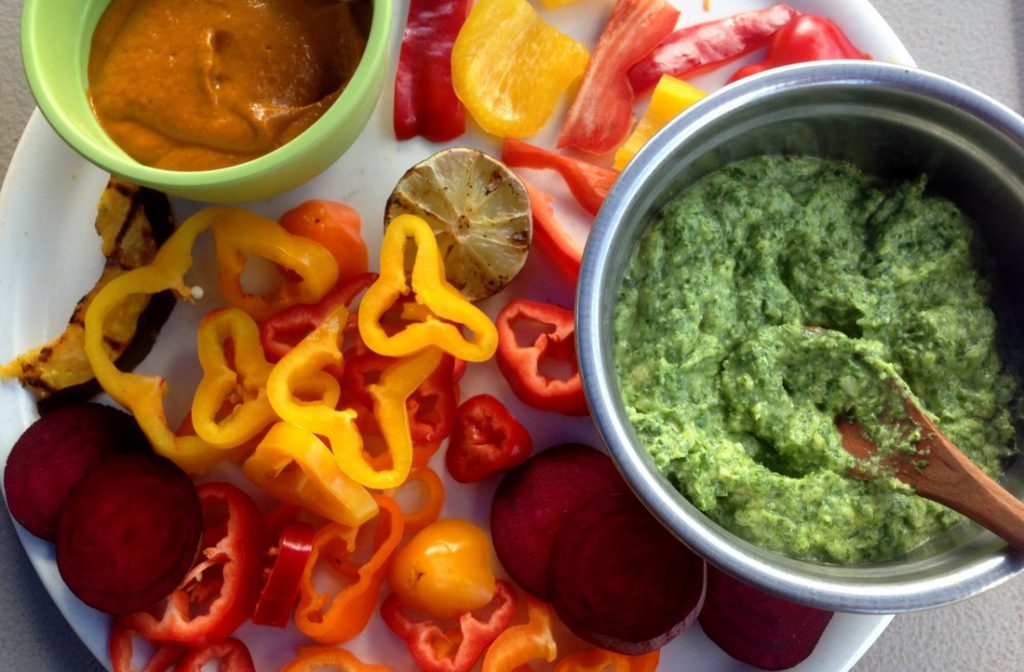 Avocado Pesto
Ingredients
1 avocado
1 cup packed parsley and cilantro leaves (I added some raw kale too)
1 jalapeño, ribs and seeds removed
1 Serrano hot pepper
2 cloves garlic
juice of one lime – or two
½ cup water
½ cup olive oil
1 teaspoon salt
½ cup raw almonds (you can sub other nuts)
Pulse all ingredients – except almonds – in a food processor or blender until incorporated. Add nuts and pulse until mostly smooth (depends on what consistency you want). Serve as a dip, spread, or sauce — or add additional water or oil to thin the sauce for use as a dressing or a marinade.
Recipes by Kristin Moyer, chef and food educator. Check out her website Carcass and Roughage for more information about the development of a Community Supported Kitchen and her pop up farm fresh meals, available locally for pick-up and delivery. Photos and editing by Tricia Borneman, Blooming Glen Farm.