08 Oct

Celebrate the Season this Sunday!

Join us this Sunday the 12th at 3pm to celebrate the season, at Blooming Glen Farm's annual Harvest Fest and Potluck. We have lots of fun planned-and we are still taking entries for our fifth annual pie bake-off! Local bluegrass band Goose Creek Pioneers will be jamming for us again this season, and the popular scarecrow making and veggie pumpkin creations will be happening. Catch a sunset wagon ride led by Corbin or join Katia McGuirk in her community clay project.  4th Street Foodworks is bringing their big kettle and will be popping Blooming Glen's own popcorn with Chef Kristin mixing up herb and veggie blends to go on top. Rest your feet in the Garlic Seed Social area as we split up bulbs of garlic for planting. Or hop in a potato sac and get jumping with some old-fashioned family fun.

New at the festival this year: The Farm Show, site-specific theatre at Blooming Glen Farm, written and directed by longtime CSA member Anne Hamilton, Founder of Hamilton Dramaturgy. Shows at 3:30pm and 4:30pm, the walking tour lasting approx. 45 min. Space is limited so sign up when you get to the festival. Don't forget to bring a potluck dish to share, your beverage and place settings and a picnic blanket. With all these food lovers, this is one community meal not to miss! So grab a friend, bring your family and join us this Sunday!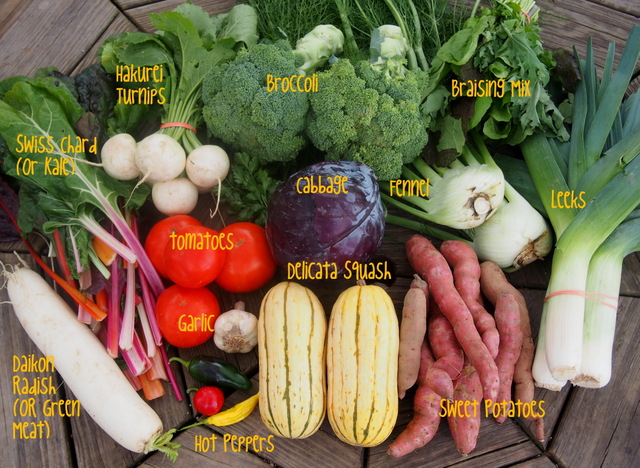 This week's CSA share introduces the first fennel and leeks of the fall, and continues with sweet potatoes, broccoli, cabbage and winter squash. It may be because of the favorable conditions, namely cooler weather we had later in the summer, but whatever it is, the fall crops are looking big and beautiful this season. Farmer Tom is feeling partcularly good about the tall leeks!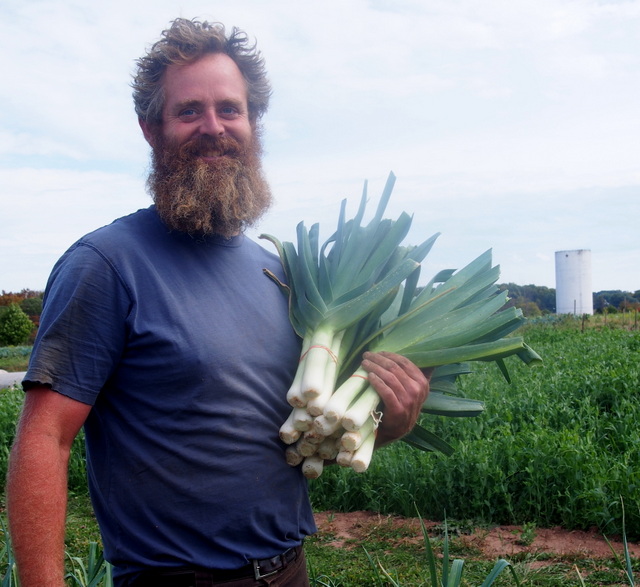 We haven't quite said goodbye to summer yet. The last of the tomatoes are still trickling in. We are slowly dismantling the trellis systems of the summer crops in order to get the fields cleaned up and planted in cover crop for the winter. We had two light frosts at the farm in the past week, which is typical around the full moon of October. Speaking of full moon, I got up early Wednesday morning to try to catch the lunar eclipse of the blood moon. I didn't see it, but I did catch a beautiful sunrise over the village of Blooming Glen- pictured below.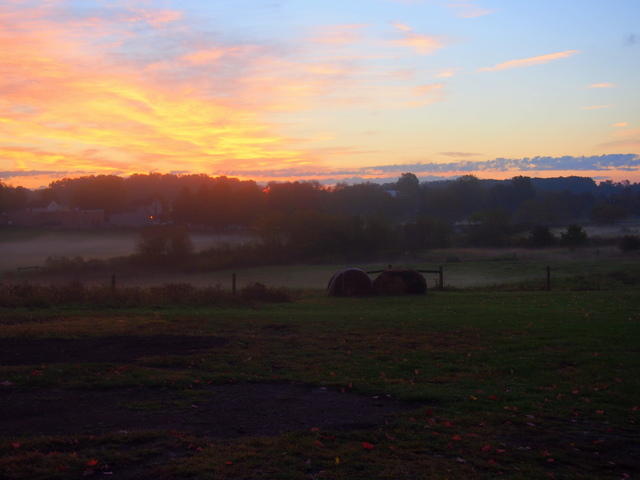 We've had a few questions about the end of the season- the last distributions of the CSA, week #24, will be Nov. 11 and 13th. This Friday is the last delivery share- week #16. We will be offering special holiday boxed shares for purchase and pick-up the week of Thanksgiving- stay tuned for more details. We will also let you know as soon as we have registration renewal up and live for the 2015 season. Thanks, and see you Sunday!

Post and photos by Tricia Borneman, Blooming Glen farmer and co-owner. Tricia and her husband Tom have been growing together since 1996 and farming together since 2000. They started Blooming Glen Farm in 2006. Tricia is passionate about food, community, art and nature and the intersection of all four.